The Loop
The integrity of Jon Rahm, Tiger Woods flies commercial, and Jack Nicklaus' high praise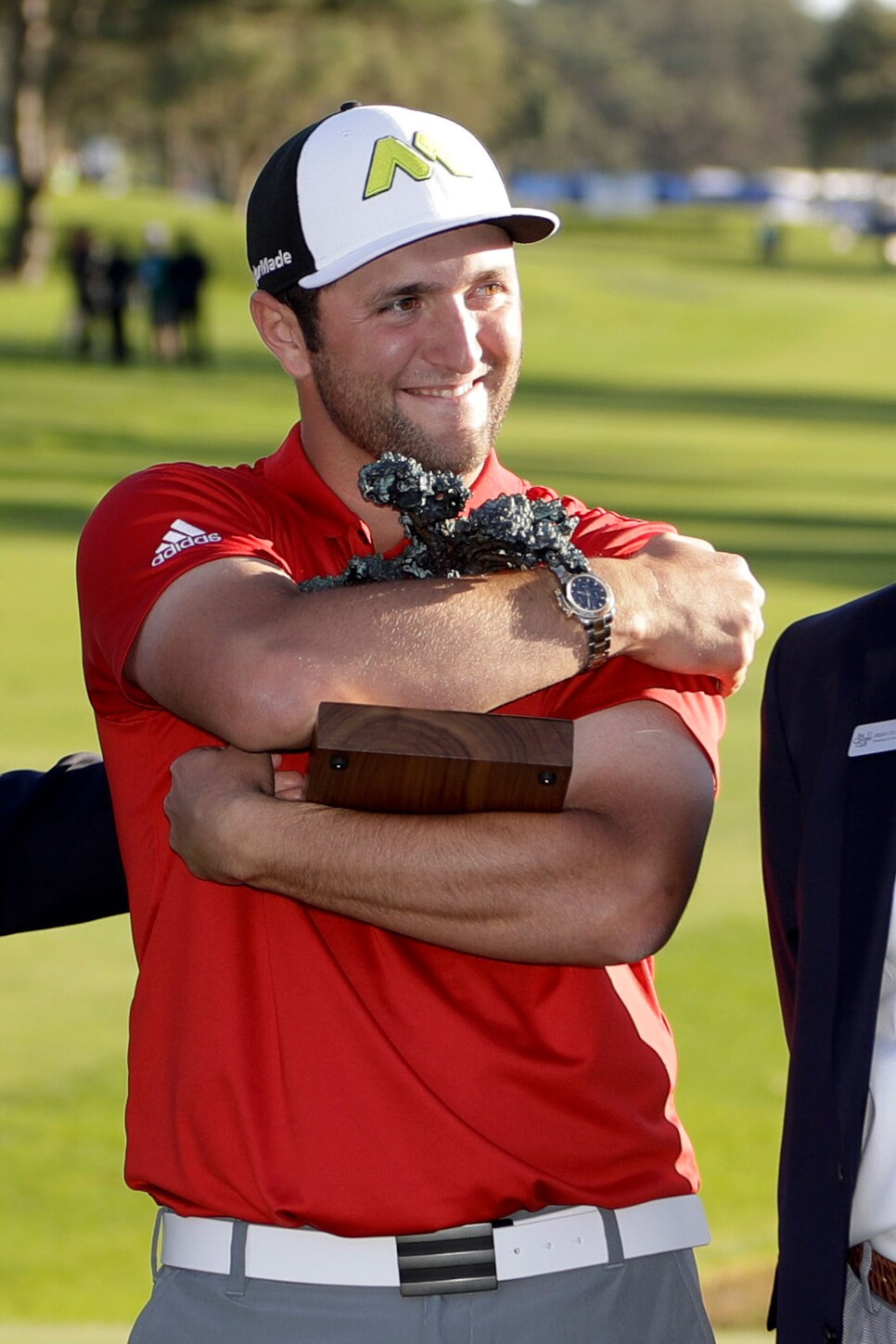 SCOTTSDALE -- Jon Rahm had just finished playing a practice round on the Witch Hollow Course at Pumpkin Ridge in advance of the 2012 Pac 12 Preview when he told his coach Tim Mickelson that he liked the course and thought it was "pretty easy."
The Bob Cupp-designed track outside Portland, Ore., had twice hosted the U.S. Women's Open, among other big tournaments, and was the site of the 1996 U.S. Amateur where Tiger Woods famously rallied to beat Steve Scott for a third consecutive victory in the event. It was also only Rahm's third tournament for Arizona State, and he was just a freshman.
The following day, Rahm shot 77.
"He says, 'Don't worry, I'll be OK,' " Mickelson recalled.
That was an understatement.
The teenager from Barrika, a town of 1,500 in the Basque region of northern Spain, who spoke barely any English when he arrived on the sprawling ASU campus, shot 64-65 the next two days to finish second.
It was an "aha" moment for Mickelson and solidified his belief in the recruit's ability.
Mickelson was more impressed, however, by what Rahm did the first time that he had seen him play golf.
In May 2012, Rahm was playing in the European Boys Team Championship in Stockholm, where he had finished second in the stroke-play portion of the event. When Rahm got back to his hotel that night, however, he saw that he had 15 clubs in his bag, forgetting to remove the extra one before teeing off.
Rahm told Spain's national coach and was disqualified, which also sent his team plummeting to the bottom half of the championship.
"If this kid, at age 16, has the integrity to call himself out when he probably could've gotten away with it," Mickelson said. "That's a kid I want."
Rahm went on to win 11 tournaments in four years for the Sun Devils, won the Ben Hogan Award his last two years as college golf's top male player and captured the Jack Nicklaus Award for the NCAA Division I player of the year his senior season.   His strong play continued in his first start after turning pro following last year's U.S. Open when the 6-foot-2, 220-pound bomber with soft hands and deft wedge play tied for third at the Quicken Loans National. A month later, he was runner-up at the RBC Canadian Open, where he was more upset that he didn't win than happy he had secured a PGA Tour card in just four starts.
"There's always kids you expect to make it who don't and there's kids you don't expect to make it that do," Mickelson said. "I always expected Jon to be one of those kids who did. He believed he would, too."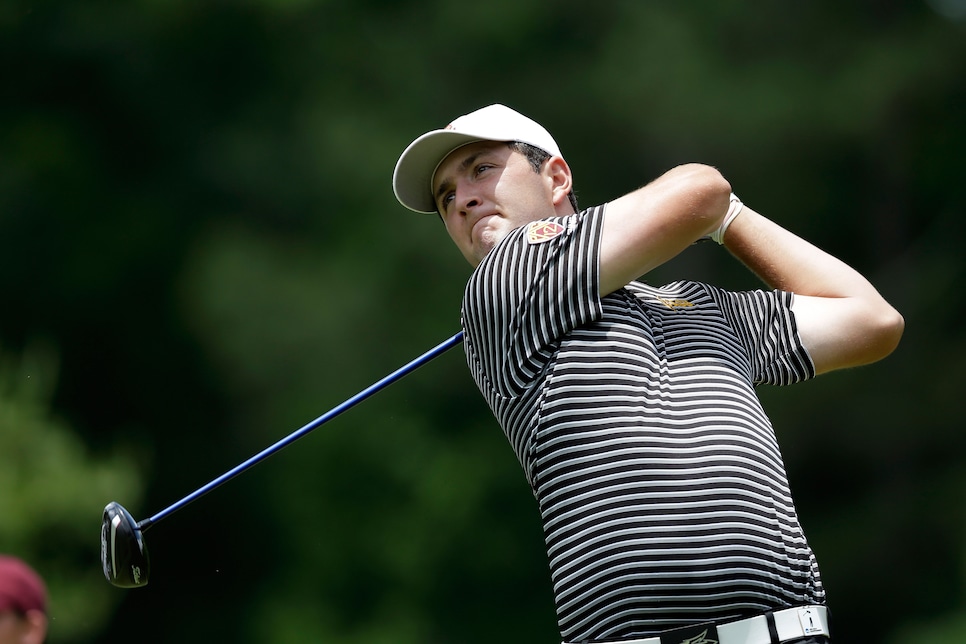 Mickelson believed so much in the Spaniard's future that he left his post at ASU shortly after Rahm's graduation to become his agent. It's the same move that former ASU coach Steve Loy took two decades earlier with Tim's older brother, Phil, a player with whom Tim sees a lot of comparisons, saying that Rahm is actually a better driver.
Sunday night, the two celebrated Rahm's first career victory in San Diego, dining on steak at Ruth's Chris and enjoying a bottle of champagne, along with Rahm's girlfriend, friends and family.
"He has all the tools," Tim Mickelson said. "I believe in this kid on and off the course, and I wanna be part of the ride."
Needless to say it has been a good one so far.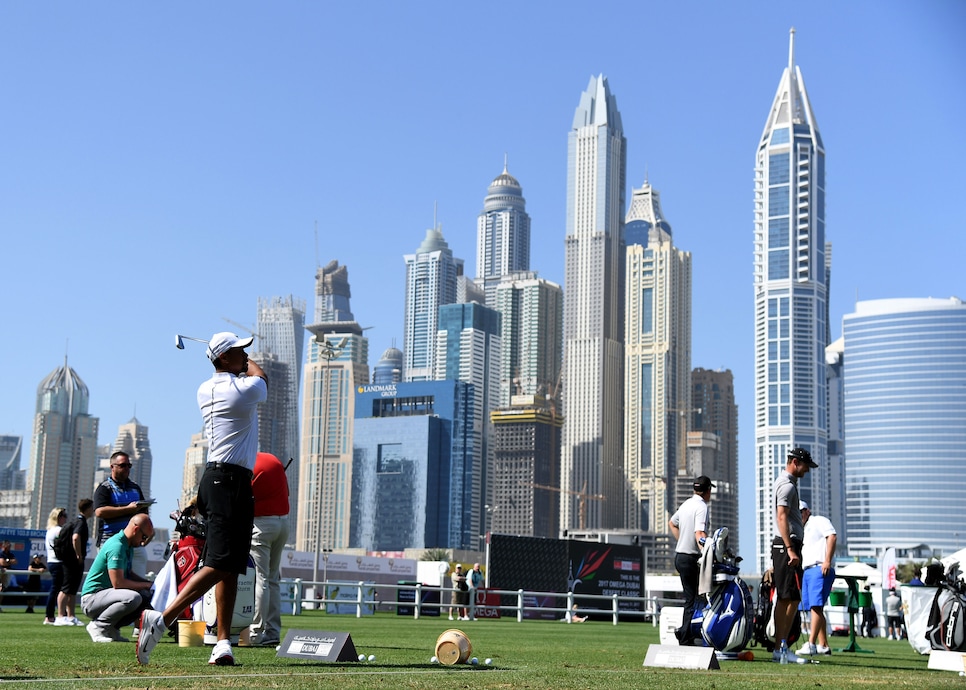 Tiger Woods is playing in Dubai this week but wasn't without some travel trouble in getting there.
The 14-time major champion and former World No. 1 stuck around in San Diego after missing the cut at the Farmers Insurance Open before flying to Los Angeles for his connection -- his first commercial flight in about 10 years.
But Woods, like most everyone else at LAX, found himself snarled in a widespread protest over President Donald Trump's executive order banning travelers from seven Muslim-majority countries from entering the United States.
"We were on the other side of the terminal. You could see it," Woods told ESPN.com. "But we just couldn't get there."
Woods eventually did get to Dubai, landing at approximately 3 a.m. local time.
This will be the second of four starts in five weeks for Woods, who will play alongside Masters champ Danny Willett and Matthew Fitzpatrick in the first two rounds.
WINNING MAJORS DOESN'T GET OLD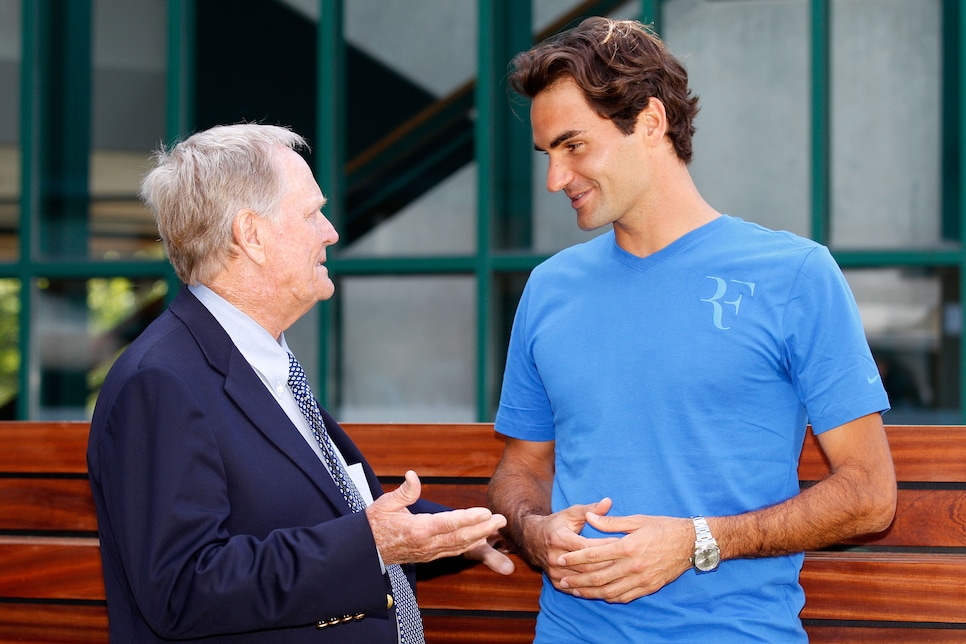 Jack Nicklaus has long been a fan of tennis, and Roger Federer.
On Sunday, Federer won the Australian Open, beating Rafael Nadal for his 18th career major title. Nicklaus tweeted congratulations to the Swiss champion and welcomed him to the 18 club.
But he also shared some insight on the road there. Nicklaus won his last major, the 1986 Masters, at age 46. Federer, at 35, is the oldest player to win a major in tennis in more than 30 years.
"Most of the first 17 I won I expected to win if I worked hard and put myself in that position," Nicklaus told ATPWorld.com. "I felt like I was the best player on the golf course, and that's what I was there for. Then you get to a point in your career where you know that you may be beyond your peak, but you get yourself to a position where you get a chance to do it again, and your body and your mind remember how to do it. That's what happened to me in '86.
"There's a difference between 35 and 46. When you're 35, you have a darn good chance of winning again. I'll be watching and hoping he does win again. But if he doesn't, he certainly has this one. Just like I competed again [without winning a major], but I had my '86 Masters."
Jordan Spieth tied for seventh in his last trip to TPC Scottsdale in 2015 and comes into this year's Waste Management Phoenix Open off four straight finishes in the top six, including a pair of third-place performances in his last two starts. What's not to like? Spieth's play around the greens has been inconsistent, but that's not going to last. His short game is too good.
What happens when you're 22, win in dramatic fashion with a birdie-eagle finish the week before and are one of the rising young stars in golf? If you're Rahm you get paired with Jordan Spieth and Rickie Fowler for the first two rounds in Phoenix. Reminder: Rahm beat both here two years ago when he was a junior at ASU and finished just three back of winner Brooks Koepka. …
Golf's youth movement is speeding up. With Rahm's win last week he became the eighth player in 11 events younger than 30 to win in the 2016-'17season. The average age of that group is just over 25. …
Patrick Reed might not be a top-five player in the world (yet), but Hideki Matsuyama is. The defending champion at TPC Scottsdale moved to No. 5 in the Official World Golf Ranking this week, 0.0021 points ahead of Jordan Spieth, who at No. 6 is at his lowest ranking since March 2015.