News
Local boy looks to make good at the British Open, why Birkdale is anybody's to win, and not counting out Rory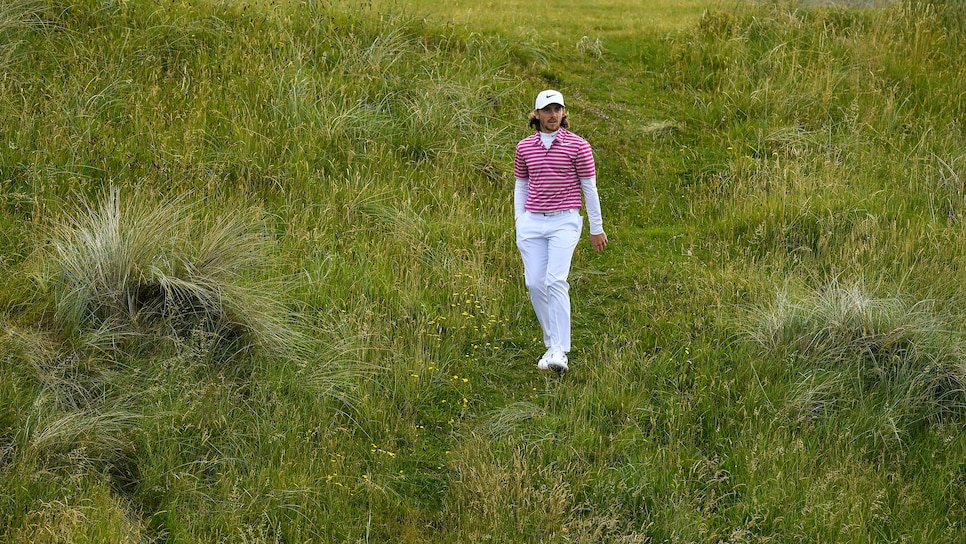 Brendan Moran/Getty Images
SOUTHPORT, England — Tommy Fleetwood doesn't need to sneak onto Royal Birkdale anymore. The 26-year-old, who grew up a couple of miles from the site of this year's Open Championship, returns with his face on posters and lampposts around town, and a banner hanging in front of his former school after a half-dozen victories around the globe, including two this year, and having risen to No. 14 in the world.
"It's better than nothing," he said when asked if all the attention and pressure that goes with being the hometown favorite is a distraction. "I'd much rather be in this position where people might be talking about me as a contender rather than turning up and sort of being a no-show.
But could they be talking too much? Could the accompanying pressure of all the attention from locals have a negative impact? Fleetwood thinks not.
"I've thought about winning The Open since I was 5 years old, so thinking about it for a few days isn't going to make any difference to me."
While Fleetwood honed his skills at the local muny he has plenty of history at Birkdale. In 1998, he attended his first Open here and remembers being star-struck by the sight of Tiger Woods. "That was the first time I'd ever seen Tiger and the aura around him," said Fleetwood, who said he mostly came up empty on autographs that week.
Then, as a teenager, he and his father used to sneak on to play a few holes while the members were in the bar. It was easy to do back then.
"The fifth was the place to be [as it was] a lot more open," Fleetwood said. "It's got fences and bushes there now, so that's gone. You can try, I wouldn't recommend it. We were very clever, or my dad was, not me. Yeah, it's lot tougher these days."
In 2008, the last time the Open was at Birkdale, Fleetwood didn't attend, or even watch. That year, he lost in the finals of the British Amateur—3 and 2 to Dutchman Reinier Saxton at Turnberry—and was too upset at missing out on a spot in the field.
"That one hit me hard," he said. "So it's good that I made this one."
He arrives in form, too, with four top-10s in his last four starts, including a win at the French Open a few weeks ago and a tie for fourth at the U.S. Open before that.
"I find it very flattering," he said. "It doesn't affect me in any way, apart from it's very nice and makes me smile."
When Bryson DeChambeau was busy missing seven straight cuts earlier this season and 11 in 19 starts in 2017, he was admittedly doubting himself, his unorthodox swing and his general approach.
"It was going more into a longer swing, trying to hit it harder and farther and maybe I could time it out," he said following Sunday's victory at the John Deere Classic, his first in just his 41st career start. "It just didn't work for me."
So he went back to trying to swing the way he did in college when he won an NCAA individual title while at SMU. The results got progressively better over the last month, from T-26, to T-17, to T-14, to the win. The latter got him into the field this week at Birkdale, where he was on site for some late-afternoon practice on Monday unsure of what time zone he was in.
Earlier in the day, the last winner of the Open here could relate to what DeChambeau had been going through. In short, Padraig Harrington has never been one to shy away from trying something different (see his latest Happy Gilmore step-through).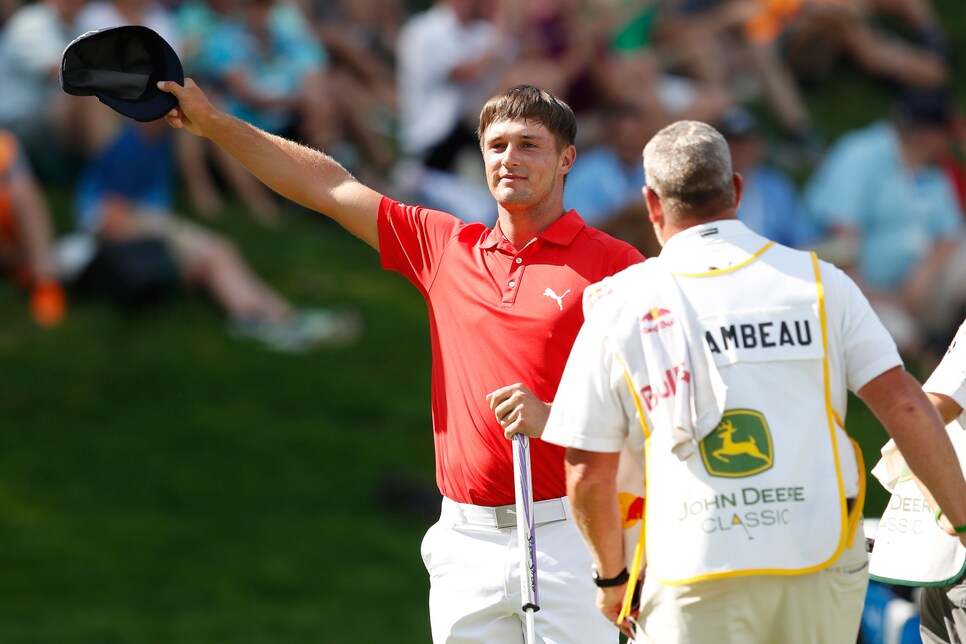 "The most startling thing is when anybody comes on tour, they have to find their comfort zone," Harrington said. "They have to believe that they belong. When DeChambeau comes out and he's doing something different all his life, he's all proving -- by doing something different, he's showing that he's not following. And you must have a lot of confidence, a lot of self-confidence to set yourself out and be somebody different, which is a tremendous thing when you're coming to be a pro."
Especially when under the scrutiny of a big endorsement deal and the expectations and pressures that goes with it.
"I can see how he's come as far as he has in the game," Harrington continued. "He's under a lot of pressure. There's no doubt when you do something different everybody's watching, and I won't say hoping you fail, but certainly watching and putting pressure and expectation on somebody who's out there changing things or changing the game. So clearly he's dealt with that for a long period of time."
None of it matters now. DeChambeau is a winner, and he'll play his first Open Championship this week, something that he missed out on when he turned pro after the Masters in 2016, giving up exemptions into the U.S. and British Opens.
"I've been wanting to go for a long time," DeChambeau said. "I knew I would be back. I knew I would definitely be back. … It's pretty special to have that first time."
Who will win this year's Open?
It's the question most often asked, and this year's tournament feels more wide open perhaps than any other in recent memory.   Though the British Open tends to produce champions who have been around and in many cases won before, the last seven majors have gone to first-timers.
RELATED: The British Open produces the oldest winners of any major   "I don't know why," Sergio Garcia said trying to explain the trend of the first-timers. "I think that it's just one of those waves that happen. It's nice to see that. I would love to stop that trend, like I'm sure a lot of other guys would love to do the same thing. But it shows the quality of golf that everybody plays at right now. It's a really high level."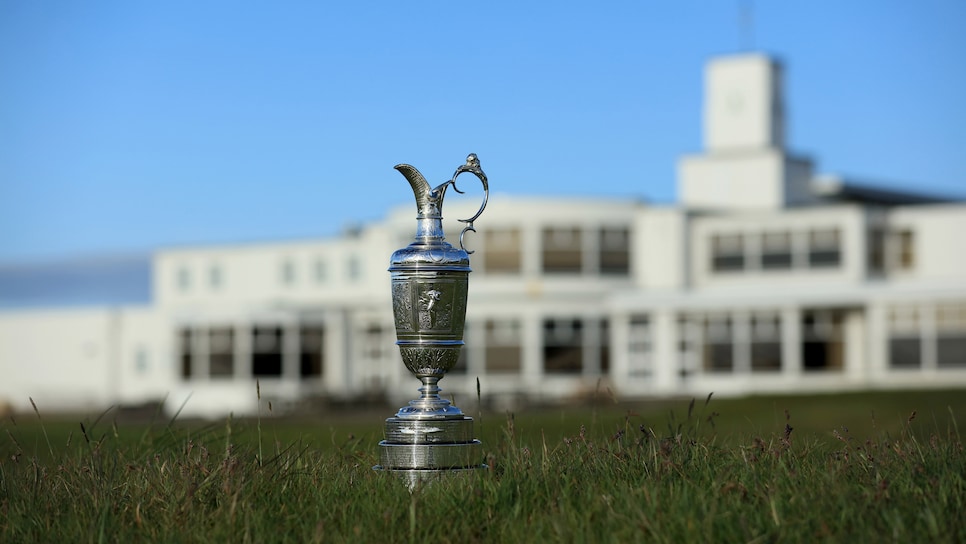 And with that, little separation. Just looking at the board at David Pluck Bookmakers on Monday night, Dustin Johnson was the favorite at 14-1, followed by Rickie Fowler, Jordan Spieth, Tommy Fleetwood and John Rahm at 16-1 (and in many places Johnson and Spieth are co-favorites). In all, there were eight players at no worse than 20-1, including Masters champion Garcia at 18-1 (though Fleetwood's odds no doubt were being driven somewhat by the locals).   In the last 15 years, only three players have won the British Open more than once: Ernie Els, Tiger Woods and Harrington, who was the last to do it in 2007 and 2008, the latter being at Birkdale.   Having moved from the Woods era to this one, this is the result, a generation inspired by Woods, and more equal than in Woods' day.
With Rory McIlroy having missed three of his last four cuts, his wedge play and putting appearing far below average and talk now about him having alignment issues, the four-time major winner's struggles appear to mostly be between the ears. It's also probably fair to wonder if he's fully healed from the rib injury that he suffered earlier this year. If the latter is a bigger problem than we know, then it might be a while before he is in contention. If it's the former, as Justin Rose noted on Tuesday, Rory has a history of turning things around quickly and doing something special. …
An LPGA dress code? Does anyone (outside the halls of the LPGA) really think player attire has been or will be a problem? I'd love to see evidence or hear from someone. …
The northwest corner of England is called the Golf Coast for a reason. There are plenty of fantastic links courses all around Royal Birkdale from Southport & Ainsdale, which hosted the Ryder Cup in 1933 and 1937, to slightly lesser-known West Lancashire 12 miles down the coast in Liverpool. The latter is among the 10 oldest clubs in England and has hosted Open qualifying as well as the British Amateur (Matteo Manassero won there in 2009). It's humps, hollows and greens on plateaus and in dells with its two loops of nines along the water make it a ideal links venue and one worthy of a visit.
So much of the outcome feels like it's weather dependent when it comes to the Open, though the last time it was at Birkdale, Padraig Harrington came out on top despite getting caught in the bad end of the draw on Thursday. Speaking of Harrington, it's hard not to like Jordan Spieth's chances because, as my colleague John Huggan pointed out, he plays a similar game to the one Harrington did in 2008. Spieth also arrives off a win in his last start and with his game having been trending the right direction for a while now. Similarly, Paul Casey has played well of late, tied for seventh here in 2008 and loves Birkdale so much that he ranks it in his top three Open venues. He also turns 40 on Friday, which is in line with the tournament producing older winners. It also feels like Rickie Fowler, another player who tends to play well on links courses, has too much talent not to close one of these majors out.