News
Fowler a step closer to his major, what's next for Quail Hollow and a first look at the fall schedule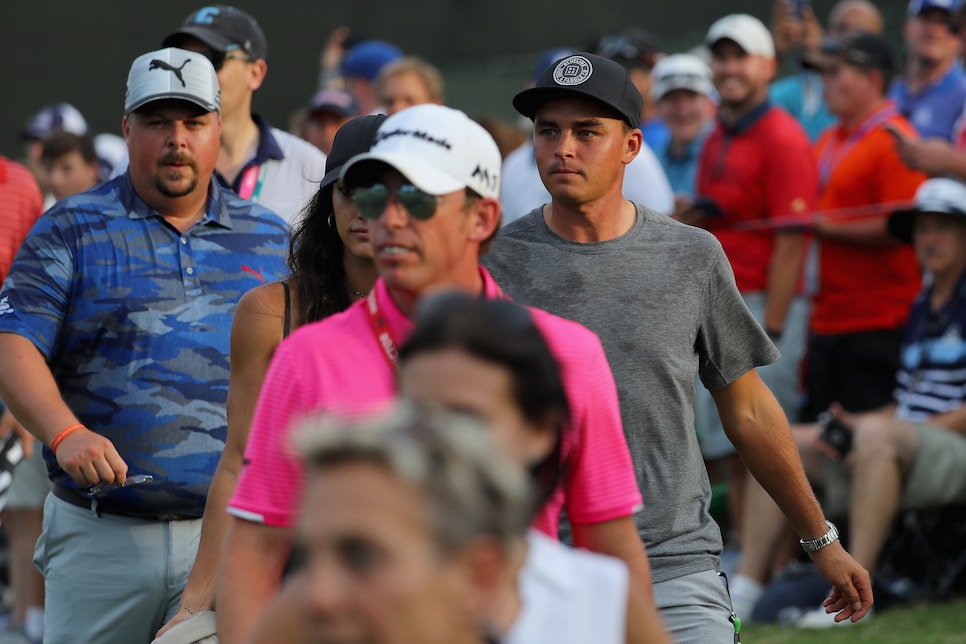 Warren Little/Getty Images
CHARLOTTE — This was a different Rickie Fowler than after the U.S. Open, at least that's how it felt and sounded.
Yes, Fowler was happy for his good friend Justin Thomas winning the PGA Championship. But you got the sense this one maybe stung a little more than it did at Erin Hills, where Fowler went into the final round just two strokes off the lead of Brian Harman and one back of eventual winner Brooks Koepka.
"It's special," he said of Thomas' victory, watching the trophy ceremony near the edge of the 18th green at Quail Hollow Club on Sunday. "I told him I was gonna go out and try to show him something. At least I was able to do a little bit of that on the back nine.
"My time's coming. It's not long."
Maybe not. But it didn't happen last week, thanks in part to a bogey-double bogey-bogey third-round finish Saturday that took him, for all intents and purposes, out of the tournament.
A day later, Fowler rattled off four straight birdies between Nos. 12 and 15 on his way to a 67 but finished three back. The thought of what happened at the end of the third round was still on his mind.
"It's not an easy course, not an easy closing stretch," he said. "Anything can happen.
"To see [Thomas] post [63] at Erin Hills, the start he got off to this year and the wins, it was just a matter of time. Some of it is playing good golf, some of it was being in the right place at the right time. I think it was a little of both for J.T. this week. [Saturday] he fought it out when he wasn't having the best day. I was out in front of him for most of the day, and I struggled coming in and he made some good pars coming in to put himself in position to do what he did today."
Fowler finished in the top five of two majors this season, and the seventh time over the last seven years. But he also has zero wins, as he noted in a humorous Snapchat post when he joined Thomas and Tiger Woods at Woods' restaurant earlier this week.
Most players go through some form of blowing it before winning the big one. Fowler will break through at some point. And after Sunday it feels like that time is getting closer.
MORE CHANGES TO QUAIL HOLLOW
So much was made about Quail Hollow and the changes to the course for the PGA Championship (more on that later). It was best summed up by Rory McIlroy, who said, "This is not the Quail Hollow we have gotten to know over the last 10 years. It's a completely different golf course."
When the Presidents Cup is played there in 2021 it probably won't be the one that we saw for the year's final major, either.
The biggest difference could be … everyone at once now … The Green Mile. Currently, holes 16 through 18 make up the difficult stretch. According to Quail Hollow president Johnny Harris, a re-routing for the match-play event will push The Green Mile up to holes 13 through 15 so that they impact more matches.
"Everyone gets to play it then," he said.
Other potential routing changes according to Harris would include the 10th hole being played as the 16th, the 11th as the 17th and nine as the finisher, among other possibilities.
As for the future of the PGA Tour's Wells Fargo Championship held annually at Quail Hollow, that's still TBD. The tournament will be there through the end of 2019 but with several scheduling changes expected, Quail Hollow could move from an annual venue to a big-event spot for the Presidents Cup, PGA Championship or other marquee championships every handful of years.
A CASE FOR RORY TO PLAY?
Rory McIlroy sounded on Sunday like he was trying to convince himself to play in the FedEx Cup Playoffs as his rib injury continues to linger.
His answer when asked why would he play?
"A sense of duty," he said. "But then at the same time, if you are not capable of playing at your best, why should you play? So, again, it's a Catch-22."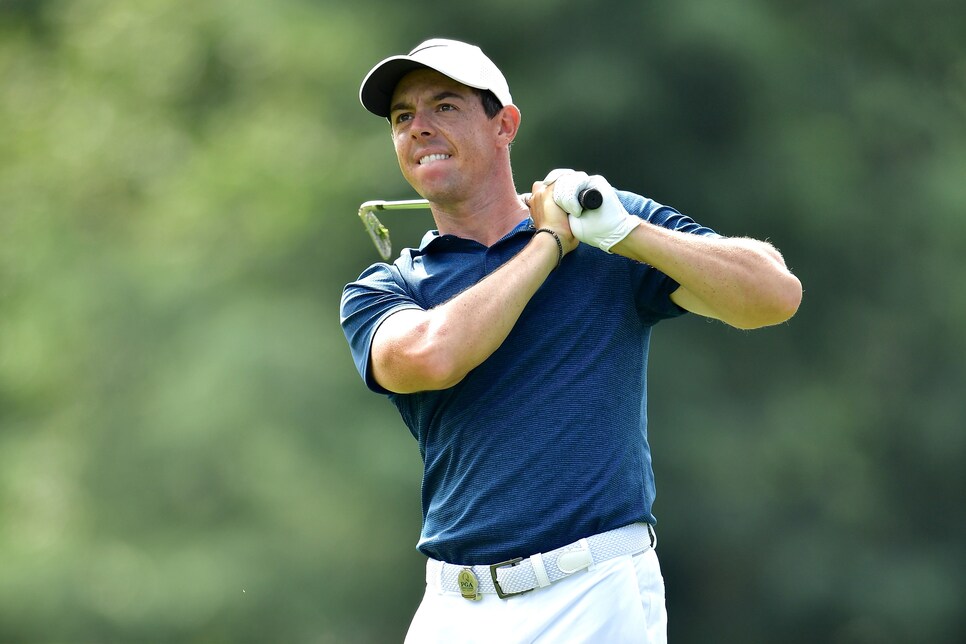 Stuart Franklin/Getty Images
He has already won a FedEx Cup (last year) and has a lot to sort out—injury, caddie, short game. With little offseason to handle all this, a big-picture, long-term approach would probably be better than meandering through a few more events of what has already been a long year for the 28-year-old Northern Irishman on and off the course.
Which speaks to another point. More and more, we're seeing top players get worn down by a never-ending calendar (see: Jason Day).
Even if players aren't teeing it up every week and only playing around 25 weeks a year (on tour and elsewhere around the world), some extended time off seems only beneficial. Especially with how cramped the season gets this time of year.
THREE THINGS I THINK I THINK
I think the PGA of America saved itself from what could have been a disaster in the waiting by adjusting its setup for Sunday's final round and making it a little more player friendly. For the first three days, a lot of golfers said birdie opportunities were scarce because of a combination of faster-than-expected putting surfaces and holes located on ridges that couldn't necessarily accommodate the green speed. Couple that with some simply poor changes—the fourth green, with, in short, no good hole-locations, was most notable to players I talked to—and the whole thing just seemed off, until it was saved by the finish. What does it tell you that club member Webb Simpson was critical of the "new" Quail Hollow's setup for the PGA? …
I think Thomas is the leader in the clubhouse for Player of the Year honors if voting ended today. But having talked to a handful of players, a lot can change depending on what happens in the Playoffs. Jordan Spieth is still in the mix with an outside shot for Brooks Koepka, Sergio Garcia and Dustin Johnson. …
I think the PGA Tour's unveiling of its fall schedule for the 2017-'18 season, complete with the inaugural CJ Cup at Nine Bridges in South Korea, is the latest sign of not only how global golf is but how the biggest tour in the world is becoming more global, too. It was only a few years ago that all the fall events were played in the U.S. Now half of the eight are scattered across the globe, including three in Asia.
WHO I LIKE THIS WEEK
The Wyndham Championship is the last chance for those hovering around the 125 spot in the FedEx Cup standings to secure a spot in the postseason. At 116th, that includes Ben Martin. The good news for the 2009 U.S. Amateur runner-up, who is now 29 and won the tour's annual stop in Vegas three years ago, is that he's trending in the right direction of late with three finishes in the top 15 in his last six starts. He also putts well on Bermudagrass and in his last start at the Barracuda Championship ranked third in the field in greens hit, an important number to keep in mind at Donald Ross-designed Sedgefield. The player I like even more, though, is Chez Reavie. He tied for fourth at Memphis in June and has been steady for a couple of months with top-25s in the U.S. Open and PGA. He's also in the top 30 on tour in total birdies, par-4 performance, is 32nd in GIR and leads in proximity to the hole. He also has a couple of top 10s in the event.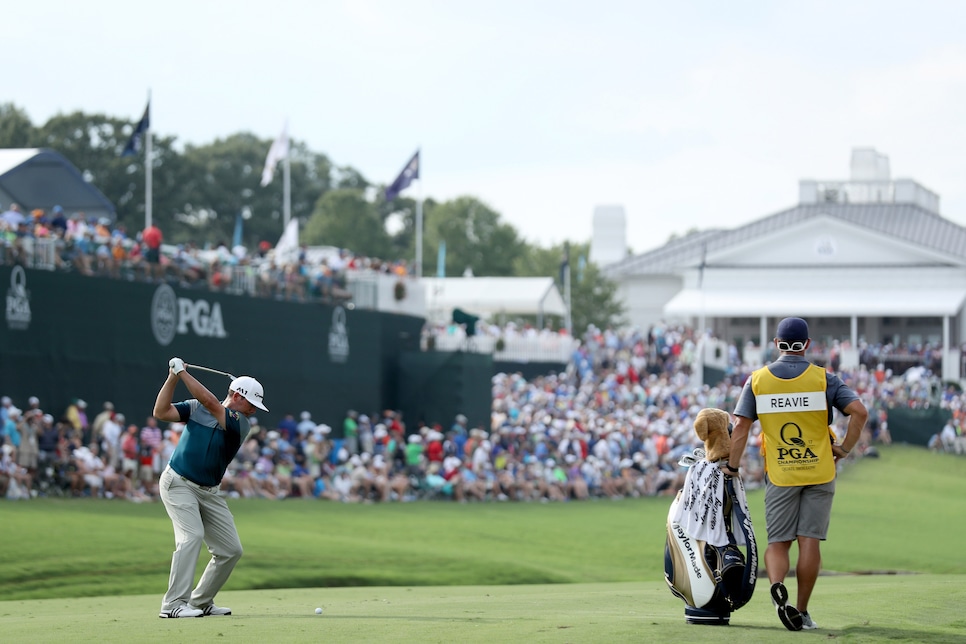 David Cannon/Getty Images