The Loop
Golf World Monday: Teen Gavin Hall is ready for the U.S. Open
As a member of the U.S. Junior Ryder Cup team, Gavin Hall got to spend a day at Medinah riding around with assistant captain Jeff Sluman, or "Mr. Sluman" as he calls him. Hall had the opportunity to meet Sluman through their association with Oak Hill CC in Rochester, N.Y., and it was through that relationship that Sluman introduced young Gavin to Tiger Woods and Phil Mickelson, along with the rest of the team.
"If I remember correctly, he texted back calling it, 'the greatest golfing experience of my life,' " Sluman said Sunday morning on his way to Shoal Creek for the final round of the Regions Tradition. "I'm happy to do it for a young guy like Gavin who really gets it."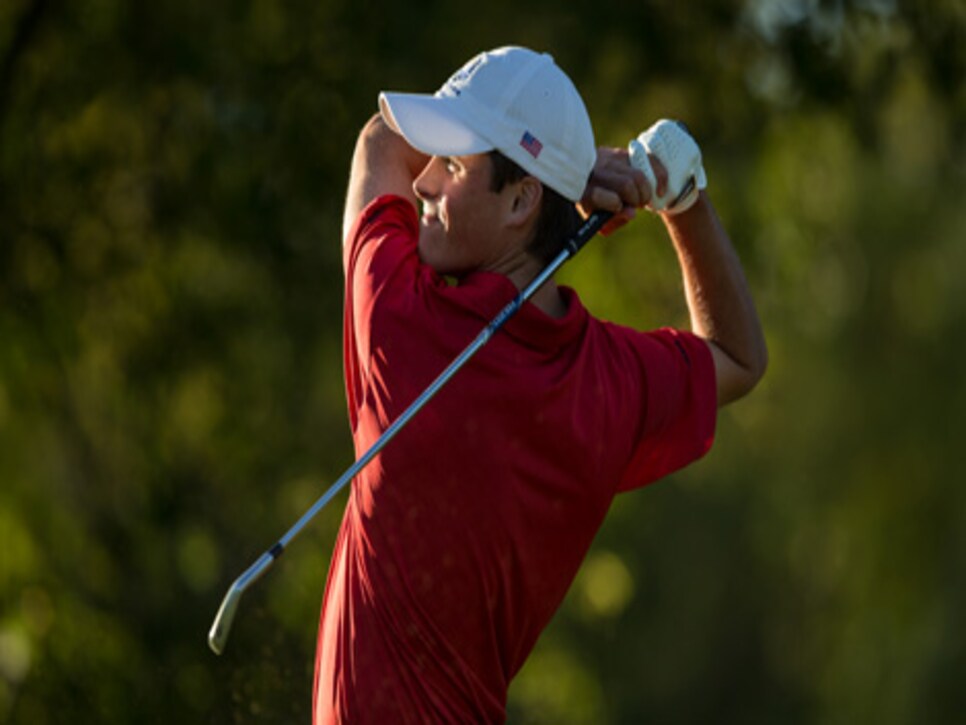 Hall is 18 and the youngest competitor in the field for this week's U.S. Open at Merion, and he is about to get a golfing experience even greater than his day with the U.S. Ryder Cup team. He's already got a practice game scheduled with "Mr. Mickelson" on the East Course and presumably will bump into Woods and other stars along the way.
Craig Harmon, the head professional at Oak Hill, says Hall's golf IQ is impressive. Sluman, the 1988 PGA Champion, says Gavin has the "It" factor, pointing not only to Hall's four-birdie finish in sectional qualifying, but also the eagle he made on the last hole to win the New York State High School Championship playing for Pittsford Mendon HS in 2011.
"I'll be honest with you, I never saw myself playing in the U.S. Open when I was 18," Hall said before traveling to Merion on Saturday. This was his first time qualifying because the state high school championship always went up against the sectionals.
In addition to the enthusiastic support of "Mr. Sluman and Mr. Harmon" and the presence of Sluman's caddie Doug Lloyd, on the bag, Hall has a palpable, nothing-to-lose attitude working for him.
"It's been a wild couple of days to be honest," he said. "Being the youngest in the Open is going to be fun."
Hall played his first practice round yesterday with Jason Dufner. Mickelson called to invite the kid to play Monday afternoon. On Tuesday Hall has a game with two players he could relate to, Jordan Spieth, 19, and Russell Henley, 24.
With Spieth, Hall can talk about Texas' men's program. Spieth was in Austin for three semesters before turning pro; Hall transferred there last spring after spending two months at UCLA.
"I'm going to try and treat [the week] like I'm one of the guys out there," Hall said. "I'll be there to enjoy it, but I'm ready to compete.
All this heady talk is beyond Sluman, who grew up on the other side of Rochester and didn't see Oak Hill until his father took him to the 1968 U.S. Open won by Lee Trevino. He didn't play Oak Hill until he was 19; Hall has had playing privileges there since he was 15. Without the same type of fanfare, practice round partners or aspirations as Hall, Slu qualified for the 1980 Open at Baltusrol.
"My thoughts at the time were at least I played one pro tournament in my life," Sluman said. "I wasn't sure what was going to happen, but it was a wonderful experience for me. It was way different than Gavin, who has a huge future in golf."