News
Woods Needs 'Eye of the Tiger'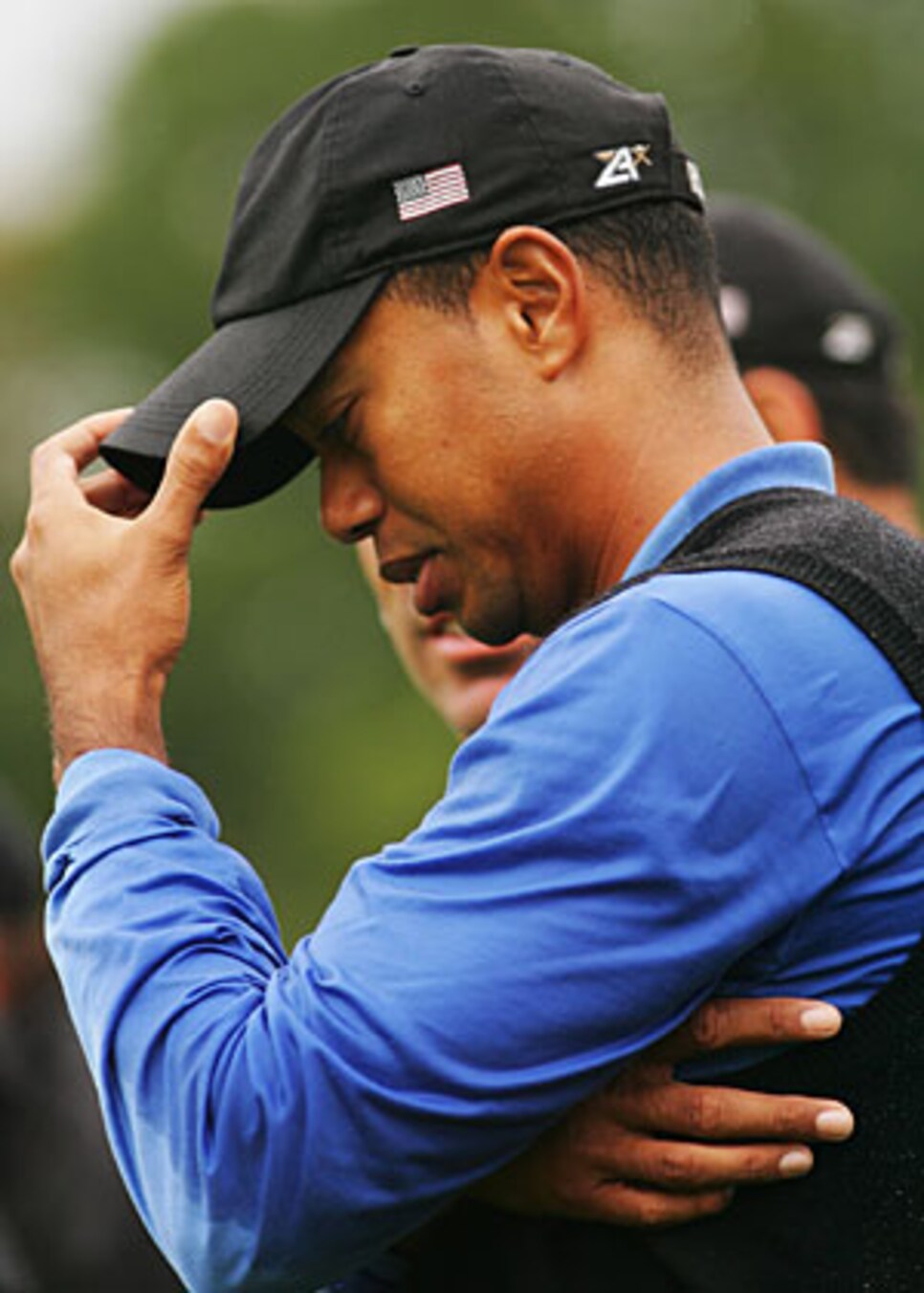 Woods has a losing record in five career Ryder Cups.
In his previous Ryder Cup duels, Tiger Woods' eyes often appeared empty of determination. Without the steely stare that reflected his PGA Tour triumphs, especially in majors, he played as if he were complying with a duty. Before knee surgery kept him off the U.S. team that won at Valhalla two years ago, he was under .500 -- 10 triumphs, 13 losses and two halves.
He was a shoddy 4-6 in four-ball, a slightly worse 3-6-1 in foursomes. His loyalists always argued that he was 3-1-l in singles, but he had drawn the lesser Europeans. His wins were against Ryder Cup rookies Andrew Coltart in 1999, Paul Casey in 2004 and Robert Karlsson in 2006. He halved with Jesper Parnevik in 2002 and, as a rookie at Valderrama in 1997, he lost to Costantino Rocca.
The U.S. team lost four of Woods' five appearances -- not that he was the only culprit. Heading to this week's Cup in Wales, Phil Mickelson's record is similar (10-14-6) and Jim Furyk's is worse (8-13-3). But without his flashing eyes and fist pumps, Woods, whose teams won only at The Country Club near Boston in 1999, played as if he didn't need to gild his grandeur.
This time it's different. This time Woods needs the Ryder Cup more than it needs him. Maybe that will rekindle his determination.
The Euros no longer fear him, if they ever did. In a BBC interview before the FedEx Cup playoffs, Rory McIlroy, the 21-year-old from Northern Ireland, talked about how he would "love to face" Woods, and that unless Woods' game "rapidly improves in the next month or so, I think anyone in the European team would fancy his chances against him."
In the past trash talk inspired Woods to wrap his wedge around the throat of anyone brash enough to challenge his majesty. But now he needs to prove he is the golfer he was before his black Cadillac Escalade bounced off a hydrant and smashed into a tree in the early morning hours outside his Florida mansion last November.
He hasn't won a tournament this year. He didn't even qualify for the Tour Championship. His best finishes were a T-4 at the Masters and the U.S. Open, but he never threatened to win and he often was far from the lead. He attributed his problems to a swing change, but he also was in the midst of a lifestyle change. As a different person, he was a different golfer.
In winning three straight U.S. Amateurs after three straight U.S. Junior titles as a teenager, he was considered a match-play wizard who would do well as a pro in that format. And in the Presidents Cup matches, he has done well: 18-11-1 overall, including 4-2 in singles. But not in the Ryder Cup.
In team matches Woods is 1-5 against Lee Westwood, now the top European although in questionable form following a calf injury. Westwood and Darren Clarke (who is not on this European team) were 2-0 in four-ball against Woods (with David Duval in '99, with Furyk in '06), 1-0 against Woods with Mickelson in an '04 foursome at Oakland Hills when Lefty's pushed drive on No. 18 cuddled up to a chain-link fence. That forced a penalty drop before Woods could even swing and a 1-up loss. Back on the tee, the empty look in Woods' eyes after Lefty's tee shot symbolized that 18½-9½ rout by the Europeans.
For whatever reason, Woods has been better in the morning team matches (5-5) than in the afternoon (2-7-1). Was he tired or was it the bad luck of the draw?
Except for two victories with Davis Love III at the Belfry in '02, Woods searched for a strong partner until '06 when he and Furyk were 2-2 over the first two days at the K Club. At last year's Presidents Cup at Harding Park in San Francisco, Woods and Steve Stricker were 4-0 in four-ball and foursomes before Woods routed Y.E. Yang in singles.
But all that was before the Escalade crash. And before Tiger Woods needed the Ryder Cup more than it needed him.