News
Let Rory Enjoy His U.S. Open Win Before Expecting Too Much More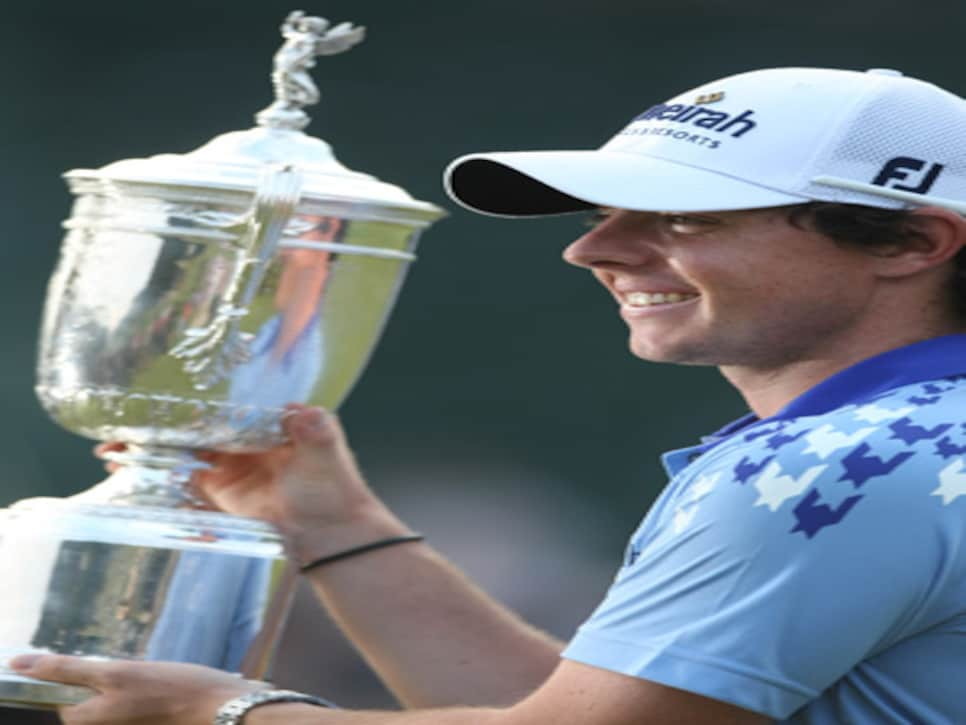 After his Open win, McIlroy had a firm grip on his expectations. His fans were another story.
It would be one of the great feats in golf, ranging somewhere between improbable and impossible. Rory McIlroy's surpassing Jack Nicklaus' 18 majors? Actually, I'm talking about our looking at McIlroy and keeping a level head.
A little more than a week removed from McIlroy's eight-shot win at the U.S. Open, and our collective giddiness has bordered on delirium. Rory will surpass Tiger. Rory will break Jack's records. Rory is talented and charming and (as far as we know) his scandals are only of the he-forgot-to-make-his-bed variety.
"He's the best player I've ever seen," his countryman Graeme McDowell said. "He's going to rule the game of golf," Miguel Angel Jiménez said. "We are on McIlroy time now," Martin Samuel wrote in the London Daily Mail. "Everything is different from here."
No one's immune. As McIlroy was completing his historic tour of Congressional, my mind raced from countless Rory trophy poses and magazine covers to a generation of golfers who grow out their curls and play so fast they don't bother with practice swings.
We are all breathless because we needed this, because McIlroy isn't just a graceful swing and an engaging smile. He represents an antidote to all that ails our game: stagnant participation numbers, course closures, sagging ratings. The Tiger Boom has come and gone, but maybe the Rory Boom is just around the corner. It is all wonderfully intriguing -- and, of course, all terribly unfair.
Lest we forget, McIlroy is 22, little more than two months removed from a final-round 80 in the Masters. Even after the U.S. Open, he owns a modest three professional victories. In other words, he is still human. If we're smart, that's the way we'll continue to look at him for the time being.
For all the talk about how Rory is everything that Tiger is not, it's important to note that Woods is a product of the bubble we created around him. We (the media) did a hell of a job creating the legend, but a pretty crummy job of portraying the person.
Meanwhile, Newton's Law of our celebrity culture says the higher the pedestal we place someone on, the greater the spectacle is in seeing them fall. Ask LeBron James. Heck, ask Anthony Weiner. Ultimately, we'd get more out of our heroes if we started expecting less.
McIlroy seems to get that. Looking back at Congressional, we'll remember any number of impressive swings, but also his pitch-perfect response to Padraig Harrington's suggestion he is the one to shatter Nicklaus' records. "Paddy, Paddy, Paddy," Rory said with a shake of the head. The spontaneous answer spoke to McIlroy's deft touch in negotiating the new dynamic before him. "It's nice that people say...'He could win 20 major championships,' " McIlroy said a day after his victory. "But at the end of the day I've won one."
McIlroy will be the favorite at this month's British Open. Should he falter, or even turn in a ho-hum T-11, you can expect cries of post-Congressional fatigue. That's golf. McIlroy might win another major this year. But he probably won't. When Woods was on his way to his first Masters win in 1997, I was in my first newspaper job out of college. Sitting in the sports department that Saturday afternoon, watching Woods wrap up his third-round 65, a copy editor who rarely paid attention to golf remarked without irony, "So this guy should win every time he plays, right?" It was a ludicrous thought then. It would be even more so today.
As the game welcomes the generation of players Woods helped spawn, McIlroy might be the best of the bunch, but it's hard to envision him revolutionizing the game the way Woods did.
Is that a lost opportunity? Not if he ends up as the player we still expect him to be, someone so splendidly talented and engaging we'll enjoy rooting for him even when he falters -- a great player, a nice kid, eventually a nice man. Come to think of it, Rory could do a lot worse.