News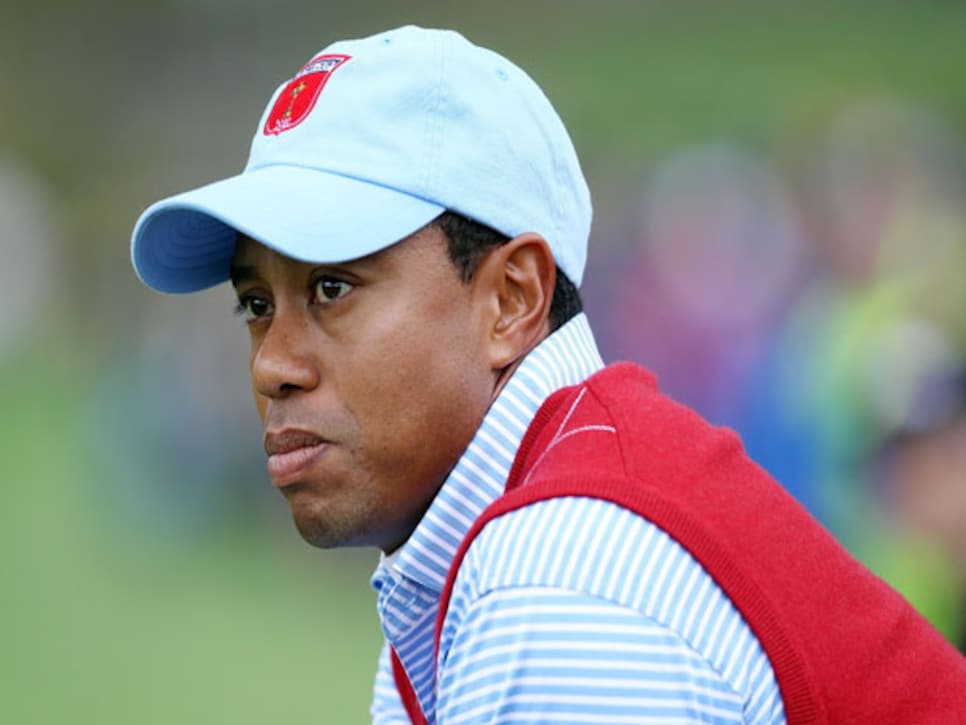 Woods said he believes the Americans can win enough points in singles to retain the Ryder Cup.
NEWPORT, Wales -- There were two dozen of them on the hill overlooking the 18th green -- players, wives, caddies -- and not a crumb of encouragement in sight.
On the oversized video screen, they could see Phil Mickelson and Rickie Fowler shaking hands with their opponents after being closed out on the 17th hole. On the scoreboard, they could count five blue flags signaling European wins. And now, on the green right below, they could see Francesco Molinari's approach shot fly directly over the flagstick, before settling four feet from the cup.
All around the Americans, the crowd erupted. Miguel Angel Jimenez lit up a cigar. If the 18th hole at Celtic Manor had suddenly become the scene of an impromptu European celebration, the U.S. players looked as if they only wanted to sneak out a side door.
"Tough day," Jeff Overton said.
"It happens," Corey Pavin shrugged.
As if we almost forgot. Two years after their surprising win at Valhalla, with the early results here, too, falling in their favor, the Americans may have felt they distanced themselves from a recent string of Ryder Cup failures. In one frenetic afternoon, it all came rushing back. Of the six matches, the Americans could only manage a half point, with Molinari's closing birdie the exclamation point on a session that saw a two-point U.S. lead dissolve into a three-point deficit.
An insurmountable hole? Not with 12 singles points still left to be determined Monday, and especially not when considering how 11 years earlier, the Americans overcame an even bigger margin at Brookline. Then again, that comeback was in front of a partisan home crowd, a comeback U.S. captain Ben Crenshaw famously said he could feel coming the night before. If Pavin had a similar sense about his team's fortunes, he was doing a decent job of keeping it to himself.
"Ben is Ben and I'm me," Pavin said. "I'm going to put the guys out in the order I think has the best chance to win. They have to go out and perform and play, and if they do, I think we have a chance."
They certainly can't fare much worse. Of the 12 players at Pavin's disposal, only Stewart Cink and Matt Kuchar could manage anything out of the third session, scratching out a half point against Francesco and Edoardo Molinari. Everyone else fell flat. Tiger Woods and Steve Stricker lost big. Dustin Johnson and Phil Mickelson both lost again.
Even Jeff Overton, whose hole-out for eagle on the eighth hole appeared to briefly jumpstart his team, succumbed to the European momentum before long. On 16, after Jimenez rolled in a long putt for birdie, the Ryder Cup rookie left his eight-footer short and lost the hole. Two holes later, with their teammates looking on, both Overton and Watson had wedges in their hand in the fairway, but neither could manage better than par.
"You want to make it so bad just to see them run on the green and jump and scream," Overton said of the final hole. "Unfortunately it was just one of those days."
So it was for Cink and Kuchar as well moments later. By then the other five matches were complete, and the rest of the American team had surrounded the green to watch. Most were perched on a muddy hill. A few, including Tiger Woods and Stricker, were off to the side. There is no comparable moment in a long tour season, playing a hole that impacts so many more people beyond just the individual.
"It's really cool," Cink said. "To see the other guys come out like that is one of my favorite things about these team events. These are guys who are usually shuttled around in luxury vehicles and here they're out there walking with you."
Not that it ended up helping on Sunday. With each European fist pump, with each roar across the Twenty Ten course, the Americans' hole only deepened. And yet they all managed to strike the same upbeat note when talking about their chances on Monday.
"It's doable," Watson said.
"Absolutely," Woods said. "We have done it before and there's no reason we can't do it again."
No one on the American side was willing to concede their chances, which was why Pavin said there would be no Knute Rockne speeches to help prepare them for the day ahead. If it was a question of motivation, he said, they'd be in an even bigger hole than they are now.
"I don't need to change their attitude," the captain said. "They have a great attitude. As I said, they are playing hard. They are playing as well as they can, and that's all you can do when you go out there and play. They are playing with passion and pride, and they will do that again tomorrow."
As predictions go, this was all the captain was willing to offer. Perhaps he really didn't have any feeling about what would come from this Ryder Cup's climactic day. Or perhaps after what he saw on Sunday, it was a feeling he preferred to keep to himself.