News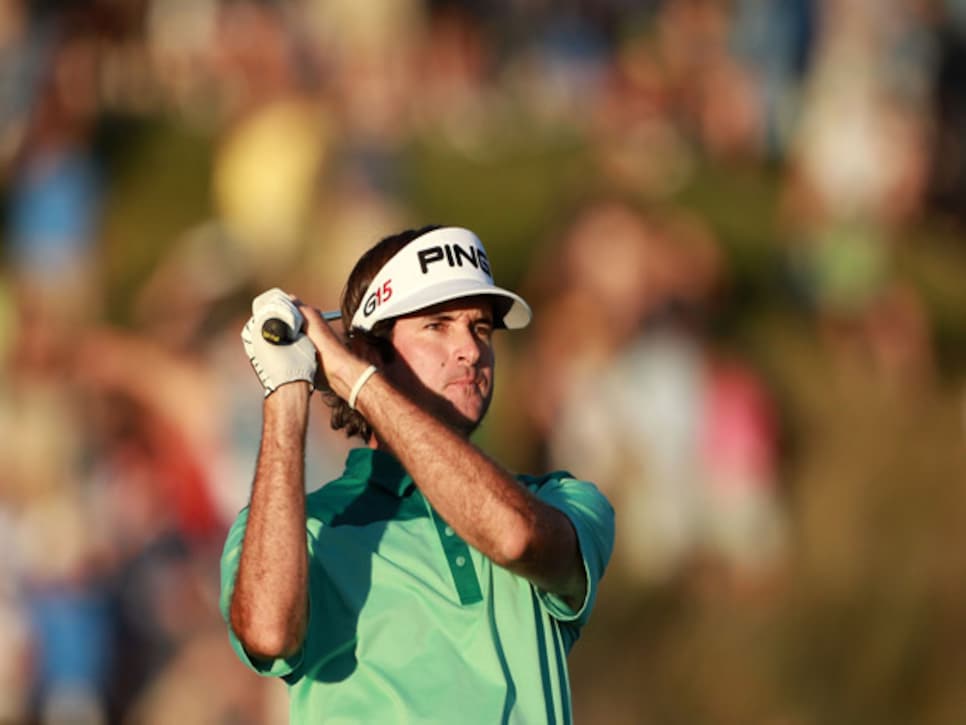 Watson birdied the first playoff hole, but a double bogey on the third did him in.
HAVEN, Wis. -- It used to be that the touring pro considered most likely to self-destruct was Bubba Watson. Plenty of meltdowns occurred on Thursday mornings, but the lefthander was especially vulnerable on Sunday afternoons. Talented in the extreme but just as high-strung, Watson in final round contention was a big mistake waiting to happen.
But he's changed. He won his first tournament on the PGA Tour two months ago at Hartford. And at Whistling Straits, perhaps the most potentially maddening venue in golf, he repeatedly bounced back from adversity and kept it together through the 72nd hole, where he holed a clutch eight footer for par to get into a three-hole playoff. When he birdied the first hole to go a stroke up on Martin Kaymer, Watson looked in command.
It wasn't until Kaymer made a great birdie to tie that Watson finally made a mistake, mis-hitting a 6-iron from 210 yards into the hazard on the final playoff hole. Still, he showed a new toughness by keeping his poise to nearly hole the bunker shot that would have put him in sudden death.
"I just tried not to throw up on myself -- I get nervous," said Watson with typical down home self effacement. "But, you know, overall I handled it pretty well. Now I tell myself that those are the situations you want to be in, that being under control is what the best players do. I've learned to make them fun."
The change in attitude is fairly recent. In early June, after a 36-hole U.S. Open qualifier in Columbus in which Watson missed by a stroke, he and regular caddie Ted Scott were sitting in a Chipotle Grill when an intervention of sorts took place.
"I had been whiney all day, just like I had basically been all year," says Watson. "And Teddy all of a sudden told me, 'I'm sorry, but I can't keep watching you keep doing this to yourself. If you don't stop, I'm not going to work for you anymore. We'll still be friends, but I won't be your caddie.'"
"Then right after that," Watson continued, "another close friend told me that I was giving away shots to guys I should beat, because my mental game was so terrible. It just woke me up. I love the game, but realized that in a way I was sinning on the golf course, doing the things I wasn't supposed to do, getting down on myself and getting upset and complaining and basically beating myself. I just finally decided that if I really wanted to be better, it had to stop."
Watson's wife, Angie, a former WNBA player who was known as a gritty defensive specialist, said that though the realization was long overdue, it happened suddenly and with conviction. "Bubba is stubborn," she said. 'He doesn't like to change the way he does things, because he is totally self taught and he doesn't trust other people telling him how to do things. But he's matured, and he's learning to listen, and when he finally decides something, he really decides."
There is still plenty of little boy in the 31-year-old Watson. Early in the week he regaled the media with how he zipped around on scooters and skateboards with 21-year-old rookie Rickie Fowler and three kids from the Sheboygan neighborhood where he was renting a house. It's the kind of restlessness and exuberance that those who know Watson have no trouble calling attention deficit disorder, and Watson doesn't disagree.
The condition is often considered an asset to creativity, which as a player Watson possesses in abundance. But it also causes impatience, distractibility and irritability, all of which have hurt Watson's golf game. "The key symptom for adult ADD is unexplained underachievement," says Dr. Edward Hallowell, an expert in ADD whose books on the subject have sold more than 3 million copies. "I would love to talk to Bubba. I could help him take it to the next level."
Told of Hallowell's interest, Watson has been resistant, which hasn't discouraged the doctor. "That's a common reaction," says Hallowell. "He thinks I, or someone like me, would take away his special talent. Actually, I would show him how to enhance it."
Of course, Watson was once similarly stubborn about changing his on-course attitude. And he certainly proved at Whistling Straits that another level beckons.