News
Golf wants to depoliticize Donald Trump's U.S. Open. Is it feasible?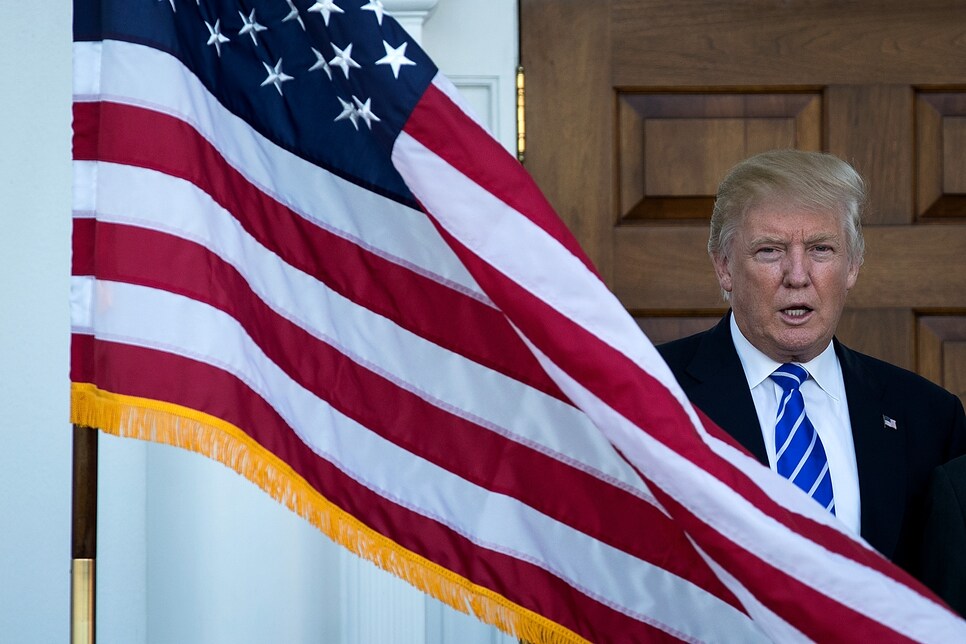 BEDMINSTER, N.J. — "This is not supposed to be a political spectacle," said Cristie Kerr at Trump National Bedminster on Wednesday. "It's a golf tournament." Normally such declarative statements are not heard on media day. But this was hardly any media day.
The words "Donald Trump" evoke hard, compulsory opinions, no matter your side of the aisle. For one of the numerous upshots of the 2016 presidential election is the emergence of personal politics in public discussion. Conversations originally reserved for living rooms have bled into work and social settings. You not only have to make your leanings known, but are encouraged to do so. Loudly.
Whether this is good or bad (or both) can be argued. But there's little doubt that the USGA, along with LPGA players, are adamant on depoliticizing this summer's U.S. Women's Open at Trump National. Are they right? And more importantly, is it feasible?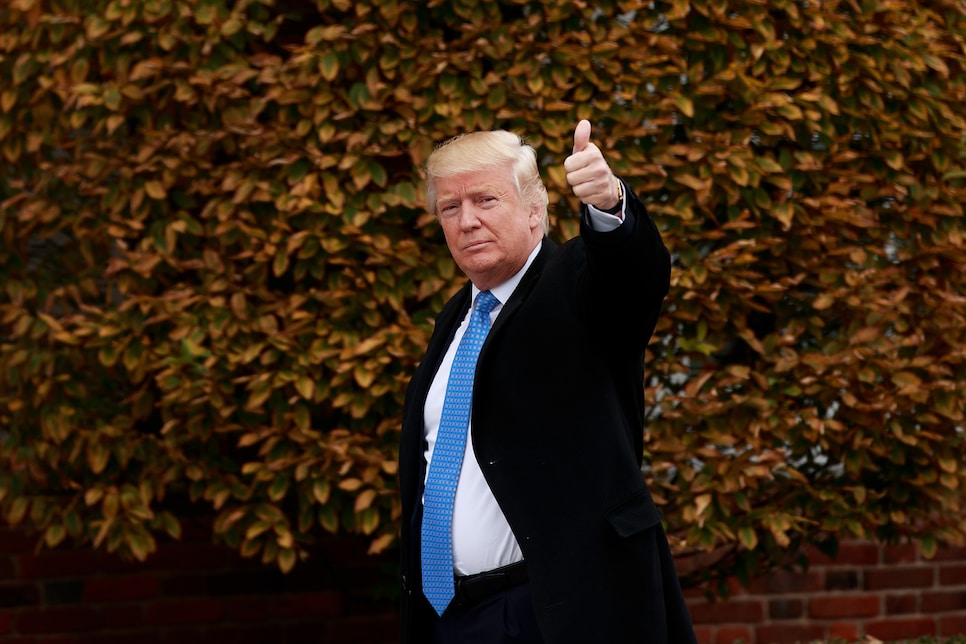 What's abundantly clear is despite the pressure from activist groups for protests and declarations, those teeing it up in Bedminster want nothing to do with the matter.
"None of the golfers are going to get into statements," reiterated Kerr, winner of the 2007 U.S. Women's Open, a member at Bedminster and one of the tour's respected veteran voices. If you're wondering why the 39-year-old American was in attendance on Wednesday, her eloquent, passionate responses on the thorny subject left little doubt.
It was a lead followed by other players on the property, including reigning U.S. Women's Open champ Brittany Lang.
"Everybody is focused on the event and the great place the USGA has set up," Lang said. "It's a hard enough tournament as it is to just focus on the golf."
Not that the players are blind to the controversy; as Kerr mentioned, "We're all girls at heart." But they're channeling that concentration into something they can control: being positive role models for today's youth.
"We're here to help build the next generation," Kerr said. "I implore the media to sell that story."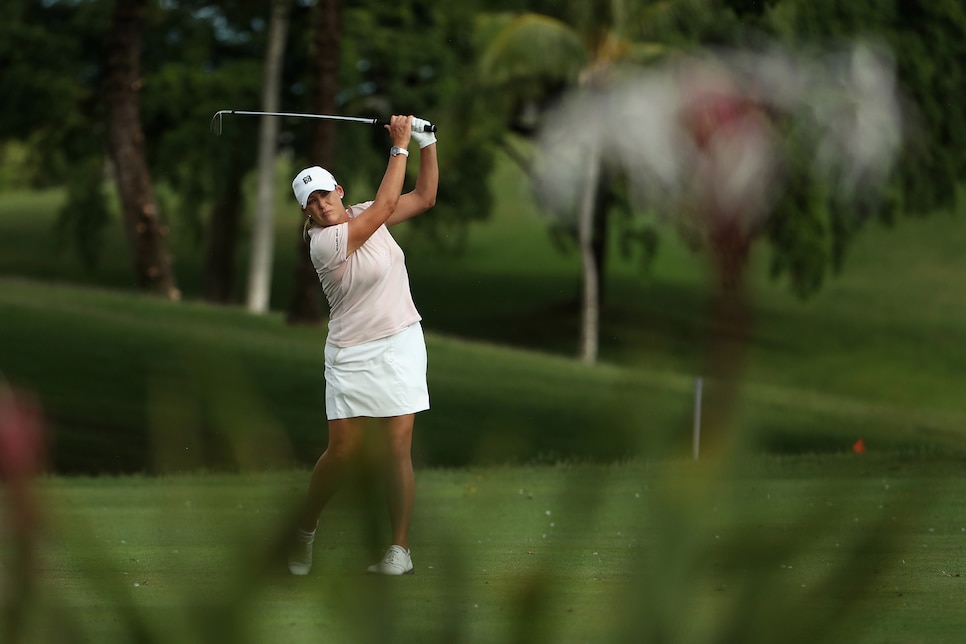 Perhaps it's an unfair standard considering the sport's history. Martha Burk's pageant aside, male players weren't asked to boycott the Masters when Augusta National's membership came into question. Same with the claret jug's past visits to Muirfield and Royal St. George's. Not to dismiss the point's validity, or condemn PGA Tour players. Don't women deserve the same respect for their decisions?
Also not lost in the discussion: Trump's history with the LPGA. During the tour's lean years, the future president offered some of the largest purses in the sport, giving players the attention they so desperately craved and deserved. That they're not eager to take a stance should not be a surprise.
Nevertheless, they're not the ones who picked the venue, and their participation should not be misconstrued as an endorsement for either side of the debate.
For the USGA, the situation is a bit more enigmatic. The optics of the marquee women's tournament hosted by a politician caught on tape making sexist, vulgar comments are less-than-desirable. Moreover, there's an undeniable paradox in the USGA's "Grow the Game" ethos and Trump's belief that golf should be an aspirational pursuit, to say nothing of the unwelcoming environment created by his past remarks on Hispanics and minorities.
It's an unavoidable issue, one brought forth immediately during the Women's Open media day press conference.
"Let me make it very clear that we came here, this was all about coming to a great golf course to play the greatest championship in women's golf," said Mike Davis, executive director of the USGA. "You know, the USGA since its founding in 1894 has never been involved with politics. Our focus is solely on the game of golf, and we appreciate that there's some out there that want to make this a political event, but we're not."
Davis has defenders in this regard. While there's a vocal contingent calling for demonstration, a host of golf fans -- which includes its share of Trump detractors -- don't believe this is the time or place for protest. In chaotic times, sports are often mistakenly devalued in priority. In truth, athletics serve a vital role as a diversion, or even better, a platform for common ground. Those on the Bedminster premises or viewers at home may be hoping for a respite -- not a reminder --- from the real world.
Additionally, while the USGA has its share of self-inflicted wounds, perhaps no group has done more to promote the sport at the youth level for women. Despite the perception, the organization would appear to have the best interests of the game in mind.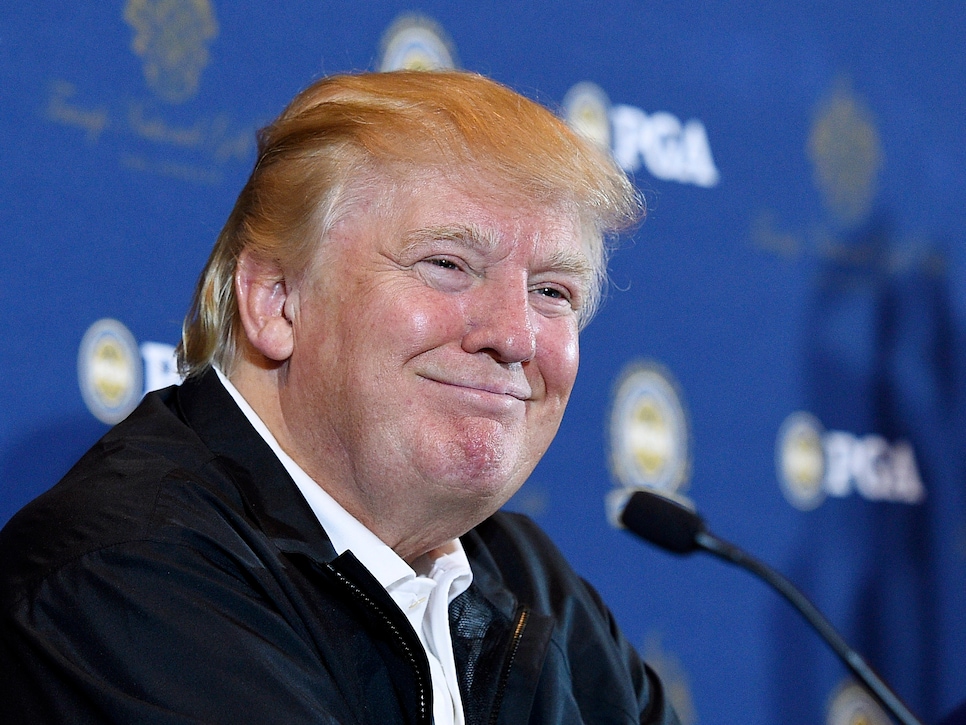 And yet, Bedminster is not just a Trump property. The compound is viewed as his "summer White House." A major golf championship will be played on the President of the United States' front lawn, and there's a fair chance he will be in attendance. To assert the event can be conducted without a political cloud -- no matter the connotation -- is brazenly obtuse.
As for the crowd DNA, while golf has historically catered to a conservative base, it's worth noting Bedminster resides just outside of New York City. Trump's hometown, yes ... but also a place where he earned just 18 percent of the vote and been the site for numerous marches, walks and protests against his policies. Using fan behavior at other New York golf tournaments as a barometer, catcalls and jeers invoking the president's name should be expected. Against golf's silent backdrop, one yell can transmute into a piercing siren.
But the biggest question regards organized protest. And it truly is a question mark. Women's group UltraViolet has been zealous in its anti-Trump stance, collecting what it says are more than 100,000 signatures requesting the USGA move the Women's Open from Bedminster. Conversely, when UltraViolet tried to assemble a rally in Phoenix this year, less than a dozen individuals showed up. Will the group, as well as those who oppose Trump, actually make the trip to the bucolic New Jersey town, or are they merely keyboard warriors?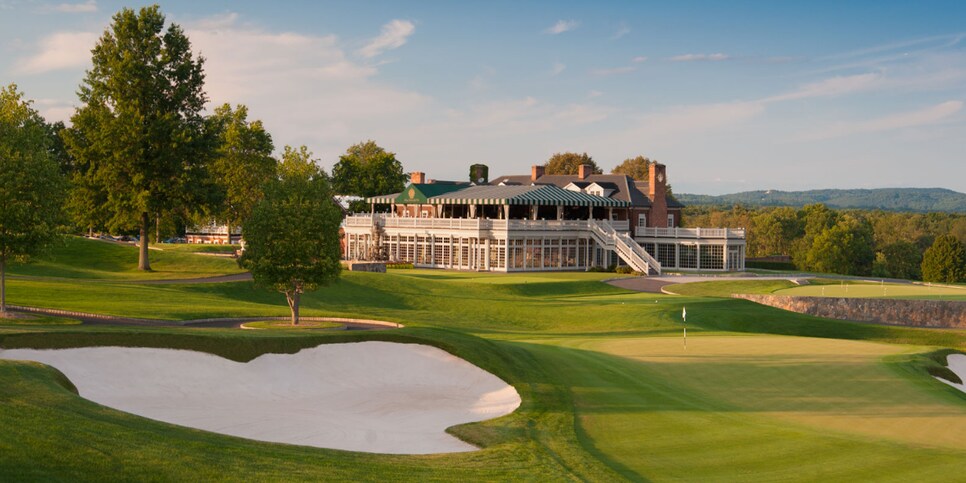 Nevertheless, less than two months out from the championship, the 2017 U.S. Women's Open has an amplified spotlight. And sadly, it has little to do with the sport or the field.
"As I said, we're a golf organization," Davis repeated later in the press conference. "We're simply not going to cross that line into politics."
We'll find out soon if that's a wish or reality.