News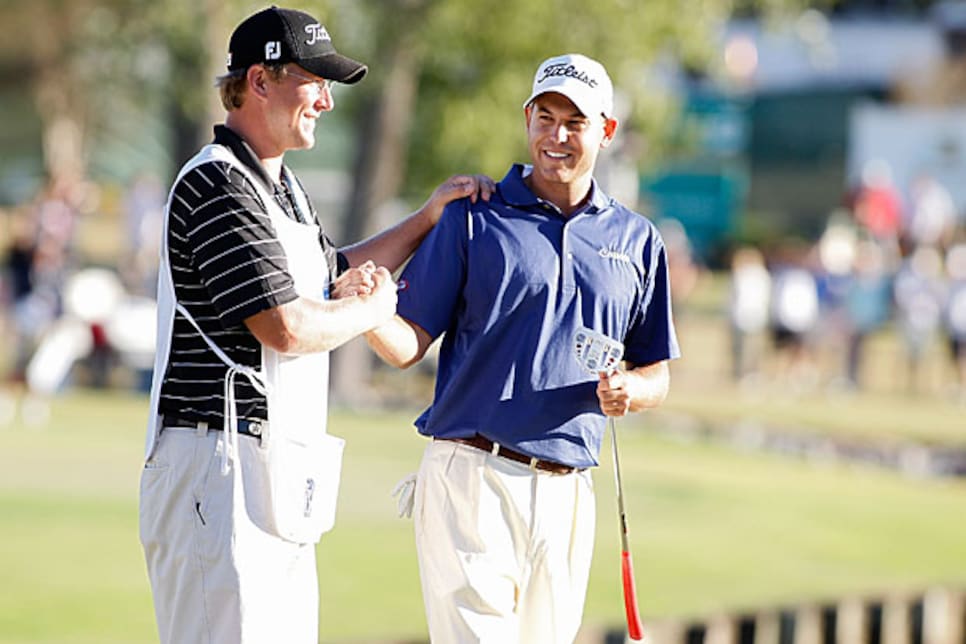 Haas had five birdies and five bogeys in a wild final round.
MADISON, Miss. (AP) -- Bill Haas had to overcome some nerves and five bogeys in the final round to win the Viking Classic by three strokes on Sunday.
He opened the round with a bogey on the first hole and had four on the back nine, including the par-5 18th. Haas, who never trailed in the tournament, also scattered five birdies to finish at 15-under 273 for his second victory of the year.
"I had to handle my nerves since the first hole," Haas said. "But it's just not easy."
The $648,000 winner's purse jumped Haas to No. 26 on the money list and earned him a spot in the Masters and the U.S. Open. His second victory of the year extended his exemption through 2013.
"Just job security is pretty cool," Haas said. "I've been to Q School twice, played in the Nationwide Tour, and I know how good the guys are on the Nationwide Tour. If you get pushed back there, then it's not easy to get back out here."
Haas, who also won the Bob Hope Classic, is one of seven multiple winners this year.
Michael Allen came as close to being a threat as anyone. Allen had three birdies to put him at 14 under on No. 12, tying him with Haas, who bogeyed the hole. But Allen drove out of bounds on the next hole and ending up with a double-bogey. He had a 71 and finished at 12 under. Allen, 51, who turned professional in 1984, has now played in 357 PGA tournaments without a victory.
"I was hanging in there all day, especially the front nine," Allen said. "I couldn't get much going even though I had a lot of opportunities, I thought. Finally, it looked like he was starting to get a little nervous or play a few straight shots, and I was kind of gaining on him."
Allen said he had a good drive on No. 13, but the ball took a bad bounce and landed 30 yards out of bounds.
"I told him, when we got done ... 'You didn't miss a shot on the back nine,'" Haas said. "I didn't know what else to say. He played beautifully. Fortunately for me and unfortunately for him, you know, it just worked out in my favor. He really did play well."
The second-place finish paid Allen $388,800, boosting his earnings this year to $716,031 and jumping him from 166 on the money list to 117.
D.J. Trahan (69) and Brendon de Jonge (72) tied for third at 277, and three players -- Graham DeLaet, Jonathan Byrd and Chris Stroud -- finished another shot back.
Stroud's 278 earned him $131,400. Stroud had been at 125 on the money list going into the tournament. The victory moved him to 111.
The top 125 on the money list after Children's Miracle Network Classic, the final tournament of the year, retain their PGA cards for next season.