News
Uihlein Wins U.S. Amateur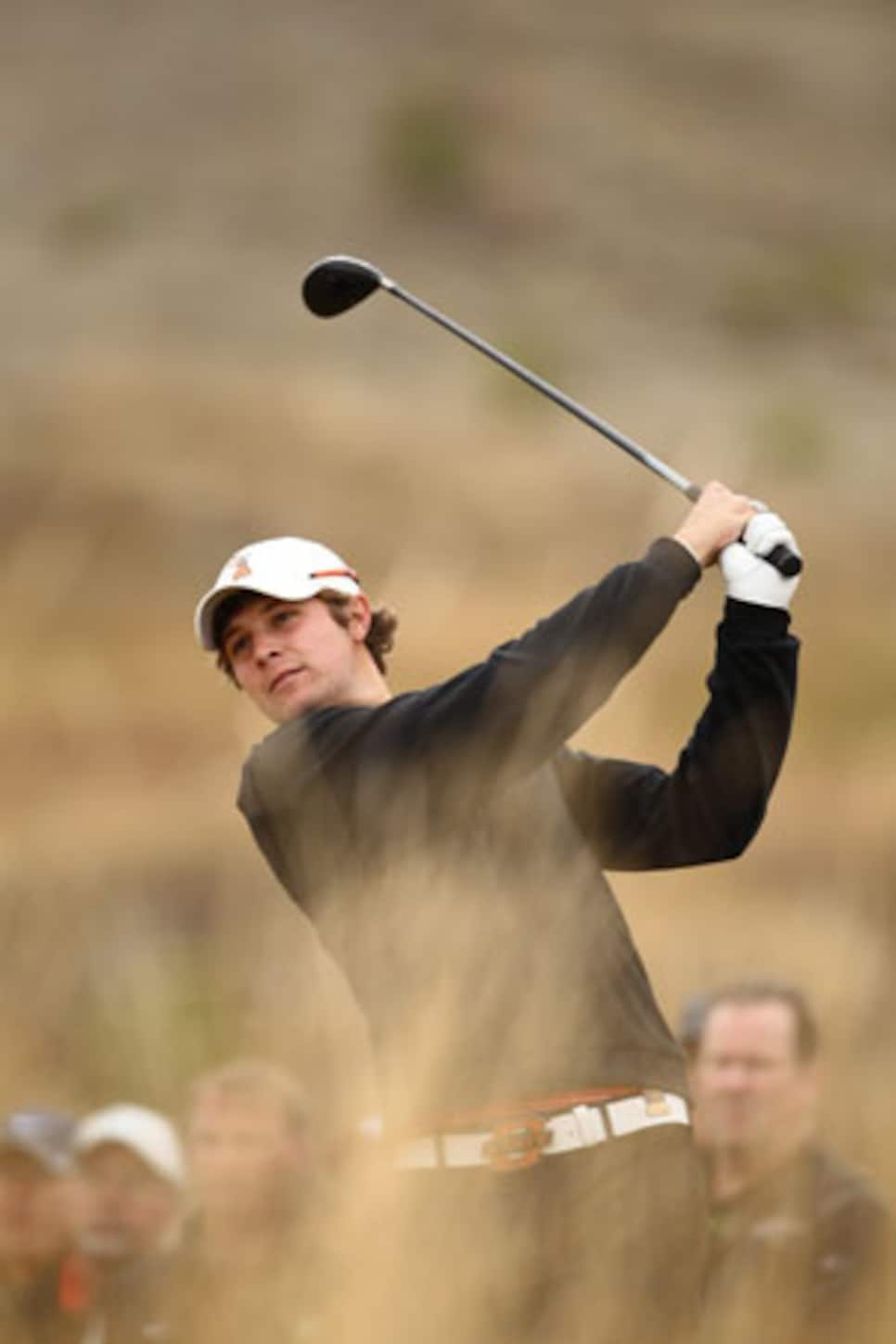 Sunday was Uihlein's 21st birthday.
UNIVERSITY PLACE, Wash. (AP) -- The top ranked amateur in the world now has a title worthy of his lofty ranking.
Oklahoma State's Peter Uihlein also has quite the 21st birthday celebration awaiting.
Uihlein won the 110th U.S. Amateur on Sunday, holding off yet another back-nine charge from Stanford's David Chung for a 4 and 2 victory at Chambers Bay and the biggest in Uihlein's young career.
Ranked No. 1 in the world by the Royal & Ancient, Uihlein has been considered one of the top young players in the world for many years, but had yet to capture a major championship until now.
And on his 21st birthday.
"It's definitely the best birthday present I've ever had in my life," Uihlein said. "I'm looking forward to going back home tonight and seeing the boys and having a good time."
Uihlein was leading by two following the first 18 holes in the morning, then held on during the afternoon 18 holes as Chung once again tried to make a charge on the back nine. Seeing a four-hole lead cut to two, Uihlein made a 20-foot birdie putt to win the 14th and nearly ended the match at No. 15, leaving his putt on the lip.
Uihlein finally managed to finish off Chung on the 34th hole when Chung's tee shot on the drivable par-4 16th hole went into the deep, fescue grass. Chung tried to flop his second shot near the pin, but caught too much grass and sent the shot flying over the back of the green. Chung took off his white Stanford cap and conceded the hole, and match, when his third shot out of the deep grass came up short.
"I came basically this morning expecting Peter to play really good golf and he did. I just didn't really come with everything back at him today. I was a little flat out there and I couldn't spark any momentum."
Uihlein, the son of Wally Uihlein, CEO of golf equipment company Acushnet, was a junior star who struggled to find consistency as he moved up the amateur ranks. He went 4-0 in the Walker Cup a year ago, but his best victory as an amateur arguably came last month when he won the Sahalee Players Championship.
Now, he's taking the Havemeyer Trophy back to Karsten Creek in Stillwater as validation of his world ranking.
"It's just one of those things you've got to keep trying to get better, keep trying to work hard and hopefully it will all click," Uihlein said. "Chambers set up great for my game and I got lucky in a couple of my matches."
Along with the victory, the Oklahoma State junior earned a trip to the U.S. Open and British Open and an invitation to the Masters.
Chung dominated the back nine at Chambers Bay all week and rallied from 3 down at the turn to beat defending champion Byeong-Hun An in the semifinals.
But Uihlein finally got the best of the Stanford star after dropping his previous two stroke play matches to Chung, including at this year's NCAA championships.
Chung was 3 down after the first nine holes on Sunday morning, but cut the deficit to just one after nearly making a hole-in-one on the par 3 17th. Chung rolled through the back nine of his first 18 shooting 5 under, yet was only able to make up one hole with Uihlein matching nearly every charge.
Uihlein took any momentum Chung gained from his near ace by chipping in for eagle from just off the green on the 18th.
In the afternoon, Uihlein's lead grew to four holes after winning the eighth, even with Chung making par when he holed his fifth shot from 120 yards. Chung won the 10th and 11th to cut the lead in half and had a chance on the 12th, but saw his 12-foot eagle putt slip past.
Uihlein knew he got lucky with the miss, and Chung realized making a late charge was going to be difficult.
"If I made that putt on 12 for eagle I think I could have made a run at it," Chung said.
Chung was the hottest amateur in the United States entering this week, having already won the Western Amateur and Porter Cup. He was ranked fourth in the world entering this week, and with the difficulty of Chambers Bay, it was little surprise that two of the top amateurs in the world reached the final.
"The way Chambers was set up and how difficult it was, I think it exposed a lot of players' weaknesses," Uihlein said. "It's just one of those courses that is so difficult you really need every shot...It's just one of those surviving courses and it just so happens that I happened to."