News
Cejka Tears Up Back Nine, Leads By One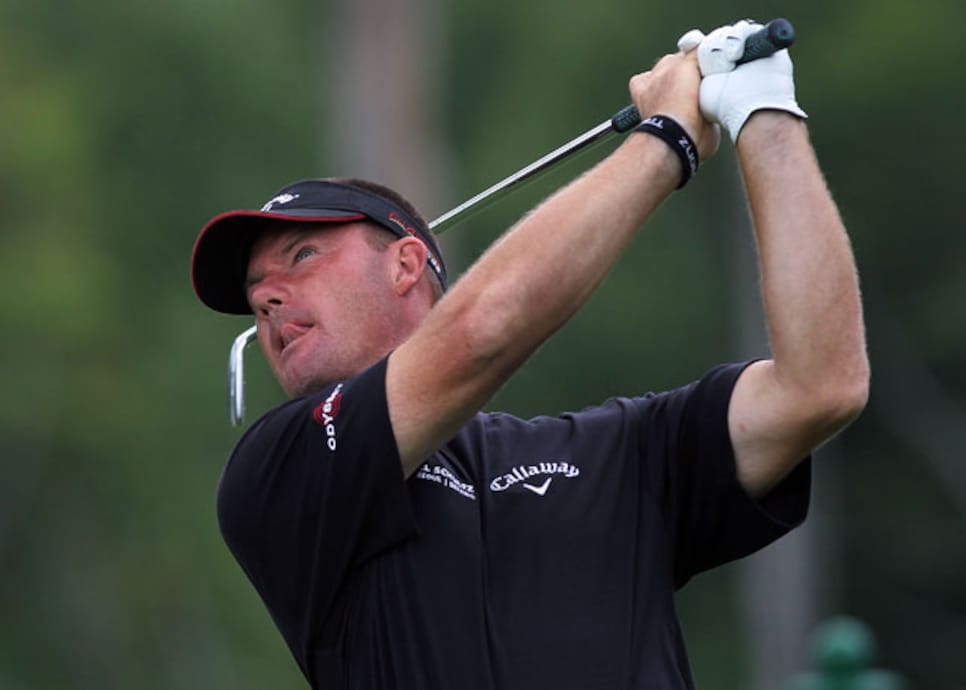 Cejka is 8-under on the back nine through 36 holes.
VERONA, N.Y. (AP) -- Alex Cejka likes the course for the Turning Stone Resort Championship, especially the back nine.
Cejka shot a 4-under 68 in Friday's second round at Atunyote Golf Club, overcoming the difficult conditions to take a one-stroke lead over Chris Tidland and Rory Sabbatini.
Wind gusts that reached 30 mph wreaked havoc throughout the day, but Cejka birdied four holes after he made the turn to give him eight birdies and no bogeys on the back nine through the first two rounds of the tournament. Cejka opened with a 66 on Thursday, hitting 12 of 14 fairways and 16 of 18 greens.
"I didn't play as good today as yesterday," Cejka said. "Obviously it was a little bit easier yesterday, no wind. Today, the 30-mile-an-hour gusts, it was tricky. But I hung in there."
Tidland and Sabbatini were tied for second at 9 under. Tidland posted a 69 and Sabbatini had a 70 in the second round.
Robert Garrigus, Woody Austin, John Mallinger, Omar Uresti, Brian Davis and 1995 PGA Championship winner Steve Elkington were next at 7-under 137.
Cejka has never won in 227 starts on the PGA Tour since 1996, but has 24 top-10 finishes. He was runner-up at the 2004 International and tied for second at the 2003 B.C. Open. In three previous starts on the 7,482-yard Atunyote layout, his best finish was 53rd place in 2007. He is trying to become the first foreign-born winner in the four-year history of this event.
"I've been playing really well the last two months," Cejka said. "I was struggling a little bit the last two weeks. I missed the cut, I was a little bit hurt, but I came here, I like the course. And, you know, two rounds to go, a lot of things can happen but I'm playing well. We'll see what happens. If I keep playing like the last two days, I'll be very pleased."
Cejka birdied Nos. 10-12, finishing the run with a short putt after a nice chip from 40 yards out on the par 5. His last birdie came on the par-4 17th, when he converted a 10-foot putt following an effective approach.
Tidland also birdied Nos. 10-12 to reach 11 under, but bogeyed 13 and 15 to slip back. He finished with seven birdies and four bogeys on the day.
Tidland was one of 24 golfers that did not complete the first round on Thursday because of a 2-hour, 43-minute weather delay that morning. He had to finish early Friday before he started the second round.
"Played really nice yesterday. Hit a lot of close iron shots. Made some good putts," Tidland said. "And then today, it was tough. Fortunately, I hit my irons good again today. Drove it in play and made some key par putts."
The 37-year-old Tidland tied for sixth at the 2007 AT&T Classic, which is his best finish on the PGA Tour. He tied for 18th place in his only other appearance at this event in 2007.
Sabbatini rallied late with birdies at Nos. 16 and 18. He put his tee shot on the 154-yard 16th within 8 feet and made the putt. On the 613-yard closing hole, he was in a greenside bunker after his second shot, but blasted out to 2 feet.
"The conditions were tough out there, there's no doubt about that," Sabbatini said. "I gave myself opportunities again and unfortunately I didn't capitalize on the par fives very well again today but I'm getting better. I birdied two of them today, so improving my chances, but no, things are going good. I'm still hitting the ball well.
"Obviously the wind made it a lot tougher to get close to the holes and give yourself a lot more feasible birdie opportunities, but I'm still there, close, for the weekend."
The best round of the day belonged to Brenden Pappas, who shot a 66 and is tied for 38th at 3 under.
There were 72 players who made the cut at 2-under.