News
Turning Stone Off Tour Schedule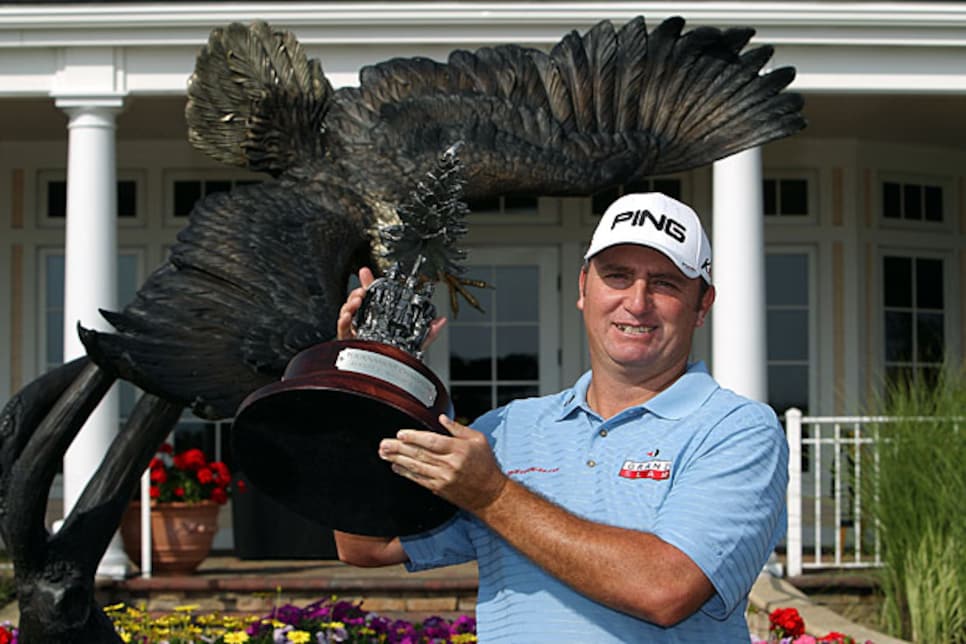 Bill Lunde won this past summer at Atunyote Golf Club.
VERONA, N.Y. (AP) -- The Turning Stone Resort Championship is off the PGA Tour after a four-year run.
The tournament, staged at Atunyote Golf Club since 2007, will not return to the PGA Tour schedule in 2011. Turning Stone, which is owned by the Oneida Indian Nation of New York, was seeking an unencumbered date during the PGA Tour regular season, but a mutually acceptable date did not become available.
Oneida Nation representative Ray Halbritter said the resort wanted a stand-alone date in either June, July or August, two weeks before or after a major.
"It's a frustrating experience," Halbritter said Friday in a phone interview with The Associated Press. "We did seek a better date, and one wasn't available. We're in a climate that doesn't have as large a window as maybe Las Vegas or Florida or southern climates. For us, a date is important to be in a good, temperate zone."
The inaugural Turning Stone Resort Championship in 2007 won by Steve Flesch was staged in September. The tournament was then moved to October for the ensuing two years and staged in August this year opposite the Bridgestone Invitational.
Halbritter, whose initial goal had been securing a spot in the FedEx Cup playoffs, said Turning Stone accomplished what it had hoped to by simply hosting a PGA tournament, mostly because it brought worldwide exposure to Native Americans.
"We were the only PGA event on American Indian lands," he said. "We were pleased we could bring that event here. Our intention from the outset was for the tournament to bring added stature to our renowned resort and golf courses, which it has done. Seeing some of the best golfers in the world play on our homelands sent a message to American Indian and other minority youth that every opportunity in this country is available to everyone."
Halbritter said Turning Stone was exploring new options to host professional golf events and said if the right opportunity to host a PGA event presents itself in the future, he would consider it.
PGA Tour chief of operations Rick George called the resort, which offered fishing trips for the golfers to nearby Lake Ontario, "wonderful hosts."
"Our players thoroughly enjoyed the experience of playing and staying at Turning Stone," George said in a statement.
Turning Stone was part of the race for the FedEx Cup title this year after being part of the Fall Series since its inception. But the Fall Series offered a larger purse -- Turning Stone's was the largest at $6 million -- and had a stronger field. Matt Kuchar received 30 world ranking points when he beat Vaughn Taylor in a playoff in 2009 compared with 24 points to Bill Lunde, this year's winner.
Ironically, bad weather is what prompted the PGA to consider Atunyote as a tour stop.
The Oneidas were chosen because of the venue's quality and how they performed as the last-minute substitute host for the final B.C. Open in 2006. Flooding forced the PGA to move the venue for the B.C. Open from the En-Joie Golf Club in Endicott, N.Y. just two weeks before it was scheduled.
Halbritter said the resort would seek other sanctioned or independent events but would not elaborate. Atunyote has hosted a charity event for Notah Begay III since 2008. Begay, the only full-blooded Native American on the PGA Tour, uses the proceeds from the NB3 Challenge to help improve the health of Native American children, and Halbritter said Atunyote would remain the host.
Last year, Tiger Woods, Begay's college roommate at Stanford, participated in the NB3 Challenge and this year LPGA greats Annika Sorenstam and Lorena Ochoa took part. The event has raised over $2 million since its inception.