News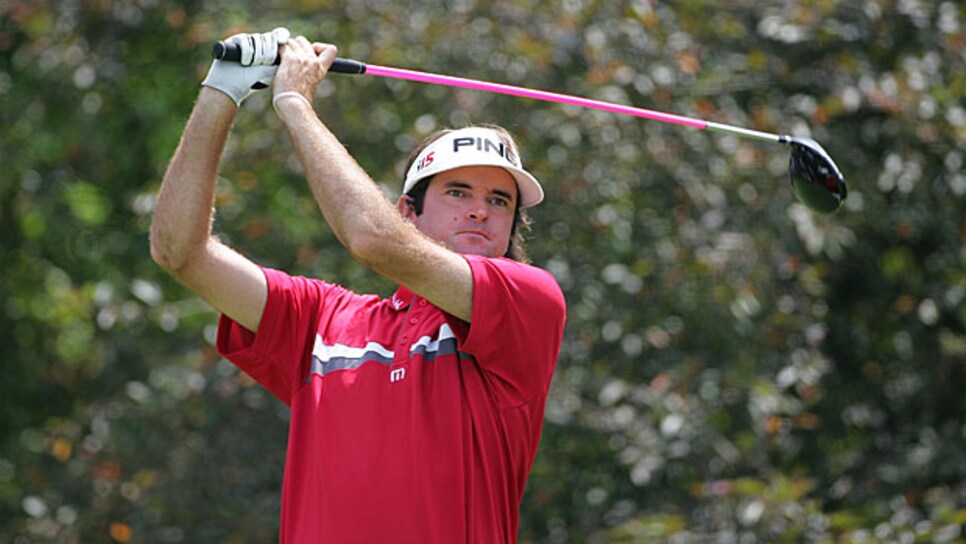 Watson had to fend off Corey Pavin and Scott Verplank in a playoff.
CROMWELL, Conn. (AP) -- Bubba Watson really wanted to play well at the Travelers Championship to impress U.S. Ryder Cup captain Corey Pavin.
Watson overcame a six-stroke deficit Sunday to force a playoff with Pavin and Scott Verplank, then beat Verplank with a par on the second playoff hole.
Watson, the long-hitting left-hander from the Florida Panhandle, closed with a 4-under 66 to match Verplank (64) and Pavin (66) at 14 under. Pavin dropped out on the first extra hole.
After making a 3-footer on the par-3 16th to win, Watson hugged wife Angie and began crying. He said he was so nervous, he could not feel his arms on the final putt.
"I'm a very emotional guy," he said. "I cry all the time. When I go to church on Sunday, I cry at church. I couldn't get the 'Yes' out of 'I do' at my wedding. The pastor said, 'You got to say it. You can't just nod. You can't nod.'
"Everybody has issues. My family had some issues. My dad is battling cancer. My wife last year thought she had a tumor in her brain. We got lucky with that one, and now, we're battling with my dad. It's emotional."
It was largest comeback on the tour since Padraig Harrington also came from six back to win the 2007 British Open.
Verplank left his tee shot short and left of the green on the second playoff hole and missed an 8-foot par putt. Watson, who had a 48-footer for birdie, was able to steady his nerves enough to get it close.
The 50-year-old Pavin, who was taking a break from the Champions Tour to scout players for the Ryder Cup, was eliminated on the first playoff hole after hitting his tee shot just 219 yards (101 yards shorter than Watson) and putting his approach into a bunker short of the 18th green. He chipped to 3 feet, earning a standing ovation.
"The playoff was a little disappointing to me," he said. "I kind of popped up a three-wood there and left myself in a pretty precarious spot."
"Now, it's just time to go back and play with golfers my own age," he added.
Justin Rose, coming off his first PGA Tour win this month at the Memorial, had a three-stroke lead entering the round. But the 29-year-old Englishman shot a 75 to tie for ninth at 11 under.
"It was obviously my tournament to lose," Rose said. "I could have shot 1-over par today and won the golf tournament. It's disappointing. It wasn't overly difficult today."
Watson almost won on the first playoff hole, hitting a sand wedge within an inch of the cup from 128 yards out.
But Verplank made an 8-foot birdie putt to extend the playoff.
Verplank started the day in 13th place, eight strokes behind Rose, while Pavin and Watson were both six back.
Verplank eagled the 13th and 15th holes to move into contention. But a birdie try on 17 lipped the cup.
"When I holed it on 15, I looked at the leaderboard, and I wasn't that far back. I needed to birdie one of the last couple holes," Verplank said.
The crowd began chanting "USA! USA!" after Pavin made a 32-foot birdie putt on 17 hole that broke sharply from left to right and put him into contention.
He said he wouldn't himself on the Ryder Cup team, even if he had won.
"Being captain is pretty tough, just to do that," he said. "Arnold Palmer was the last one to do that, and that was a different era, a different time. I wouldn't have played."
Watson had led briefly after four birdies on the back nine put him at 15 under. But he hit his tee shot on 17 into a bunker, and topped his second shot into the water on the way to a double bogey.
But he didn't quit. He hit his tee shot 396 yards off the cart path, and made a 6-foot birdie putt to get into the playoff.
"I guess you can't say I choked, because I came back and birdied the next hole and now I'm the champion," he said.
No player in the first three groups made it into the playoff.
Rose held the lead until he missed a 10-foot par putt on 10th and moved into a three-way tie with playing partner Ben Curtis and Verplank.
Rose lost the lead after a bogey on the 12th hole, then hit his tee shot on 15 into the water on his way to a double bogey.
Curtis, who bogeyed just two holes in the tournament coming into Sunday, hit his tee shot on 12 out of bounds to the left, and made a double bogey. Both he and Rose bogeyed 16. Curtis finished with a 73 to tie for 13th at 10 under.
Chris Riley began the day at 8 under, but eagled the par-4 14th from 155 yards and was 5 under on the back nine. He finished a stroke out of the playoff at 13 under.
"I bogeyed my first two holes and, I was like, 'Ho, hum. Here we go,'" he said. "I was in something like 45th place. What makes this course so great is you can make up ground."
Watson ended Europe's tour winning streak at three. Northern Ireland's Graeme McDowell won the big prize last week at the U.S. Open. The Memorial was Rose's first tour win, and fellow Englishman Lee Westwood won the St. Jude Classic.
Watson earned $1.08 million and moved into eighth place in the FedEx Cup rankings.