News
Lehman Gets Payne Stewart Award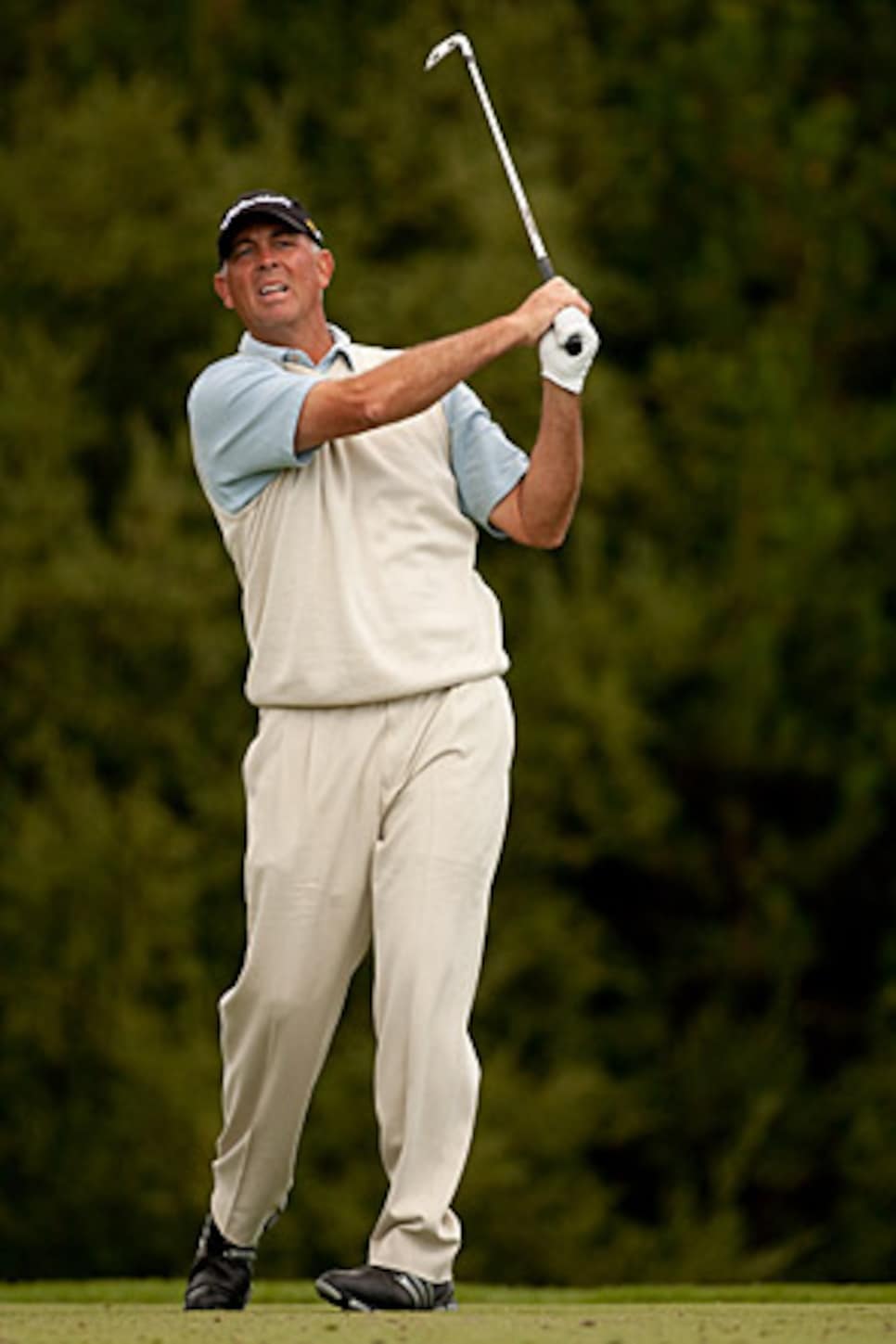 Lehman was honored at a ceremony Tuesday night in Atlanta.
ATLANTA (AP) -- Tom Lehman never won an award that brought so much honor and so many mixed emotions.
Lehman was presented the Payne Stewart Award on Tuesday, given to the player who shared Stewart's respect for tradition, charity and who presented himself through dress and conduct.
"An award like this, I'm not really sure how to take, quite frankly," said Lehman, whose five PGA Tour victories included the British Open. "There's so many conflicting emotions. The overriding feeling that I have even sitting here right now is I really wish that this award wasn't being given out for another 30 years."
Lehman shared some good Ryder Cup stories involving Stewart, who was killed in 1999 in a private plane crash. But the most indelible link between Lehman and Stewart came before the first round of the 1999 Tour Championship in Houston. Lehman spoke at a ceremony for Stewart, where 29 players sat in folding chairs as a ghostly fog swept over Champions Golf Club.
Lehman was to accept the award Tuesday night in downtown Atlanta. At a news conference at East Lake, he shared one of the stories he planned to tell that embodied how Stewart treated the game.
Stewart was in the final match at the 1999 Ryder Cup against Colin Montgomerie, and he had stashed a top hat of the Stars and Stripes in his golf bag to wear down the 18th fairway if the Americans were to win.
They rallied to win in most dramatic fashion, with Justin Leonard holing the "putt heard 'round the world," a 45-foot birdie in the second-to-last match."
Stewart left the hat in the bag. In fact, he conceded a 25-foot putt to Montgomerie on the last hole.
"I said, 'Why didn't you put that hat on?'" Lehman said. "His comment was, 'I couldn't do that to Monty.' I thought about that, and I think that really says a lot about his idea of sportsmanship, his idea of competition, his idea of respect for your competitor, his idea of respect for the game.
"There was a lot that I learned about that -- about people, about dealing with people, about having fun and about respecting the game -- from Payne."
FAR AWAY: Paul Casey, the only player among the top 10 in the world who won't be at the Ryder Cup, will be about as far away from Celtic Manor that week of the matches. He's going on a bike ride in British Columbia.
"We're going to Whistler," Casey said Tuesday. "I've been up there before. I didn't watch a lot of TV the last time I was there. I'll definitely turn on the TV at some stage and check out what's going on with the Ryder Cup. As much as I'd love to be there, as much as it hurts me that I didn't qualify on my own merit, I still have an interest in it. And I will still be rooting on the Europeans."
Casey had played on the last three Ryder Cup teams and had a 3-2-4 record.
By not going to the Ryder Cup, he will have four weeks off before ending his season overseas.
NO TIGER: For the 12th time this year, Phil Mickelson has a chance to replace Tiger Woods at No. 1 in the world. And this time, Woods doesn't factor into the equation because the world's No. 1 player didn't qualify for the Tour Championship.
Mickelson can get to No. 1 for the first time in his career by winning at East Lake, where he is the defending champion, or by finishing in no more than a three-way tie for second.
Steve Stricker, meanwhile, can't mathematically get to No. 1 — because Woods is not at the Tour Championship. The winner gets 54 points toward the ranking, and the number is reduced slightly without the No. 1 player in the field.
BUBBA PREPARES: This is one Ryder Cup in which none of the Americans have played the Celtic Manor Resort course, except for Bubba Watson — from thousands of miles away.
Watson has lost track how many times he has played the Twenty Ten Course on a video game.
When he finally returned home from the PGA Championship, where he secured a spot on his first team, Watson said he played the video game five straight days "so I could see the course."
"When we set it up easy, I shot like 56, 55," he said. "Setting it up hard, it was 67, with a gusty wind."
The course probably won't play the same next week. And it most definitely won't sound the same.
BUSY STRETCH: Davis Love III figures to have plenty on his plate the next two weeks -- first as an assistant captain at the Ryder Cup, then getting home to Sea Island where he is an unofficial host of the new McGladrey Classic, to be played Oct. 7-10.
Love went to the Deutsche Bank Championship equipped with 50 brochures to put in players' lockers, along with a list of 15 players the tournament asked him to personally invited.
"We just started on the push for tickets," he said. "We don't need a lot, but ticket sales are going to make-or-break us for the charity dollars. It's going to be a great field in a different time of the year."
Among those living in the area and expected to play are Love, Matt Kuchar, Zach Johnson and Jonathan Byrd, along with Justin Leonard, Charles Howell III and Brandt Snedeker.
Love was still trying to get Jim Furyk, who lives about 1½ hours away in Ponte Vedra Beach, Fla. He considers that a long shot.
"If it was in Jacksonville the week after the Ryder Cup, I'm not sure I would play," Love said with a laugh.
DIVOTS: Ryo Ishikawa will speak to players at a private dinner during the Asian Amateur Championship, which will be played Oct. 7-10 at Kasumigaseki Country Club in Japan. A year ago, Gary Player delivered the keynote in the inaugural tournament. ... Masters champion Phil Mickelson will not play the PGA Grand Slam, for the four major champions. The first alternate, Tiger Woods, also declined. Ernie Els will replace Mickelson in Bermuda on Oct. 19-20. ... Dustin Johnson, Bubba Watson and Boo Weekley will represent the PGA Tour in the Wendy's 3-Tour Challenge, to be played Nov. 9 in Las Vegas. The LPGA Tour and Champions Tour teams have not been announced. ... Dustin Johnson has played in the final group five times this year, but has broken par in the final round only once, a 69 to win at Cog Hill.
STAT OF THE WEEK: A PGA Tour rookie failed to qualify for the Tour Championship for the first time since 2003.
FINAL WORD: "I was always a fast player. There's only two things that can happen -- you hit a good shot or a bad shot. So why waste time doing it?" -- Dustin Johnson.