News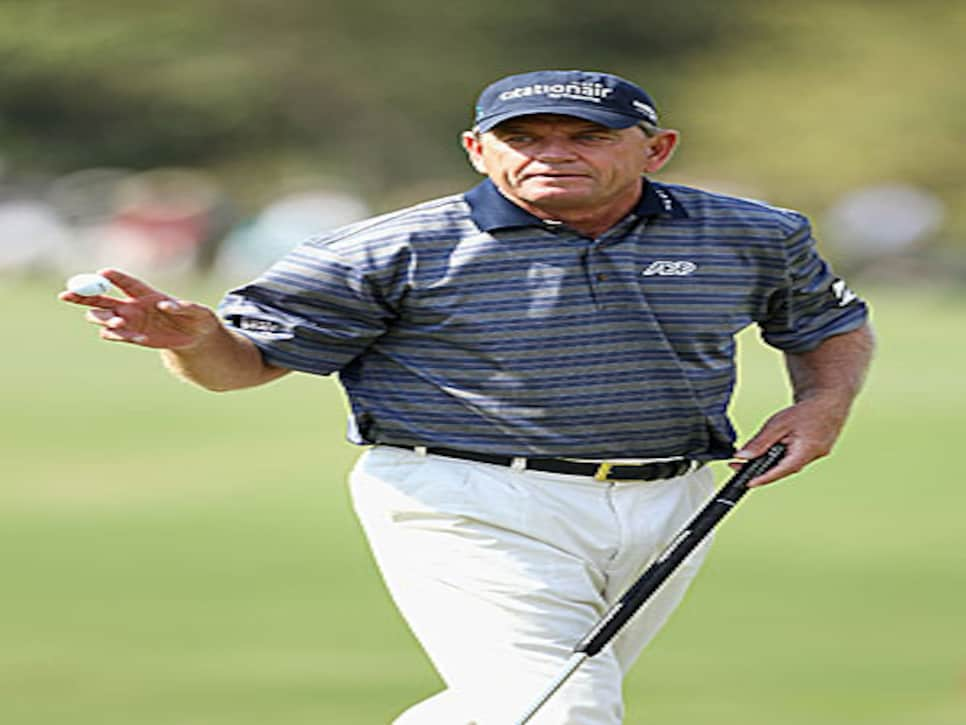 Price picked up his fourth career Champions Tour win.
NEWPORT BEACH, Calif. (AP) -- Nick Price won the Toshiba Classic on Sunday for his fourth career Champions Tour title, holding off Mark Wiebe by a stroke at Newport Beach Country Club.
The 54-year-old Price matched the Champions Tour record with a career-best 11-under 60 in the first round, then closed with consecutive 68s to finish at 17-under 196. He earned $255,000.
"When I shot 60, everyone was asking how many I was going to win by," Price said. "Well, you still have two rounds to go. ... I made it a little more exciting than I wanted to. I tried not to, but my putter just didn't let me. I hit the ball so good today so it was a little frustrating to say the least."
Wiebe shot a 67. He had a chance to force a playoff, but missed a 12-foot birdie putt on the par-5 18th.
"I was totally happy with my putt," said Wiebe, a two-time winner on the Champions Tour. "I really liked it. When I looked up, I thought it was in. I really did."
Japan's Joe Ozaki (67) and Michael Allen (66) tied for third at 14 under, and 2010 winner Fred Couples (67) was another stroke back along with Brad Bryant (65) and Robert Thompson (66).
Price, a three-time major champion and 18-time winner on the PGA Tour, birdied three of the first 10 holes to reach 17 under, followed a bogey on the par-4 12th with a birdie on the par-3 13th, then closed with five straight pars to finish off the wire-to-wire victory.
Wiebe birdied Nos. 3 and 5 to cut Price's lead to one and had a chance to pull even on the seventh hole, but missed a 15-foot birdie putt. Price extended the lead to two with an 8-foot birdie putt on the par-4 seventh after Wiebe's miss. Wiebe cut the margin to one again with a 5-foot birdie putt on No. 15.
"It was a fun day," Price said. "I knew (Wiebe) wasn't going to let up he was hitting the ball very straight and solid. I just am thrilled. I played so well this week."
Price struggled with his putter, missing several birdie chances on the front nine 10 feet or closer and finished with 30 putts.
"My putter wouldn't let me get away from the guys," Price said. "I think the longest birdie putt I had on the front was 10 feet. I had 6- and 8-footers all over the place and I jiggled two in. I just couldn't make a putt."
Price had two victories last year, teaming with Mark O'Meara to take the Legends of Golf and winning The Principal Charity Classic. Price also won the 2009 Outback Steakhouse Pro-Am.
Ian Baker-Finch struggled in his debut on the 50-and-older tour, shooting 74-79-74 to finish 78th in the 80-player field.