News
Ready Or Not, Tiger Woods Is Back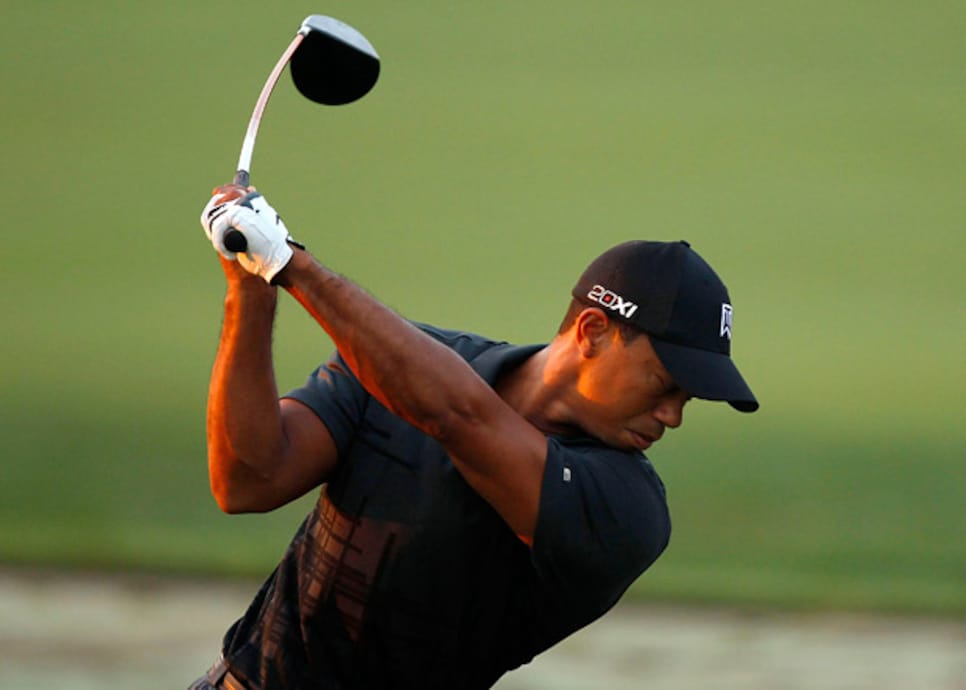 Woods said his leg hasn't felt this good in years.
AKRON, Ohio -- So, he returns to the circus, ready to walk the high wire again without a net, but perhaps more sure-footed, more focused, more capable of summoning the preternatural intensity that was the source of his once-indomitable golf game.
Eager for competition and healthy enough to pursue it without reservations, Tiger Woods has chosen the friendly confines of Firestone CC to begin again his pursuit of an excellence easily defined but now startlingly elusive.
Woods tees it up Thursday at Firestone's South Course in the Bridgestone Invitational, an event he has won seven times. It will mark his first competition since May 12, when he withdrew from the Players after nine undeniably miserable holes at TPC Sawgrass with injuries to his left knee and Achilles. The former No. 1 player in the world has not completed a tournament since he finished T-4 at the Masters. He has not won one since late 2009.
"I'm here to try to win the golf tournament. That's what I'm focused on. That's it," Woods said emphatically during a press conference Tuesday morning following a nine-hole practice session. "I'm excited to compete, to play, and, hopefully, win the golf tournament."
Much has changed since Woods, following doctor's orders, assigned himself to the disabled list. He has fallen to No. 28 in the world rankings, his lowest standing since early 1997. He has drifted to 133rd on the FedEx Cup points list, currently outside the playoffs. He has parted ways with his longtime caddie, Steve Williams, who assisted in 66 PGA Tour victories, including 13 of his 14 major titles.
Dressed in black, Woods looked relaxed and fit, but trimmer. He wore prototype Nike shoes that he helped design and a shock of hair on his chin that brought a playfully sinister definition to his familiar wide, toothy smile.
But most importantly of all, he brought a healthy body.
"The great thing is I don't feel a thing. It feels solid, it feels stable, no pain," Woods, 35, said of his leg, which he injured during the third round of the Masters and aggravated at The Players. "One of the reasons why I took as long as I did to come back is that I want to get to this point where I can go ahead and start playing golf again like this. It's been a very long time, and it feels good to go out there today and hit balls like this, go practice and feel nothing and walk around and pretty much do anything I want on the golf course."
How long had it been since he felt this well, physically?
"Years. Years plural," he said.
As for his golf game, it remains to be seen how healthy that appears. Woods hit the ball splendidly during practice at the Players, then came apart, literally, shooting 42 for nine holes at the Stadium Course and reinjuring himself in the process. He has been chipping and putting for some time, but has only been cutting loose on full swings for the last two or three weeks.
The time away from competition, which cost him starts in the U.S. Open and Open Championship, allowed him to spend time with his two children, he said. It also gave him the itch to play again. He was almost prepared to enter last week's Greenbrier Classic, but decided to give himself one more week to heal and recalibrate with swing coach Sean Foley watching over him. It doesn't hurt that this World Golf Championship guarantees him four rounds.
If there is rust, it has not yet choked up the gear works. Thursday, when he plays the first of two rounds with good friend Darren Clarke, the Open champion, will reveal much, though.
"I still haven't been in a competitive environment yet, so that's a totally different atmosphere as you know," said Woods, who visited Atlanta Athletic Club Monday on a scouting trip for next week's PGA Championship. "But the shots felt very crisp, very clean. I was very pleased. My start lines were good. They were nice and tight, which was good. So everything that we've been working on we're very pleased with today, and just got to keep working at it. Tomorrow is another day to refine it and be ready to go by Thursday."
Despite his immense success here, Firestone also was the site of arguably Woods' worst performance as a professional last year when he was thoroughly flummoxed by his golf swing and slashed his way to an 18-over-par 298 aggregate score and T-78 finish. That compelled him to tap Foley as his instructor prior to the PGA Championship at Whistling Straits.
Foley is still in the stable, but his sidekick Williams now works for Adam Scott after Woods dismissed him following the AT&T National. Longtime friend Bryon Bell is serving as interim caddie. There is no timetable for finding a full-time replacement, though there is no shortage, of, um, potential hires.
"How many? I hear there's been a few," Woods joked when asked about the number of volunteers for his bag. "People who are not caddies out here, a ton (have inquired). So, yeah, we've gotten a lot of interesting ones. But as far as a timetable, I don't have a timetable on that. Right now I'm trying to play this week with Bry and, hopefully, next week as well, and maybe get myself in the Playoffs."
Since his auto accident in late 2009 and subsequent revelations of extramarital dalliances, Woods has been an enigma as both player and person. His career arc, for so long soaring ever higher, has been enveloped in a purple fog. His swaths of inactivity -- he has competed in just 18 tournaments the past 19 months -- have left a void in the game that young players like Rory McIlroy, the record-setting U.S. Open champion, have only partially filled. Still, it is the new generation that represents a real obstacle to Woods in his quest to break Jack Nicklaus' hallowed record of 18 major championships.
But maybe, like Nicklaus, Woods will warm to the challenge of trying to beat the new breed. Tiger has been playing golf nearly all of his life, yet he still embraces it, enjoys it, relishes the competition. "Trying to beat these boys. That's fun," he said. "Getting out there and trying to win golf tournaments, being there with a chance to win, whether you win or feel, just being there is just a rush. Trying to pull off the shots that you've done in practice when it matters the most, see what you've got … that's fun."
Henry Miller, the great American novelist, said, "One's destination is never a place, but a new way of seeing things."
And so there goes Tiger Woods. And perhaps the rest of us, too. Without a net.