News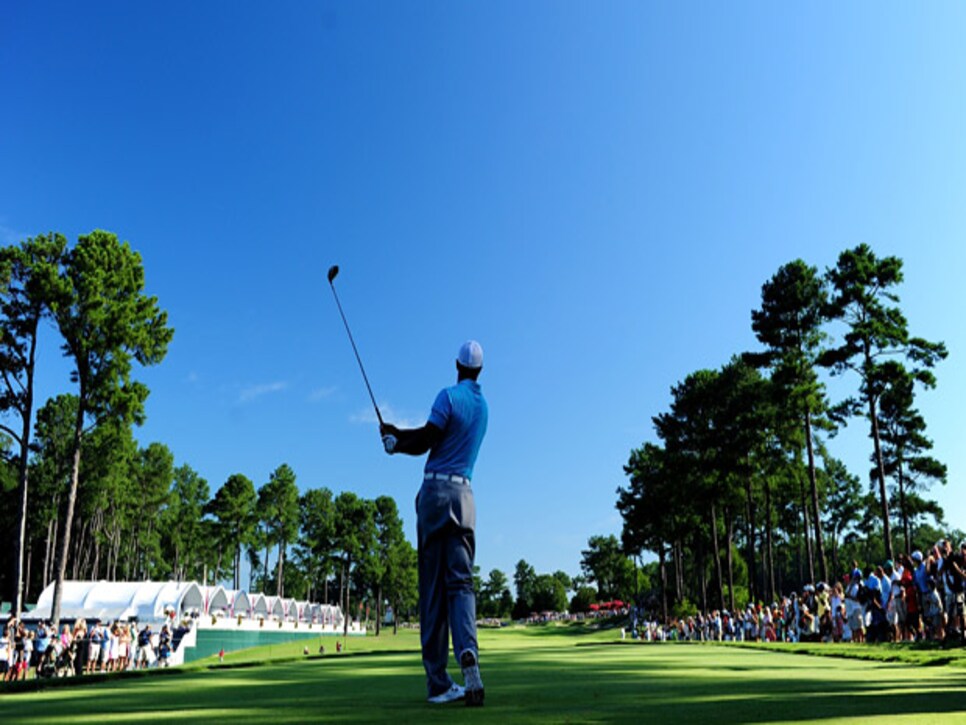 Woods once defined success strictly by majors. Now it's staying healthy.
JOHNS CREEK, Ga. -- One night in the Bahamas, in a decrepit wooden shack by a cow pasture, the greatest fighter of all time was laid out, as in death, on a makeshift dressing room table surrounded by consolers. Finally, Muhammad Ali opened his eyes and spoke. "Father Time caught up with me," he said. He was 39 years old and had lost a decision to a man who once would have been danced dizzy by the champ.
They all get old, some sooner than others, and golfers age more slowly than athletes who throw their bodies against each other. Still, at least part of the question Tiger Woods must answer this week in the PGA Championship is the one that will be asked more often each year: Has Father Time come for him?
At his first pre-tournament press conference Wednesday, Woods said nothing of substance. On the current controversy stirred up by his former caddie, Steve Williams, he deflected a question asking if Williams had been disloyal to him: "I'm not going to speculate on Steve." The more Woods talked and said nothing except what we've heard a hundred times -- he's working, he's getting there, he's having fun -- the more he sounded...for the first time maybe...even suddenly...he sounded old.
Remember his time as golf's golden child? Remember when he thought the only measurement of success was the next step toward Jack Nicklaus's record of 18 majors? Woods once said, "If I have more wins than anybody else and win more majors than anybody else in the same year, then it's been a good year." He also said, "In order for it to be a great year, you have to win a major." Between 2000 and 2006, he won at least two majors in a year four times -- but he hasn't won two in a year since. Since the U.S. Open of 2008, he hasn't won another major.
Woods is 35 years old, 36 this December. His movement toward Nicklaus's record has stalled at 14. Nicklaus won five majors after he turned 35, four of them after 38. To judge by the calendar alone, Woods is on Nicklaus' pace. But Nicklaus' life was never turned upside-down by sexual scandal. Nor did Nicklaus go through four knee surgeries. When Nicklaus entered middle age, if we define a tour pro's middle age as 35, he was still the man. Not so with Woods. He's now just another guy who, if he gets hot, might be able to beat a Martin Kaymer, Charl Schwartzel or Louis Oosthuizen on Sunday.
Wait. Not just another guy -- another old guy, remembering well a time passed. Listen to him from the press conference. When asked which he liked most, a dominant athlete such as Michael Jordan or a wide variety of challengers, he said, "I've always been one that enjoyed watching dynasties or rivalries. I grew up in SoCal with the Lakers playing the Celtics...And then, obviously, watching the Bulls, Michael (Jordan) winning six in a row...that's as good as it gets." He even fumbled through a montage of Derek Jeter moments, "to see what those guys have done, four out of five or four out of six, whatever it was, during that stretch." It was four of five beginning 15 years ago -- before Tiger won major No. 1 -- and the Yankees have won one World Series since that run. Tiger Woods, nostalgist.
In talking about golf's "cyclical nature," Woods further affirmed his understanding that time waits for no man. He said, "When I came out here, it was -- (Nick) Faldo was still playing well, still had (Greg) Norman and (Nick) Price, a bunch of guys from Europe, Bernhard (Langer) was still out here playing well, Ollie (Jose Maria Olazabal). Then you had my generation of Phil (Mickelson), Ernie (Els), Vijay (Singh), and Goose (Retief Goosen) and (Jim) Furyk. And now you have this new young crew coming up. There's probably two generations to that young crew, the guys that are probably early 30s. Like Adam (Scott) is, what, 30? (Actually 31.) And those guys are probably in their mid-20s, and then there's the teenagers -- Ryo (Ishikawa) being 19 ... it's just ungodly how good these guys are at such an early age." He might have named Matteo Manassero, 18, Rory McIlroy, 22, Rickie Fowler, 22, and Jason Day, 23. "Being here, from the States," Woods said, "no one turned pro in their teens. ... We always went to college. But overseas it's different. Guys are turning pro at a very young age and getting way more experience than we ever had playing professional golf, and they're better earlier than even my generation."
It is one thing to stand aside, as Woods did in these instances, and note the passing parade. Some people are paid to do such work. (Ahem.) It is quite another to wake up each morning and haul those aching bones to the practice tee knowing that a full flight of post-adolescent limber-backed flat-bellies is waiting to hand you your hat. Even without tending to his personal-life calamities, Woods has had so much repair work to do on his body that he now says old-man stuff, like this:
"I have way more energy because I'm not trying to block out pain and trying to ignore that. I can just go out there and just play golf...I can just go out there and hit as many golf balls as I want, putt for as long as I want, chip for as long as I want. These are things that over the course of years past, I haven't been able to dedicate that much time to...It's nice to have a kind of bounce in my step again and walk around these hills and not have to worry about hills. I can just go right up..."
Q: Given the circumstances of your year, what would it take for you to consider this season a success for you?
Woods: "Well, I'm finally healthy, so that's a big one. I haven't been in a while, so that's something I'm very excited about finally, that I can come out here and just play and have fun again."
At middle age, suddenly, Woods seems to have replaced "win a major" with "healthy" as the new standard of success.
Q. You're at an age when majors are historically harder to come by. Do you have benchmarks where you'd like to be at age 38, age 40, in order to catch Jack? Woods: "Yeah. Ahead." (A tight smile here.) You know, 38. So that's three years, 15. If I win all 15, I'll be looking all right. I would be in good shape, wouldn't I? Twenty-nine."
Not sure where he came up with 15. Three years is 12 majors. But, y'know, we old folks have trouble with numbers.