News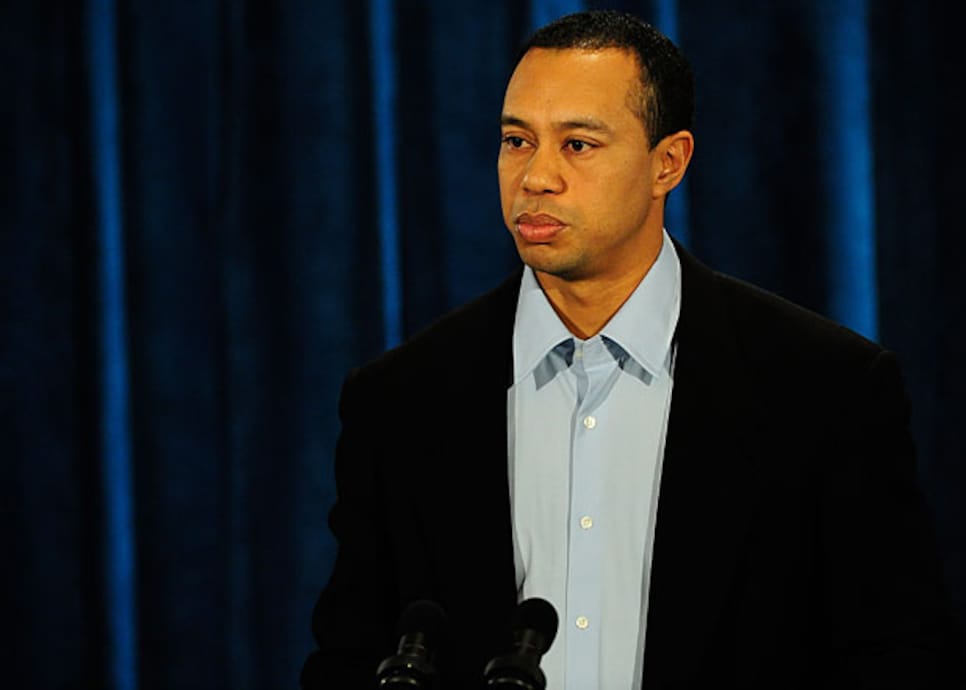 Tiger Woods talked for more than 13 minutes Friday from the clubhouse at TPC Sawgrass.
PONTE VEDRA BEACH, Fla. (AP) -- Tiger Woods apologized Friday for cheating on his wife and says he is unsure when he will return to competitive golf.
"I was unfaithful. I had affairs. I cheated. What I did was not acceptable," said Woods, looking composed and speaking in a steady voice. His wife, Elin, was not with him.
As for coming back to the PGA Tour, the planet's best golfer said: "I do plan to return to golf one day. I just don't know when that day will be. I don't rule out it will be this year."
Woods talked for more than 13 minutes from the clubhouse at the TPC Sawgrass, home of the PGA Tour. About 40 people were in the room, including his mother, with an untold number watching around the world as he made his public confession.
When Woods finished, he hugged his mother and she whispered in his ear.
"I said 'I'm so proud of you. Never think you stand alone. Mom will always be there for you and I love you,'" Kultida Woods said.
Admitting he felt he "deserved to enjoy the temptations" that came with his fabulous success, Woods said he is solely responsible for his actions. "I am deeply sorry for my irresponsible and selfish behavior," Woods said.
Woods said he was in treatment for 45 days and will return for more therapy, adding he has more work to do to resolve his personal problems.
Woods had not talked in public since his traffic accident Nov. 27 triggered shocking revelations about Woods' serial infidelity.
As for his marriage, he said: "Every one of these questions and answers is a matter between Elin and me, issues between a husband and wife."
In Sweden, Elin's father, Thomas Nordegren, said he saw Woods' confession.
"I watched it but I have nothing to say right now," Nordegren told The Associated Press.
Elin's mother, Barbro Holmberg, declined to comment on Woods' apology, through her spokeswoman Eva Malmborg.
Friday's event was tightly controlled, with only a few journalists allowed to watch Woods live. The televised confession became a major television event with the networks breaking in to show it.
No other PGA Tour player could command this kind of attention.
Woods is one of the most recognized athletes in the world. Television ratings double when he is in contention, which has happened a lot on his way to winning 71 times on the PGA Tour and 14 majors, four short of the record held by Jack Nicklaus.
And no other athlete had such a spectacular fall. Accenture and AT&T have ended their endorsement contracts with him, and Woods has become the butt of jokes on everything from late shows to Disney performances.
Woods' statement came during the Match Play Championship, sponsored by Accenture.
Ernie Els was among players who were upset to learn that Woods had chosen the week of a World Golf Championship for a public appearance that was sure to take attention away from the tournament. "It's selfish," Els told Golfweek magazine.
Former champion Nick Faldo, whose own personal life has been subject to media scrutiny over the years, watched Woods and told the Golf Channel: "It has left a big question mark: When is he going to return? We have had the apology but as golfers we are back at square one."
Woods' appearance drew reaction from all corners.
From the Olympics, American Alpine skier Julia Mancuso posted on Twitter: "do we think this is coming from the heart or the paper! come on Tiger! give us some reality here."
Veronica Siwik-Daniels, one of Woods' alleged mistresses and a former pornographic performer, watched the event with attorney in a Los Angeles radio studio.
"I really feel I deserve to look at him in person face to face in the eyes because I did not deserve this," she said.
Associated Press writer John Rogers in Los Angeles contributed to this report.