News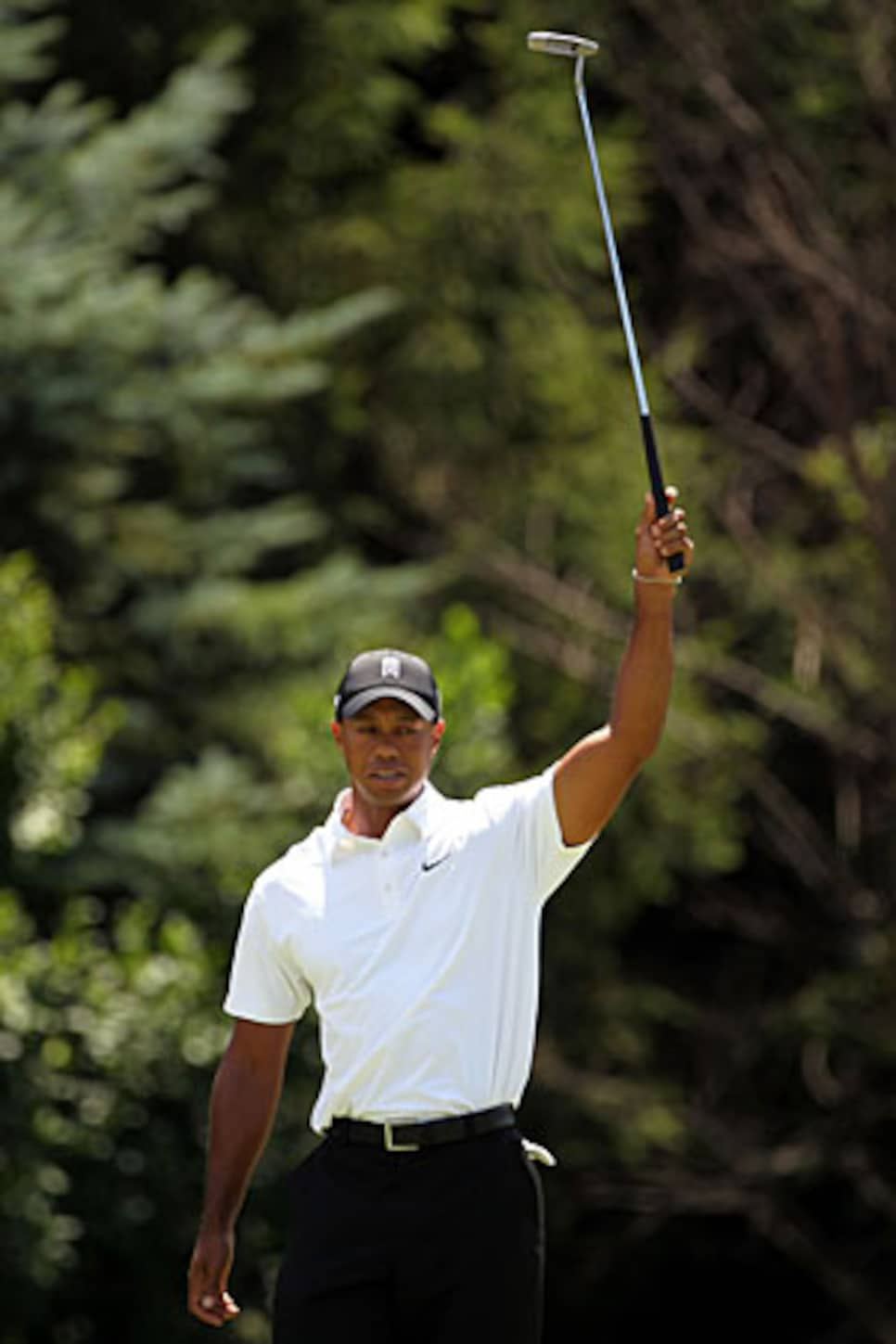 Tiger didn't get much going in the first round after making a long birdie putt on No. 5.
NEWTOWN SQUARE, Pa. -- Maybe it's just Philadelphia, where they boo Santa Claus but cheer wildly for great performances -- Santa, to be fair to Philly, was having an off year -- but the roars for Tiger Woods Thursday at the AT&T National were loud, close to raucous. While the reaction is getting closer to they way it used to be for Tiger, Wood's play remains decidedly mixed, with some poor shots of the head-scratching variety.
The three-over-par 73 Woods posted in the first round at Aronimink GC was not only seven strokes off the pace, it as a 73 that after 13 holes appeared as if it would be a 68. He was one-under par at that point, with a reachable par-5 yet to play. But, once again, he failed to close out a round, unleashing some of his most baffling play since he returned at the Masters in April.
On No. 14, his tee shot on the par-3 ended up a shocking 60 feet from the hole and he three-putted, missing a 5-footer, one of three from that length he missed during the round. On. No. 16, he drove to the right rough on the par-5, laid up perfectly to 82 yards then inexplicably missed the green into the right bunker and then missed the 7 foot par putt.
Trying to hit a hard draw into the 215-yard par-3 17th hole, he hooked it and ended up in the water guarding the green and made double bogey. "I was trying to lean on a 6 and over cooked it," he said.
The round was pretty much summed up on No. 18. He crushed a drive, hit his approach shot to 5 feet and then missed the birdie putt. "I hit it good all day and made absolutely nothing," Woods said. "It was a very frustrating day on the greens. My speed is good, I just can't get the ball on line."
Woods assessment of his game is sort of accurate. He is hitting the ball better every time out, but puzzling inconsistency remains. He used the driver more in this round that he has in any since his return and, for the most part, was finding the fairway -- even though there were a couple "oh my" misses.
"I was driving it on a string." Woods said. That's a bit of an overstatement. It was a string with some knots in it. His two-way miss still resurfaced now and then. He missed wildly left and made bogey on No. 2 and missed No. 7 right of right, but saved par.
The inconsistent play with his short game is the most puzzling, since that has always been the great eraser for his mistakes. Not only is he not making the up-and-downs to save par, as he always has, but poor short shots have actually led to bogeys.
Woods, frankly, played like a man with a lot on his mind, especially on the back nine where he posted a 39 after turning in 34. This is an awkward tournament for him in many ways since it used to the called the "AT&T National Hosted by Tiger Woods," but his name was dropped when AT&T severed its endorsement ties with Woods after the scandal broke.
Still, Woods works hard for the event since the Tiger Woods Foundation is one of the benefiting charities. On Wednesday night he attended a fundraiser at which Jon Bon Jovi played that raised a lot of money for the charities. And then there is the fact that Philadelphia is, well, Philadelphia.
The Philly papers greeted Woods Thursday morning with a story they picked up from a British tabloid saying finalization of his divorce from Elin Nordgren is only days away. There was also a story for him to read over breakfast saying Woods had been questioned by Federal authorities in its steroid probe of Dr. Anthony Galea, a doctor who has treated Woods, among other athletes.
Woods has confirmed that he had Galea's controversial blood-spinning procedure on his four-time surgically repaired left knee, but vehemently denies using any performance-enhancing drugs. "Yes, I spoke with them last week," Woods said. "I answered all their questions and that was it." Woods also said his knee, neck and back are causing him no problems at this time.
The crowds at Aronimink, especially on the front nine -- Woods teed off shortly before 1 -- were large and appreciative. The few drunks in the crowd babbled mindlessly -- the "get in the hole" crowd -- and never directed their alcohol-infused idiocy toward Woods.
The closest it came to ugly was on the second tee, which borders private property. There were dozens of people on the other side of the fence, many with cameras, which are not allowed by paying customers. One clicked as Woods set up to drive.
He backed off, hung his head as he tried to compose himself, then hit a wild hook, blurted "Nice concentration," and suggested he perform a physically impossible act upon himself. Responding to Woods' outburst, someone in the gallery shouted: "That's all right, I'm sure you'll make up and down from there." The tone of voice did not indicate the man was all that sincere in his best wishes.
Woods will go into Friday's second round T-81 and outside the cut line. While it would not be surprising to see him fight his way into the field for the weekend, it would be somewhat of a shock if he fought his way back into contention at the tournament.
Right now, the quality of play is not consistently good enough to expect Woods to win. The putting, especially, is well into its second year of being ordinary at best. The fans turned out in impressive numbers with generous enthusiasm Thursday at the AT&T. It was almost like the old days for Woods -- except the results. That's the part of his return that has yet to return.