News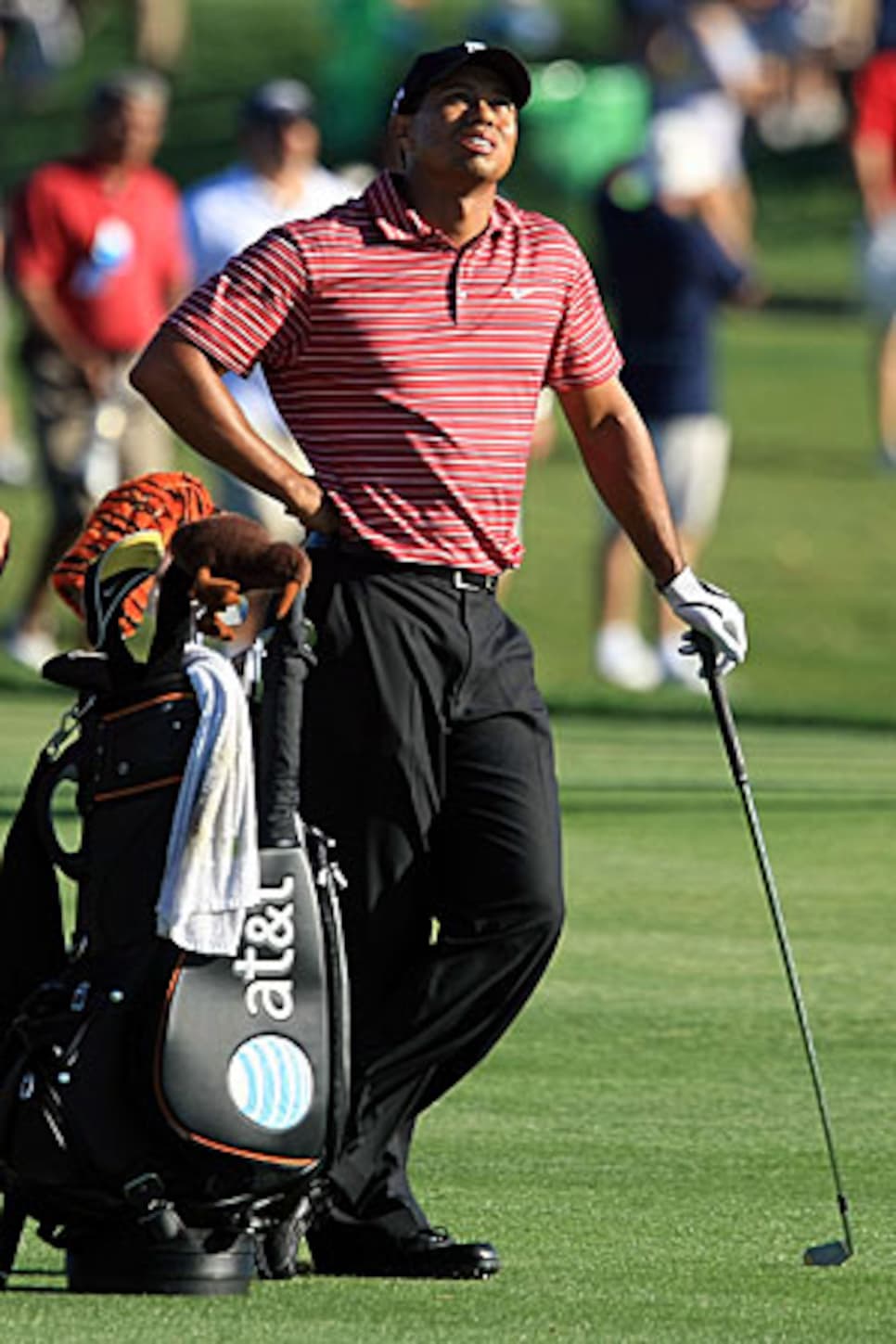 Some of the definining moments of Tiger Woods' career have come at Bay Hill.
ORLANDO, Fla. -- The sky boxes are going up behind the driving range at Bay Hill, the deadline commitment is less than a week away, so I walked out to the 18th green on Sunday night to think about Tiger Woods for awhile. I traced his footprints to that back quadrant of the green and turned around to face a white scoreboard lit in the starlight. Without a name on it for now, I saw Woods '00, '01, '02, '03, '08, '09.
The wind was rustling the canvas tops of the grandstands. I walked in Tiger's line and could see the cameras flashing when he made the putt last year to close out his first victory after returning from major reconstructive knee surgery. I went back to Arnold Palmer calling the 20-footer Tiger would make to win his fifth Bay Hill tournament in 2008 -- and saw his shadow move across the green and throw down his hat. I looked back toward the clubhouse and remembered the one he made in a red sweater to beat Phil Mickelson on a Monday in 2001 -- before he went on to complete the Tiger Slam.
And then I went back to my room to write. I was down at the CA Championship all week, sadly not feeling the buzz from the best field of the year because it felt like no one was there -- relative to some of the old Doral tournaments -- to appreciate it. For most of the week, the story was not whether Ernie Els was going to win, but when Woods was going to come back. On Friday, there were three stories in the Miami Herald about Woods. On Saturday, the Herald columnist who missed his chance on Friday weighed in on the same subject. PGA Tour commissioner Tim Finchem sat in on NBC's telecast Sunday, telling Dan Hicks he's asked 300 times a day when Tiger is coming back, with varying reports last week saying it would be Bay Hill (New York Post) and The Masters (AP). Meanwhile, not five miles away at Isleworth, Tiger is presumably trying to answer the question himself, while also trying to put his life back together.
While I don't totally agree with the commissioner when he says, "everybody's done looking back at the circumstances that resulted in him stepping away from the game," I will say the most asked question among the friends I have who are true fans of the sport -- who really don't care how many women Tiger slept with -- will be answered now within a week. By Friday night at 5 p.m., we will at least know whether Bay Hill, the tournament he's won six times, his closest official PGA Tour event, will be his return to golf.
Finchem is acting like he doesn't know. Palmer is acting like he doesn't know. Ron Sirak has written on our website that Tiger probably doesn't know. The latest rumblings I've heard around golf circles in Orlando are that he's playing the Tavistock Cup but skipping Bay Hill. "We saw in Ponte Vedra the extent of the media show," Finchem said, "When he first steps back, he recognizes and his people recognize that and so all of the speculation about what's going to happen at the end of March, I think if he's going to play at the end of March, we will hear pretty soon."
All I hear now is rustling canvas atop an empty grandstand.