News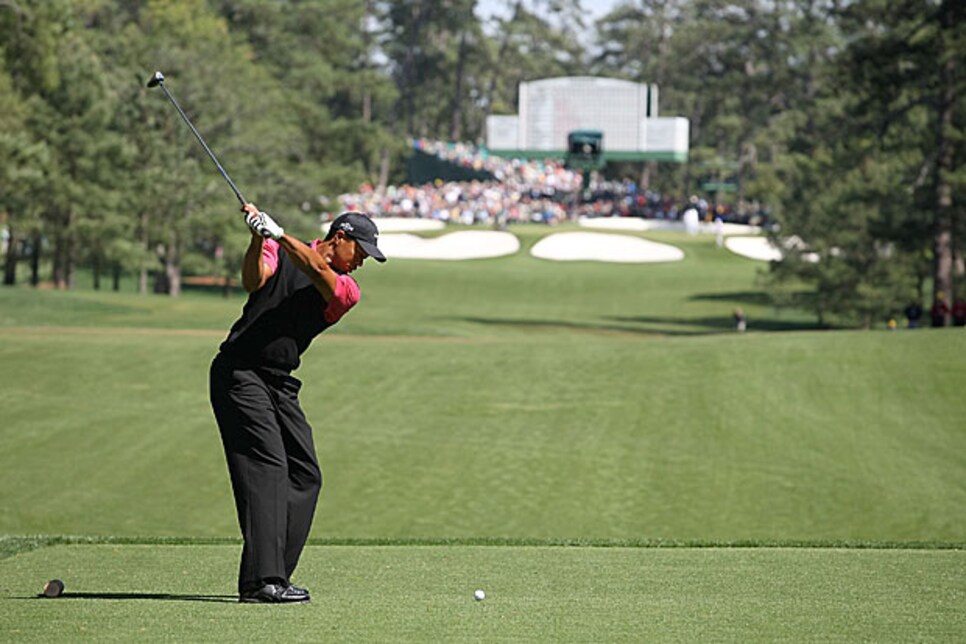 While Augusta National promises a controlled environment, it also stands to expose any rust in Woods' game.
The decision by Tiger Woods to return to competition at the Masters in April is clearly part of a carefully orchestrated campaign by his handlers to bring him back in the most controlled environment possible -- as they did when he delivered his televised apology Feb. 19 -- but it comes with risks as well. While it is true Augusta National, being a private club, has much greater control in issuing media credentials and filtering questions than a regular PGA Tour event, it is also true that a major championship is a demanding test that identifies a player's weakness -- both physically and emotionally.
The most important thing Woods needs to do right now is shift the conversation away from serial infidelity and endorsement partners jumping ship back to golf. And the only way to get that line of discussion going is to play well. If Woods' first round back is a 75, for example, the questioning will be about distractions and focus and emotional well-being. And while there is every reason to believe Woods is going to stonewall the media about his personal escapades when he returns, that will not stop people from asking and it won't prevent the news talk shows from making his "struggles" the topic of discussion.
To return to competition at a major without the benefit of a tournament or two to get his competitive legs back is to engage in a dangerous high-wire act before what will be an extremely large TV audience, most of whom are not well versed in the subtleties of golf or even competitive sports, for that matter. Golf is like basketball. You do not regain your game legs on the practice range. You get your chops back only under the pressure of competition.
So what does Woods get by returning at Augusta? There is the control, as we already noted. TMZ.com, RadarOnLine and the National Enquirer will have a more difficult times gaining access to the Masters than any other professional golf tournament. Remember, this is the club that got a court order moving Martha Burk and her protesters a mile away when they wanted to demonstrate outside the gates against the club's absence of female members. Augusta National gets what it wants in Augusta.
Woods will also benefit from the fact Augusta National is a venue with which he associates positive memories. Although he has not won there since 2005, he does have four green jackets and has finished in the top 10 on ten occasions in the 13 Masters he has played as a professional. Augusta National is where Tiger and his father, Earl, shared a tearful embrace after the 21-year-old Woods won the 1997 Masters; and it is where Tiger shed tears during the green jacket ceremony in 2005 because a dying Earl was too sick to be on hand.
Tiger will probably also benefit from the fact that Masters tickets, while becoming more and more available through on-line scalpers in recent years, tend to stay within families. The people who come there are well-schooled in the behavior expected of what the club calls its "patrons." There is no running at Augusta. Bare feet are not allowed. And it is a safe guess that anyone who jeers Woods or tries to hold up a sign of any nature -- pro or con -- will be gracefully removed from the grounds. Demonstrators would likely also be banned from the front gate, as in the Burk situation.
And then there is the exposure. That can be both a plus and a minus, depending on how Woods plays. Crowds won't be any bigger at the Masters than they already are. Tickets haven't gone on sale in decades. But the TV audience will soar. Certainly the early winners in the announcement of Woods' return at the Masters are ESPN and CBS, which share the TV coverage.
The largest TV rating for a golf tournament since the cable age began in 1980 is the 14.1 the Masters got in 1997 when Woods won for the first time. If Woods is in contention on Sunday, the CBS broadcast will shatter that record. What will soar are the ratings on ESPN for Thursday and Friday, as well as the hits at Masters.org. It's a safe guess that not much office work will get done in America on Thursday, April 8.
So what are the risks for Woods? As stated, the major championships are demanding. While Augusta National is forgiving for those with errant drivers -- and Woods has been known to miss wildly -- the greens demand precise iron play and an extremely steady putting nerve. Colin Montgomerie once said about the greens at Augusta: "When you start worrying about the putt you are going to have coming back, you have missed the putt you have."
That kind of focus comes only from confidence and concentration. You have to wonder if even Woods will come into Augusta long on either of those given this lengthy break from golf --- it will be four months between competitive starts for him -- and given what he has gone through in his personal life. If there is a flaw in his swing, if there is doubt in the putting stroke, if there is a flaw in his focus, Augusta National Golf Club will find it.
There is another question that needs to be asked here: What will Tiger's return at the Masters mean for other players? Again, no one controls a situation better than the folks at Augusta National. So that is a plus. But here's what the challenge is going to be for the other guys in the field.
Say someone not named Tiger Woods shoots a 66 on Thursday and comes into the interview room and is asked a half-dozen consecutive questions about Woods. That can quickly get under the skin of even the most easy-going player. There will be players trying to win the green jacket who are going to be asked everything about Woods and nothing about themselves. The rest of the guys better be prepared for that going in.
What are the chances Woods will return at the Masters by doing something dramatic? Well, if there is one thing we have learned about Woods since he turned pro in 1996, it is to never underrate his competitive fire and his drive to succeed. The guy has done a lot of things that seems impossible. Remember, he won the 2008 U.S. Open on a broken leg.
But in 2006 when he tried to return from a six-week absence following his father's death at the U.S. Open at Winged Foot, he missed the cut. That's the risk of making a return at a major. They are difficult. They probe you. They seek out your weakness and they find them.
But this much we do know: The return of Tiger Woods will be the biggest sports story in recent memory, and the fact that his return takes place at the most-watched golf tournament in the world on the best-known golf course in the world makes it even more special, and more intense. Tiger Woods has a chance to succeed -- or fail -- on the biggest stage in golf and, this year at least, one of the biggest in all of sports.