News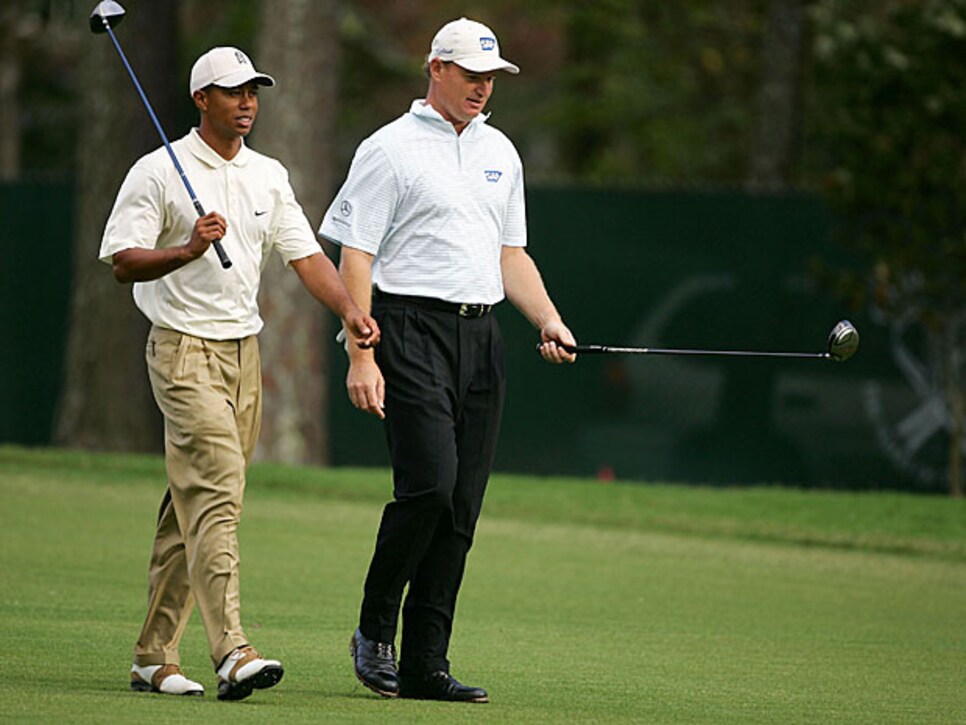 Ernie Els' sharp words about Tiger Woods may have been indicative of larger player sentiment.
There were images of people standing in Times Square staring up at the jumbo screens, listening to the broadcast on their earphones. Trading on Wall Street slowed down. The networks picked it up, along with Golf Channel, ESPN and CNN. There was a YouTube stream plus live Twitter coverage. Even the Winter Olympics were preempted. The power of Tiger Woods, for better or worse, was never more obvious, never more riveting. A man who refused to admit to a weakness, that would stone-faced lie when asked if his knee hurt, was there in the most transparent moment of his life. It was as surreal as it finally was real. Even the Dalai Lama weighed in.
In those 13 ½ minutes last Friday when the world stopped and turned to various screens to see the pale image of Tiger in a bad collar staring back at them, saying words we never imagined the planet's most recognizable athlete saying, there was even a pregnant pause prior to the third round in Marana, Ariz.
The field in the WGC-Accenture Match Play Championship was down to 16 competitors, none of them household names. By now Ernie Els was back in Florida, after issuing one of the bluntest quotes ever uttered about Tiger from a fellow player. Jay Williamson was still in the Mayakoba Golf Classic after blasting Tiger on his Twitter account. Ernie Els, a future Hall of Famer, and Jay Williamson, with no PGA Tour wins, both taking shots at the man who set the tables from which they dine.
It seemed hypocritical, at the same time it was revealing as to just how Woods' peers view him. "Character flaw of mine but not much sympathy for a billionaire with a sex addiction -- maybe more pity," Williamson wrote, listing heart-transplant recipient Erik Compton and close friend Chris Smith, who lost his wife last summer in a car accident, as his heroes.
The argument could also be made the Accenture was getting far more hits than it would otherwise have in a tournament without Tiger and Phil Mickelson, where Steve Stricker, Padraig Harrington and Els had already gone home; and that for lead-in coverage, the event couldn't have had better content. But that didn't preclude the trashing of Tiger by other tour players in such a public manner, or the continued questioning of his timing.
Sensing a communication breakdown caused such negative feedback among his constituency, PGA Tour Commissioner Tim Finchem stepped in Sunday night, taking blame for not explaining to his players the back-to-rehab part of the equation behind the timing of Woods making his first public appearance in three months. Saying he "screwed up," Finchem was hoping to put it all on himself.
The inference is that if the commissioner got out in front of the information, he wouldn't have put his players in the position of coming off the course on Wednesday and being asked to comment on the scheduling of Woods' "news conference." If they had known it was for rehab, the players wouldn't have called Woods "selfish," as Els did; or implied that Woods was doing it out of spite because Accenture bailed on him. As Rory McIlroy said in a quote that was originally omitted from his transcript, "I suppose he might want to get something back against the sponsor that dropped him." Even the quiet Oliver Wilson of England was saying, "The sponsors are owed more than that."
This wasn't heat-of-the-moment stuff, either. I'm told by a source in the Els camp that Ernie doesn't want to retract his statement and would "stand by his words." Williamson has no plans to backpedal either. In an interview Tuesday from Scottsdale, Ariz., where he is third alternate at the Waste Management Phoenix Open, Williamson felt he was just saying what he was hearing in the locker room, driving range and putting green at Mayakoba.
"When I say something and when Ernie Els says something it's a lot bigger deal," Williamson said. "I just couldn't believe [Woods' news conference would be scheduled] on a Friday like that and can't believe Tim [Finchem] went along with it. [Woods] had all week. He was in Orlando all week. I don't know why he had to get back to rehab on Saturday, but I agree with what Ernie said about it. It was a selfish thing."
So who is Jay Williamson and where is he coming from besides Q school? Compared to Els he's a nothing, right? Maybe not. Williamson is the voice of the rank and file, a benefactor of Woods but someone no longer intimidated by the aura. "I don't have the golf credibility [that Els does] to make statements like that, but I do feel like I've had the perspective," Williamson said. "I've been out there a long time. Does that give me right to say something? Maybe."
What Els and Williamson reflect is the change of culture. Before Woods won the Masters in 1997, there was resentment over preferential treatment, but that gave way to a respect level that still exists. Consider a conversation I had with a tour player last Friday about an hour after Woods' speech. When I asked what he thought, he said it felt scripted and not totally believable, adding at the end of his take, "But I'd never say that on the record."
That was always the way it was, but what came out of the sound bytes from Marana and Mayakoba indicate that criticizing Tiger is no longer taboo. That doesn't mean Woods will be treated with a cold shoulder when he returns. It does, however, indicate that he would be treated differently, certainly not as deferentially. Does that mean a change in the competitive vibe as well? We won't know until Woods steps on a tee box, but somewhere Rory Sabbatini has to take consolation in knowing he's not alone anymore.