News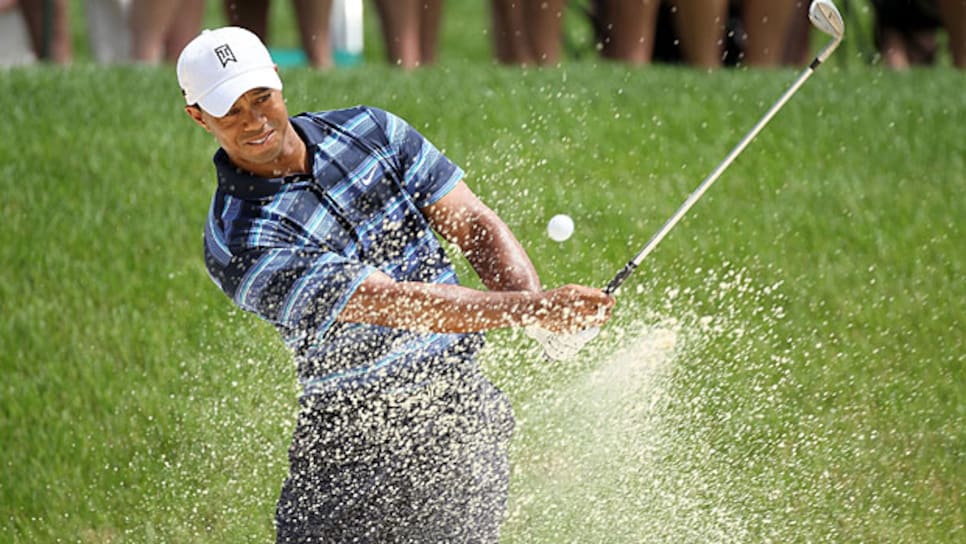 Tiger struggled on Thursday, but was able to shoot 72 despite two early birdies.
DUBLIN, Ohio -- Even par isn't a standard from which Tiger Woods usually could draw a measure of satisfaction -- particularly at a golf course where he averages 69.53 in his career -- but there he was late Thursday afternoon taking sips from a glass he believed was at least half-full.
The defending champion of the Memorial Tournament, Woods scrambled his way to an uninspiring 72 on a damp and relatively defenseless Muirfield Village GC, but he insisted on more than one occasion that he was encouraged.
Kind of. Except for the par-5s.
"I played the par 5s terrible today," he said after not making birdie on any of them.
And then there was his wedge game.
"The wedges were horrible today," he said.
Forget that he only hit 7 of 14 fairways and 10 of 18 greens, that he never hit an approach shot within 12 feet of the flagstick. And that he trails the leaders by seven shots.
There were some silver linings for Woods on a stormy day that caused two suspensions of play.
"I hit some shots today that I haven't hit all year," said Woods, playing his first competitive round since withdrawing from The Players nearly four weeks ago. "The solidness of shaped shots, the trajectory. I haven't hit that all year.
"I didn't do it consistently at all," he added. "It's a starting point. And I've got to build on it from there."
Later he reiterated, "I hit some shots today that the shape, the feel … it felt like last year, and I just need to get back to that."
Settling for such crumbs isn't what you'd expect from Woods, who has said on more that one occasion that his top goal this week is to simply get in four rounds given that he'd only played nine leading into this week because of his self-imposed sabbatical.
And it's a far cry from the player we saw here last year. Woods never seemed more in command than in the final round, hitting every fairway in a closing 65 that gave him a record fourth title at Jack Nicklaus' tournament. But so much has changed for Woods since then -- with his personal life, his health and his golf swing all off kilter.
Woods didn't hit a driver until the 447-yard par-4 sixth hole, opting to lay back as much as 30 yards behind playing partners Steve Stricker and Jason Bohn.
He was so ineffective that he did not birdie any of the par-5 holes at Muirfield Village for the first time since the third round of the 2002 Memorial.
And, yet, there were drops of satisfaction to be siphoned. Like the 6-iron he hit out of a fairway bunker at the par-4 10th for the second of his two birdies that offset bogeys on two of the first four holes. Incredibly, that was the shortest birdie putt he had all day, even though he had wedge in his hands on five occasions.
Then there was the "release fade" 7-iron from 155 yards on the ninth that set up his first birdie. It was his shot of the day. "It was a sweet shot. Low 7-iron, took something off it, but I released it and hit a fade, which was the proper arc, proper release. It felt nice."
He knew that guy, that player.
"He's in there somewhere," Woods said with a slight grin.
Yeah, somewhere. But where?