News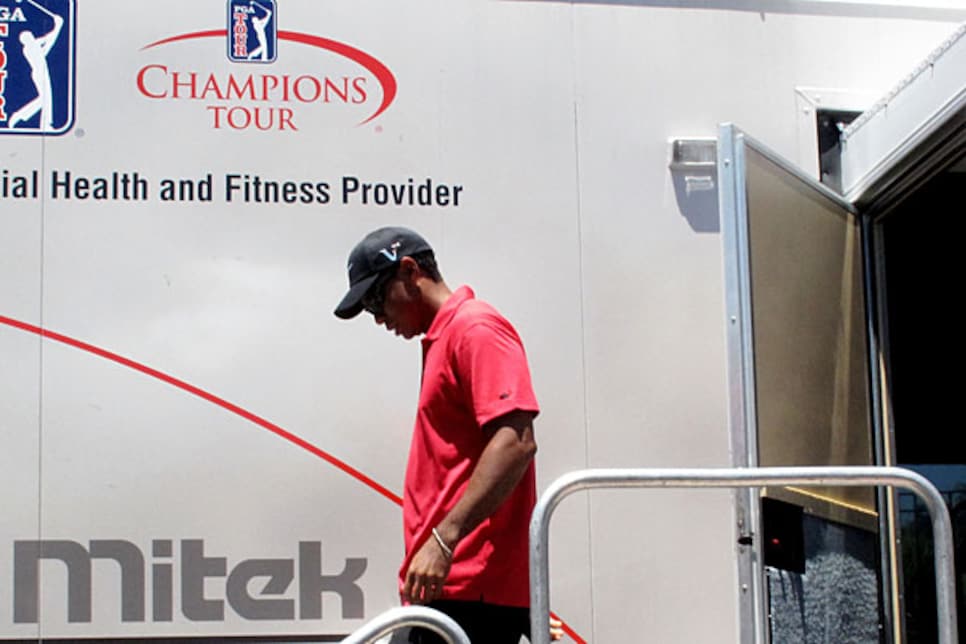 There are plenty of possible factors for Tiger's recent struggles on the course.
Sometimes the truth is so obvious it becomes obscured by familiarity. Something about not seeing the forest for the trees. One of those realities is that while genius sets an unfair standard for expectation, those with the gift nonetheless have the same obligation as all the rest of us to bring honesty and effort to every endeavor. Which brings us to Tiger Woods, Lebron James, Groucho Marx, Albert Einstein and, of course, the late great Dick Joyce.
Among the insights of Einstein was that, "Reality is merely an illusion, albeit a very persistent one." We know what we see, whether it's true or not. Einstein used the image of a watch. We know the time but not how the cosmic timepiece works. Such is the case with great athletes. We see them, we place them on pedestals but often we have little idea what makes them tick.
We likely will never understand why James did not show up for the Cleveland Cavaliers in Game 5 of the NBA playoff series against the Boston Celtics. The player on the basketball court that night was clearly an imposter. And we likely will never understand all that is going on with Tiger Woods right now that led him to leave the golf course Sunday at the Players Championship and has cast a cloud over his competitive future.
Let's work backwards here in an effort to peel away the layers of illusion and get at the truth. Dick Joyce was a master of that. He simplified everything. Dickie was an Irish Groucho who viewed the world as a straight man to which he supplied the punch lines. What made his observations funny were that behind the wit was wisdom -- and truth.
One year, Dickie showed up at home on Valentines Day empty handed. Asked how that played out with his better half, he deadpanned, "Pots and pans, mersch." Another time, Dickie was ordering an adult beverage when he saw Maury Wills, the great base-stealer for the Los Angeles Dodgers standing with one hand resting on the bar.
Dickie said: "Excuse me, Mr. Wills, can you move your hand." When Wills lifted his hand off the bar Dickie slapped him on the shoulder with the back of his hand and said, "Hidden ball play, you're out, mersch," much to the befuddlement of Wills. You could not help but wonder when Dickie did something like that exactly what movie he had playing in his mind.
And that's the point: Unless they tell us, unless they lay bare their soul, we never understand what is going on inside someone else. We can only guess. That's the reality of the situation we are in now with Woods, and it may well be the reality we have to accept. And lacking a peek inside the watch, we can only guess at the reasons for the dramatic drop off in his performance.
There are at least three components to this puzzle, three separate moving parts to the machine that has won 71 PGA Tour events and 14 major championships but has had a missed cut and a withdrawal in his last two starts.
• Mechanical: Clearly, there are swing issues. Even at Augusta National, where Woods rode the adrenaline rush of his first tournament back to a fourth-place finish in the Masters, he was all over the ball yard. That flaw was more apparent at Quail Hollow and TPC Sawgrass, which are more punishing of errant tee shots than Augusta National.
Woods uses the same words now to describe his swing issues he has employed for more than a decade: The club gets stuck behind him and results in a two-way miss that is either a low pull hook or a high right block. Part of the idea of taking on Hank Haney as swing coach in 2003 was to eliminate that problem once and for all. This week they announced they had parted ways.
• Physical: Woods' left knee has been operated on four times. He said at this year's Masters -- for the first time -- that he tore his right Achilles tendon during the rehab from his latest surgery in 2008. And now he says he has pain in his neck so persistent he had to leave the course on the seventh hole of the final round at the Players.
Woods denies ever having used performance-enhancing drugs, an activity that is frequently tied to break downs in the body after stoppage. And he also denied there is any link between his neck injury and the Nov. 27 car crash that opened his personal life to public scrutiny. Another possibility is no less alarming: The neck problem is the result of the wear-and-tear of decades of swinging extremely hard at a golf ball.
• Emotional: At the very least, the last six months have had to be extremely embarrassing for Woods. And clearly, there are still a lot of things up in the air. Woods has not really mentioned his wife, Elin, since his Feb. 19 public apology and even then he used the past tense when he referred to their relationship. There seems to be little doubt he is adjusting to the end of his marriage and the implications that has for his son and daughter.
Woods is a man who loves to be in control. There has probably never been another time in his life when so many aspects of his life are beyond his control. That has to be an enormous challenge for him. Even the golf course has not proven to be a refuge. Right now, his game is far from being under his control.
Did Woods mentally quit at Quail Hollow and physically quit at The Players Championship? Yes, at least that's what we saw. That's what the watch looked like from the outside. Do we know the full extent of the reasons? No, except to say it likely involves the confluence of the mechanical, physical and emotional aspects mentioned above.
Pots and pans, mersch? Probably, at least metaphorically. The old hidden ball play, mersch? Without a doubt. All we can do is watch and wait. Anyone who says they know how this story is going to end is ignoring how much we don't know -- and likely never will. But it feels like normalcy is not near. At least, that's what the watch looks like from the outside.