News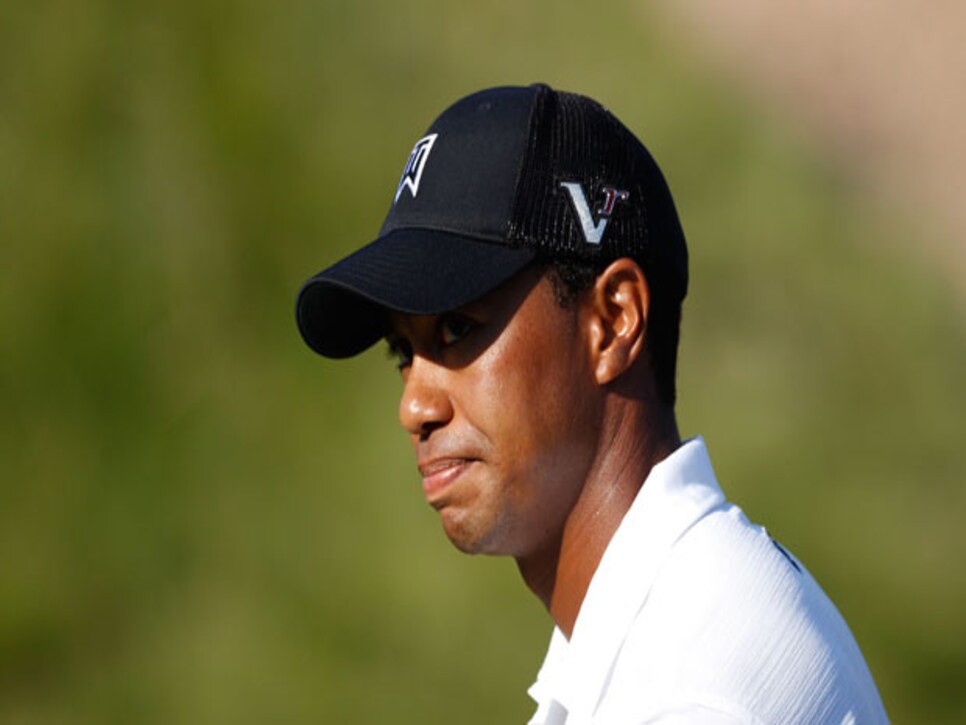 Woods broke par for the first time in eight rounds Thursday.
HAVEN, Wis. -- Like every hole at Whistling Straits, the 15th was designed by architect Pete Dye in consultation with Satan. It is a par 4. On this first day of the 92nd PGA Championship, it played at 527 yards. Uphill. Into the wind off Lake Michigan. Small wonder, then, that the golfer formerly known as Tiger Woods had three words to say before hitting his second shot.
Already three under with three birdies in his first five holes -- he started on the easier backside -- he'd hammered a big drive on the 15th and figured to be in position for an important par. But as he walked up to his ball, he couldn't see it, not even when caddie Stevie Williams pointed in its direction. It had worked its way into the second cut, lost to sight in ankle-high grass.
Woods, disgusted, flipped his driver to the ground.
He stepped into the grass and peered down at the ball.
Then he muttered, "God damn it."
I have been there. You have been there. We hit it good, and it doesn't go where it should. We hit it so good, so very good, maybe better than we had ever hit it. And there it is, laughing at us from its hiding place in the freakin' ankle-high grass. We are left with no other conclusion than the obvious one. God hates us. We feel sorry for ourselves. Oh, woe is us.
That's what Woods looked like standing there in the 15th fairway. Like some muni whiner. Like he'd been betrayed by a fickle divinity. Like, what's a guy gotta do to get a break?
On the other side of the gallery ropes, two golf fans had no sympathy. "The skills are still there, but, mentally, he's got some work to do," said Tim McGillifs, an industrial packaging sales representative from Neenah, Wi.s "It's hard enough to play golf with a clear conscience, let alone what he's put himself through." Matt Rudolph, also of Neenah, said, "He's not grinding the way he used to. Last couple times in the major, once he gets three or four shots behind, he quits." Rudolph's summary of Woods's problems: "Karma, baby!"
A wedge from the rough, another to the green, two putts for a bogey -- and Woods would play the last 12 holes one over par. Though he broke par for the first time in his last eight rounds -- a 71 left him three behind the first-round leaders -- the muttering at the 15th would be neither his last dance with expletives nor his most explosive on this day. We'll get to that one in a minute because it is convincing evidence that today's Tiger Woods is searching for the Tiger Woods he once knew.
I mean, did you ever see the Tiger Woods who won 14 major championships warm up for a major as if he were a beginner who needed to be taught to keep his head still? That was the bizarre scene on this day. As Woods hit balls on the range during a morning fog delay, Stevie Williams stood opposite him and extended a golf club alongside his head as a reminder not to move off the ball. Then, through his round, before virtually every full shot, Woods took several practice swings -- well, not practice swings, but moves, eight, nine, 10 of these moves/swings, sometimes without a club in his hands, as if searching for the muscle-memory that once was instinctive and now must be relearned. After his round, Woods was still so uncertain of himself that he convened at the practice range with a swing coach. The man must wake in the night screaming.
He can still do mighty work. At the 570-yard, par-5 16th -- again uphill into the wind -- he hit two low-riding rockets of a kind beyond the reach of mortals. But from the green's edge, 80 feet away, he three-putted for a par. At the 15th and 16th, then, today's Tiger gave up two shots that yesterday's Tiger would have used to intimidate the field.
Yet he pronounced himself pleased. He liked the way he moved the ball with his driver, shaping its flight right and left as well as under the wind: "I had pretty good control of my trajectory." As for his expectations after playing poorly in both the British Open and last week's World Golf Championship at Firestone, he hoped "to shoot something under par ... I got off to a quick start, and all of a sudden I felt like I could shoot something in the 60s."
Another foot of putts -- he left at least five just inches short -- and he'd have been there. "The greens were a little slower than what I was seeing ... they just looked faster than what they were rolling."
He was one under par through 13 holes and coming to the relatively benign 5th hole, a par 5, 587 yards.
No sooner had he struck his drive than he let the club fall from his hands, for he had created a snap hook that turned toward a bog at a high rate of speed. The sainted Bobby Jones once said, "Some emotions are too powerful to be experienced with a golf club in one's hands." Yes, sir, like this one. Woods' ball bounced off a hillock and into the gorp. As Woods looked into the bog -- maybe 50 yards left and 50 yards behind his playing partners -- he had a talk with the only person he really trusts to tell him the cold truth. That is, he talked to himself, and here's how that went.
Tiger: "You're a #$%@ing idiot."
Later, he explained what happened. "With the wind like that" -- helping -- "I don't know where to drive it. If I drive it over the top of the bunkers, I can go in the water long ... I feel uncomfortable with that shot, and you saw the result."
After a drop, a wedge, and another wedge to eight feet, he made par on a birdie hole, another shot lost on a day that might have been a 65 for a Tiger who never was uncomfortable with a driver in hand. As this Tiger walked down the next fairway, a young man behind the ropes shouted, "Get some of that fire back, Woods."
Kevin Leissdring, 21, a college student from Mequon, Wis., and a "huge Tiger fan," misses the Woods swagger and fist pumps. "I feel like he's more controlled, like he's heard from all the senior golfers that he ought to behave differently. He's gotta get the fire back."
A hole later, his last of the day, Woods dropped a wedge shot 10 feet from the cup.
A birdie would get him under par.
"As Stevie said, I played too good not to shoot under par," Woods said, "and it would have been very disappointing and frustrating to end up at even par as well as I played today."
And headed back to the range.