News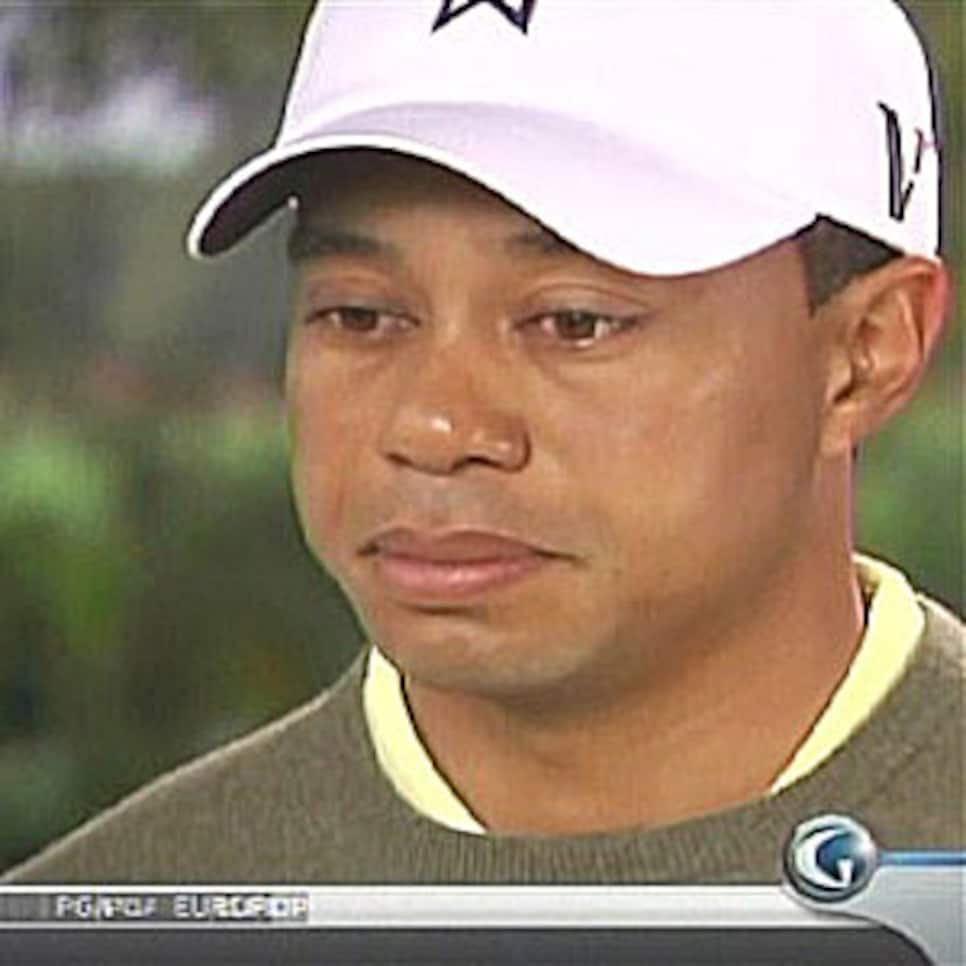 Tiger Woods was still noticably guarded in his interviews with ESPN and Golf Channel.
The Tiger Woods interviews aired Sunday by ESPN and Golf Channel both had their strengths and weaknesses. Tom Rinaldi at ESPN did better with follow-up questions, while Golf Channel's Kelly Tilghman was more conversational and elicited more compelling answers. However, both failed to nail down key questions while failing to ask others. They, and their respective organizations, also surrendered control of the format and, as a result, were ambushed by carefully rehearsed answers.
These twin follow-ups to the televised Feb. 19 apology were a step forward in this bizarre story in so far as this time questions were allowed. But, as in the apology, both interviews were shrouded in the very sense of entitlement to which Woods said he was wrong to succumb in his tumble from grace. The restrictions imposed upon the interviews left a feeling that the marketing outweighed the information.
First of all, the time frame given to Rinaldi and Tilghman virtually guaranteed superficiality. Both were granted only five minutes and the sessions were conducted standing up and outside, giving the feeling they were trying to hit a moving target. CBS says it was offered the same conditions but declined because of the restrictions (although it's also worth noting that CBS might not have wanted a Woods interview to interrupt its own programming, which included the NCAA Tournament, at that hour).
There is not much that can be accomplished in such a brief question-and-answer session, especially when the issue is as complicated as this. After five months in which the only information provided has been by news organizations that pay their sources, there was a need for full disclosure and both the ESPN and GC interviews fell far short of that. The blame here lies with Woods. He had a chance to set the record straight and declined it.
Perhaps the most unsatisfying aspect of the interviews was the redundancy of some answers. Repetitive phrases such as "Buddhism," "police report," "personal matter," "45 days of treatment" and "core values" indicated preparation, which is not surprising given the situation. But the result was that these weren't so much interviews as they were forums for Woods to frame the story the way he wants the public to view it.
Both Rinaldi and Tilghman tried to find out what happened in the Nov. 27 incident that resulted in Woods being hospitalized. Truly, the details of the multiple infidelities are personal matters about which none of us are owed explanations or information, but the simple facts of a car crash seem like a reasonable request.
Tilghman: "America was concerned when the world's greatest golfer was lying on the ground with no shoes at 2:30 in the morning, bleeding. What happened that night?"
Woods: "It's all in the police report, they investigated it and they have it on public record, there's a lot of stuff between Elin and I that will remain private and that's about it."
Tilghman: "How did you crash the car?"
Woods: "I wasn't going very fast, but unfortunately, I hit a few things."
Rinaldi: "For a lot of people, the spark of those bad things is Nov. 27. Early that day, what happened?"
Woods: "Well, it's all in the police report. Beyond that, everything's between Elin and myself and that's private."
Rinaldi: "Why did you lose control of the car?"
Woods: "As I said ... that's between Elin and myself."
The problem here is that it is not all in the police report, a document that raises more questions than it answers. We know Elin Woods told authorities her husband had taken pain medication earlier in the day, but we don't know why he lost control of the car, the nature and extent of his injuries and if he was driving impaired.
In his Feb. 19 apology, Woods flashed with anger over rumors Elin physically attacked him that night. Yet one of the reasons that story gained footing is because Woods has given no alternate version to explain his hospitalization and then his disappearance from sight for almost three months. Woods doesn't like the way others have connected the dots, yet he refuses to paint the full picture.
Woods also introduced religion to both Tilghman and Rinaldi, a topic for which he laid the groundwork in the statement he read Feb. 19 and an issue he has never discussed in his more than two decades on the public stage.
Tilghman: "Tiger, you've been a master of control your entire life. How did things get so out of control?"
Woods: "Going against your core values, losing sight of it. I quit meditating, I quit being a Buddhist, and my life changed upside down. I felt entitled, which I had never felt before. Consequently, I hurt so many people by my own reckless attitude and behavior."
Rinaldi: "You said you were in treatment. The simple question is, for what?"
Woods: "That's a private matter as well. But I can tell you what, it was tough, it was really tough to look at yourself in a light that you never want to look at yourself. That's pretty brutal."
Rinaldi: "What'd you see?"
Woods: "I saw a person that I never thought I would ever become."
Woods: "Well, I had gotten away from my core values as I said earlier. I'd gotten away from my Buddhism. And I quit meditating. I quit doing all the things that my mom and dad had taught me. And as I said earlier in my statement, I felt entitled, and that is not how I was raised."
A natural follow-up question to ask would have been: When exactly did Woods stop practicing his Buddhist faith? Two years ago? Ten years ago? Woods combined his rediscovered faith with his commitment to therapy as evidence he is dealing with his problem.
Tilghman: "For a man who's so disciplined physically and psychologically, why couldn't you say no?"
Woods: "I don't know. Now I know. It's part of what I learned in treatment, being there for 45 days you learn a lot. You strip away the denial, the rationalization and you come to the truth and the truth is very painful at times and to stare at yourself and look at the person you've become ... you become disgusted."
Rinaldi: "What's the difference between the man who left Augusta National a year ago and the one who is about to return?"
Woods: "A lot has transpired in my life. A lot of ugly things have happened. Things that ... I've done some pretty bad things in my life. And uh, all came to a head. But now, after treatment, going for inpatient treatment for 45 days and more outpatient treatment, I'm getting back to my old roots."
Tilghman asked Woods if anyone in his inner circle knew of his infidelities and when she was told no, she failed to follow up by asking about reports that a longtime friend who runs Woods' golf course design business booked plane tickets to Australia and hotel rooms there for one woman romantically linked to Woods.
Tilghman did well when she asked what Woods' father would say if he were alive; and similarly when she tried to put a human face on the story by asking how he would explain all this to his children one day. Woods was clearly more at ease with Tilghman than with Rinaldi and opened up slightly more to her.
Rinaldi produced a chilling moment when he asked: "Why did you get married?" Woods answered: "Why? Because I loved her. I loved Elin with everything I have. And that's something that makes me feel even worse, that I did this to someone I loved that much." The use of the past tense "loved" three times was a jarringly effective broadcast moment.
Those moments, however, were noticeably sparse. Here are some more questions that were not asked that still need to be addressed:
Has Woods been questioned by Federal authorities as part of their steroid-trafficking investigation of Dr. Anthony Galea, the Canadian physician who treated Woods following his 2008 knee surgery? Woods should have been asked to explain the controversial blood-spinning procedure he underwent with Galea.
Does he have a problem with prescription drugs? If Woods became dependent on painkillers during his knee injury or in the aftermath of the surgery he would not be the first to do so.
Did his off-course behavior affect his golf in 2009? Were all the temper tantrums, such as the club throw into the gallery in Australia, a product of his complicated situation off the course?
Certainly, some of these questions were victims of the time limit on the interviews. But Woods has also made it clear he is going to hide behind privacy on many matters. The problem he faces, however, is that he might need to open up more to get people to give him the benefit of the doubt about his sincerity to change. Something about all this feels like the same old Tiger -- completely in control and playing the game by his rules.
Mostly, Woods needs to regain the trust of all those who loved him, with the emphasis on the past tense "loved." In that regard, there is still a lot of work to do. Continuing to provide answers only in controlled environments is a risky strategy that may end up alienating more fans than it wins back. Woods still has time before the Masters to establish a more open and trusting climate. It's up to him as to whether he takes advantage of that opportunity.