News
Haney Resigns; Who Will Be Next?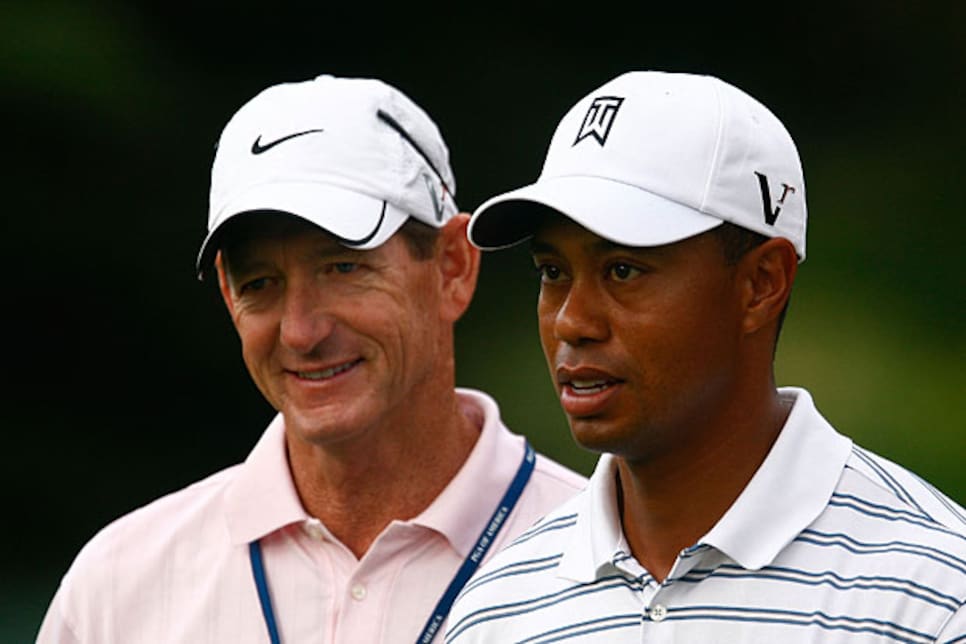 Rumors about a Woods-Haney split were circulating at the Players Championship.
There was a rumor going around the Players last Tuesday that somebody from the Tiger Woods camp had given Hank Haney a check and told him his services would no longer be needed. Haney was in Ponte Vedra Beach, Fla., but nowhere near the TPC Sawgrass: not on the practice ground with Woods, or on the course in Woods' nine-hole dawn patrols where on the first morning, he reportedly dunked five balls in the water.
I texted Haney the next day, and he responded that a direct deposit had been made into his bank account the previous Thursday for the second quarter of 2010. As he pointed out, to me and just about every golf writer and TV reporter with his number, Woods had won 44 percent of his tournaments over the past 2 1/2 years, and was top three in another 43 percent. The numbers spoke for themselves. So did Haney's words: "Tiger would not send someone to tell me I was fired. He would do it himself."
Again, what to believe, what not to believe in this daily soap opera, where news of Woods' future for the remainder of the season due to a pending MRI of his neck was overshadowed by the announcement on Haney's website late Monday that he was resigning as Tiger's swing coach. Was the coach trying to get out in front of the inevitable? Or was that check the final installment on their agreement?
It really doesn't matter any more. Even with a possible bulging disc in Woods' neck, even with Woods saying repeatedly that he wasn't making good swings because he physically couldn't make good swings, there was not enough thread to save the six-year-old Tiger-Haney relationship. Mercifully for Haney and those who care about him, Hank is gone. There can be no blame for him now where the world's embattled No. 1 golfer is concerned, as the coach walks off into the sunset with a coaching record of six majors and 32 wins.
What struck me was that Haney did it with a text message, but also with a pledge of friendship and a promise that he'd be following up with a Tuesday morning phone call. It all seemed so impersonal for two guys who spent that much time together. But then again, hardly improbable. There wasn't the trace of any bitter feelings. Just relief.
"I feel great," Haney said in an e-mail early Tuesday morning. "I am incredibly appreciative of the opportunity that I had to coach Tiger Woods. I resigned because there is a time and place for everything and I believed that now was the time for me to step aside. I am very proud of the work that I have done with Tiger and the record that he has had with me helping him. Do I feel relieved? Yes, it has not been an easy job for many reasons. Have I talked to Tiger yet? We traded quite a few texts tonight when I informed him of my decision and he said that he was with his kids and we would talk tomorrow."
So with his life unraveling and his game deteriorating, what swing coach will Woods turn to next?
Last Wednesday afternoon, on the secluded backside of the range at the TPC-Sawgrass, Woods hit balls next to caddie Steve Williams, while Butch Harmon, his former coach, worked with Dustin Johnson. Harmon and Woods spoke briefly, but not about his swing.
Earlier that morning, Woods played a practice round with Sean O'Hair and Hunter Mahan, both disciples of Sean Foley, an up-and-coming swing coach from Orlando, and they put on a clinic. Mahan hit all seven fairways and nine greens in regulation, prompting Woods to crack to Foley about how easy Mahan made it look. (Of course, Woods' choice of playing partners created so much buzz that Foley was prompted to release a statement later that day saying, in effect, he was not about to bcome Woods' new swing coach.)
The thought of Harmon and Woods getting back together is a non-starter. Butch wouldn't or couldn't return to Woods after carving such a close relationship with Phil Mickelson. And while Woods and Harmon get along fine professionally, there's too much collateral damage done from their parting eight years ago.
Foley, despite last week's denial, may be another story. He lives in a community next to Isleworth and with his stable of players, working Woods into the rotation is possible. There's no way, however, he would agree to an exclusive arrangement with Tiger. Would Woods have a problem with that? Or, in his next swing coach, is he looking for something less complicated, a set of eyes more than the full-on teaching philosophy?
Like all great players, Woods has to ultimately settle on his own swing, not Harmon's, not Haney's, and not Foley's, should that relationship come to pass.
The Haney-Woods relationship entered its final stage shortly after the player's second-round 79 at the Quail Hollow Championship, his worst round as a pro on U.S. soil, and knocking him out of the tournament for the weekend. Haney took it especially hard early in the week of the Players when NBC analyst Johnny Miller called for his dismissal and Golf Channel analysits Frank Nobilo and Brandel Chamblee took apart Tiger's swing during one of the network's segments. Woods only added to the speculation by being non-committal. Asked if he was working with Haney, Woods responded flatly, "I'm still working with him, yeah." The words rang hollow, and there was no follow-up.
But there was follow-up during Woods' news conference Monday afternoon at Aronimink GC in suburban Philadelphia, where he was promoting July's AT&T National event. When asked if there was something about his swing he wanted to change, or who was working with him on his technique, Woods said, "Changing anything in my swing? Yeah, don't hit it left, don't hit it right, I would like to change that."
Speaking specifically of Haney, Woods made it sound as though the coach had another reprieve. "I talked to Hank about some of this stuff and we're still working on it." Woods said. "[We've] still got a lot of work to do." He added, "I need to get healthy in order to swing the club properly."
The curious truth -- and a source of immense frustration for Haney -- is that for the last six years, nearly every swing analyst known to man has said that Woods won this many tournaments in spite of Haney's methods. Why? My take is that fans and so-called experts never got over their respect for Harmon and the work he did with Woods from the U.S. Junior in 1993 until they split after the 2002 PGA Championship at Hazeltine. Woods' two most impressive perofrmances -- his 12-shot win at the 1997 Masters and his 15-shot blowout at the 2000 U.S. Open at Pebble Beach -- were accomplished under the tutelage of Harmon.
Woods enjoyed a closer personal relationship with Haney than with Harmon, but they had their rocky times, particularly in 2006, after Woods missed the cut in the U.S. Open at Winged Foot, eliciting calls for him to leave Haney. It didn't matter that Woods' father died that summer, or, as we learn now, that Woods was deep into the escapades that got him in this much trouble in the first place. To many, the coach was the scapegoat.
But Woods won the British Open a month later, which seemed to vindicate Haney, then ran the tables to finish out the season. But after that, their bond never seemed as solid. When Tiger won big -- as at the 2007 PGA at Southern Hills -- he was usually quick to credit Haney. But when he struggled -- as at Carnoustie at the 2007 British, and at the Masters in 2008 and 2009 -- there very public signs of frustration between the two, particularly on the Augusta National practice range in 2009.
All the while, Haney hung in there, telling those who would listen that Woods' swing and his game were better than anyone else's. During Tiger's monumental downfall last winter, Haney seemed to be as surprised and as bewildered as anyone. But he was brought back to the range at Isleworth in February when Woods made plans to end his "indefinite" leave from tournament, and he pledged to do his part to get Woods' career back on track. He was at Augusta National in April, walking every hole as Woods sprayed the ball right and left but somehow managed to finish in a tie for fourth.
It was the last time he would walk a tournament round as Woods' swing coach.