News
Tiger Mulls Swing Changes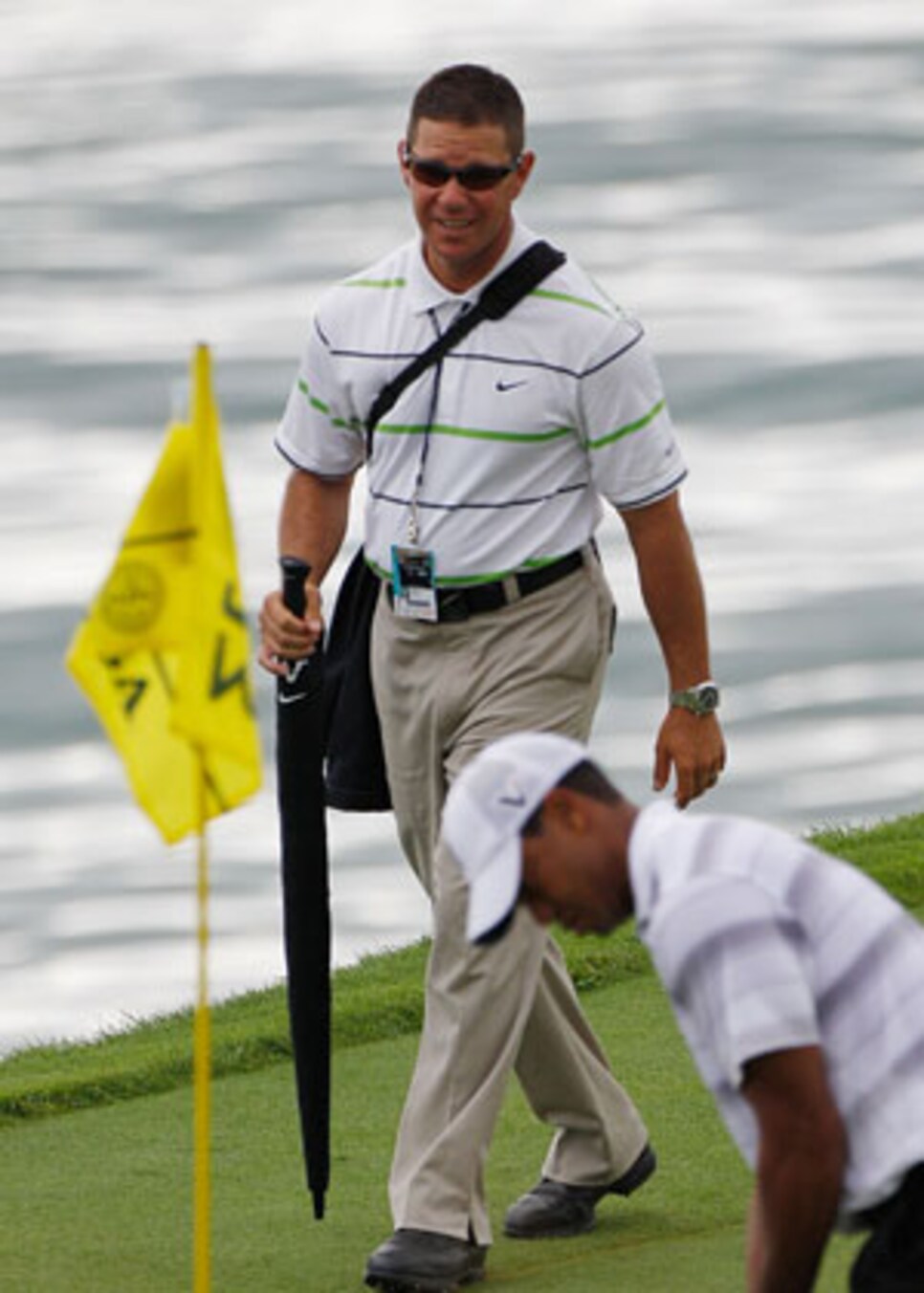 Foley first worked with Woods at the PGA Championship.
PARAMUS, N.J. (AP) -- Tiger Woods spent two days with instructor Sean Foley in Florida before coming to the Barclays, this after the Canadian-born coach worked with him during the PGA Championship.
Still to be decided is whether Woods wants to revamp his swing.
From past experience, Woods knows that takes time. He overhauled his swing under Butch Harmon after the 1997 Masters, and it took nearly two years before he felt he had it down. Another overhaul under Hank Haney took about that long.
"That's the reason why the hesitation, because I know it's going to take a long time," Woods said after opening with a 65 at Ridgewood. "If it takes less than that, that's still a long time."
Even so, some of the drills appear to be working.
Foley had caddie Steve Williams hold the end of a wedge over Woods' right ear at Whistling Straits to keep his head from moving. During his pro-am round, Woods tucked a golf glove under his right armpit to keep his arms more connected.
The payoff was not just the 65. Woods said his session on the range Thursday morning was not going particularly well, yet he knew what was wrong and was able to fix it.
"I had a week-and-a-half of prep time before here. I get off to a bad start in warm-up, at least I know how to fix it. And then once I fix it, I was able to go out and play," he said. "But if that happened at the PGA, I wouldn't have played like I did today."
The turnaround was remarkable. Woods missed only one fairway and essentially only two greens (one was on the fringe).
There has been talk that Foley's teaching are similar to the "stack-and-tilt" method taught by Andy Plummer and Mike Bennett, whose clients have included Mike Weir, Dean Wilson and Aaron Baddeley over the years.
"There are some parts of it that do look like it," Woods said. "But there are other parts that are very, very different."
Woods is not sure when he will make up his mind. He is getting through the PGA Tour playoffs, however long they last for him, then most likely the Ryder Cup, then a two-week trip to Shanghai and Melbourne in November, concluding with his Chevron World Challenge the first week of December.
"It's something I'm still mulling over," he said. "When I do commit, I will commit to it. I just haven't figured out which way I'm going to go with it yet."