News
Finchem: Tiger Returning To Therapy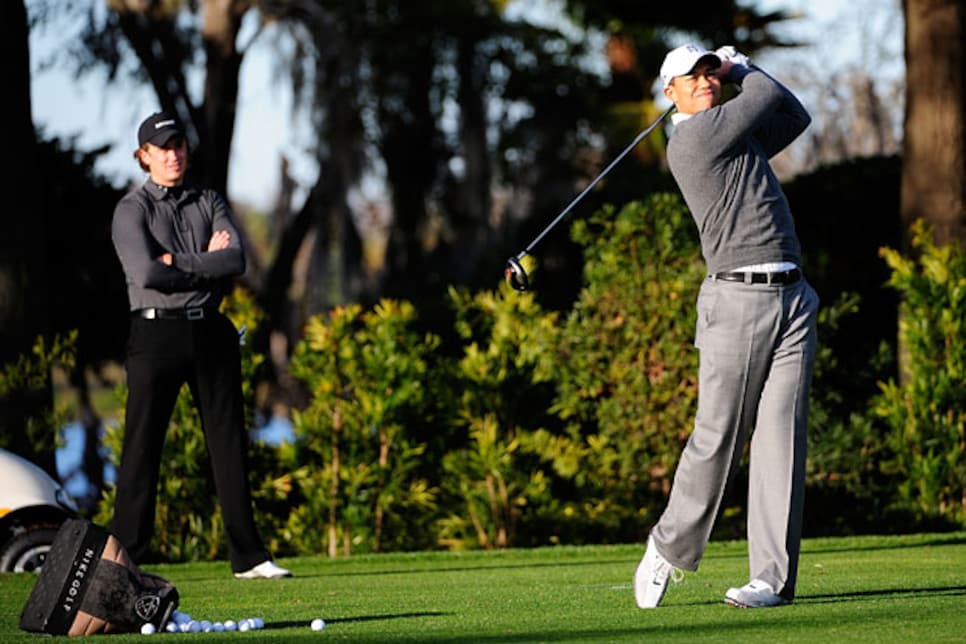 Tiger Woods practiced near his Orlando home on Thursday.
PONTE VEDRA BEACH, Fla. (AP) -- Tiger Woods is to return to therapy after he speaks publicly for the first time about his infidelity, according to a letter from PGA Tour commissioner Tim Finchem that was obtained by The Associated Press.
Finchem's letter to the PGA Tour policy board and other officials explained why Woods chose Friday to make his first public comments, which are to be televised live by the major networks.
Woods' statement comes during the Match Play Championship, sponsored by Accenture, the first company to drop Woods as a pitchman.
"As we understand it, Tiger's therapy called for a week's break at this time during which he has spent a few days with his children and then will make his statement before returning," Finchem said in a letter Thursday. "Accordingly, there was very little flexibility in the date for the announcement."
Woods is to speak at 11 a.m. EST from the clubhouse at TPC Sawgrass, home of the PGA Tour. It will be his first time to speak publicly since his car accident Nov. 27 that sparked sordid revelations of extramarital affairs.
The letter shed no light on whether Woods plans to return to the tour anytime soon.
Ernie Els was among players who were upset to learn that Woods had chosen the week of a World Golf Championship for a public appearance that was sure to take attention away from the tournament. "It's selfish," Els told Golfweek magazine.
Finchem told reporters in Marana, Ariz., earlier this week that he didn't think Woods' appearance would undermine Accenture, and that Woods' handlers "have their own reasons for their schedule."
In the letter, he said the tour discussed the situation with Accenture and "they understand that the PGA Tour was not involved in determining the timing of the statement." Finchem also noted that Woods' comments would be over well before television coverage of the third round from Dove Mountain.
The PGA Tour made available its sprawling, Mediterranean-styled clubhouse for the announcement, and is helping set up adjacent ballrooms at the nearby Sawgrass Marriott for media, where they can watch Woods on closed-circuit TV.
Finchem said in the letter that Woods' management asked for the facilities, and "we agreed as we would for any member of the PGA Tour."
No other PGA Tour player could command this kind of attention, though.
Woods is one of the most recognized athletes in the world. Television ratings double when he is in contention, which has happened a lot on his way to winning 71 times on the PGA Tour and 14 majors, four short of the record held by Jack Nicklaus.
No other athlete had such a spectacular fall, either. Accenture and AT&T have ended their endorsement contracts with him, and Woods has become the butt of jokes everywhere from late shows to Disney performances.
In the hours leading up to his appearance, it already was shaping up as a major event.
Seven satellite trucks already had set up shop in the Marriott parking lot. The last time it had this kind of activity was five years ago for media day at the Super Bowl between the New England Patriots and Philadelphia Eagles.
Tight security restricted access on the road that leads past PGA Tour headquarters to the TPC Sawgrass clubhouse, where Woods has a locker in a special room reserved for past winners of The Players Championship.
Woods is to speak in the Sunset Room on the second floor to a small group of "friends, colleagues and close associates," along with limited media.
"This is not a press conference," Mark Steinberg, Woods' agent, said on Wednesday.
Three wire services -- the AP, Reuters and Bloomberg -- were invited. The Golf Writers Association of America was offered a pool of three reporters, negotiated for six reporters, then its board of directors voted overwhelmingly not to participate.
"I cannot stress how strongly our board felt that this should be open to all media and also for the opportunity to question Woods," said Vartan Kupelian, president of the 950-member group. "The position, simply put, is all or none. This is a major story of international scope. To limit the ability of journalists to attend, listen, see and question Woods goes against the grain of everything we believe."
The public hasn't had a clean look at Woods' face since photos Wednesday of him jogging in his neighborhood outside Orlando.
More pool photos were released on Thursday showing him hitting balls on the practice range; Woods never allowed his picture taken on the range last year when returning from knee surgery.
Far more compelling, however, will be the sound of his voice. Woods has not been heard in the 78 days since a magazine released a voicemail he allegedly left one of the women to whom he has been romantically linked, warning that Woods' wife might be calling.
Instead of going on "Oprah" or another national television show to break the ice, Woods essentially will be speaking to the lone camera allowed in the room. The event will be televised via satellite.
Woods has always been about control, even in better times. He refused to go into the media center before a PGA Tour event if he was not the defending champion. If he agreed to a 10-minute interview to pitch a product he endorses, it was common for a company employee to be in the room making sure it didn't go one second beyond that.
But having not heard from Woods in three months -- except for three statements on his Web site -- this event has taken on a life of its own.
Conversation raged online, as many took glee in speculating on what Woods will say Friday.
One of the most popular threads on Twitter carried the tag "tigershouldsay." Suggestions were predominantly sarcastic, such as: "At least I didn't use steroids."
A British bookmaker has set odds at 4-to-7 that Woods' wife, Elin, will be with him. William Hill didn't stop there, however. It offers 8-to-1 odds that Woods will announce he is getting a divorce, 12-to-1 odds that his wife is pregnant and 100-to-1 odds that he is retiring.