News
Will Tiger's next coach be Sean Foley, Brian Mogg, or maybe...a Harmon?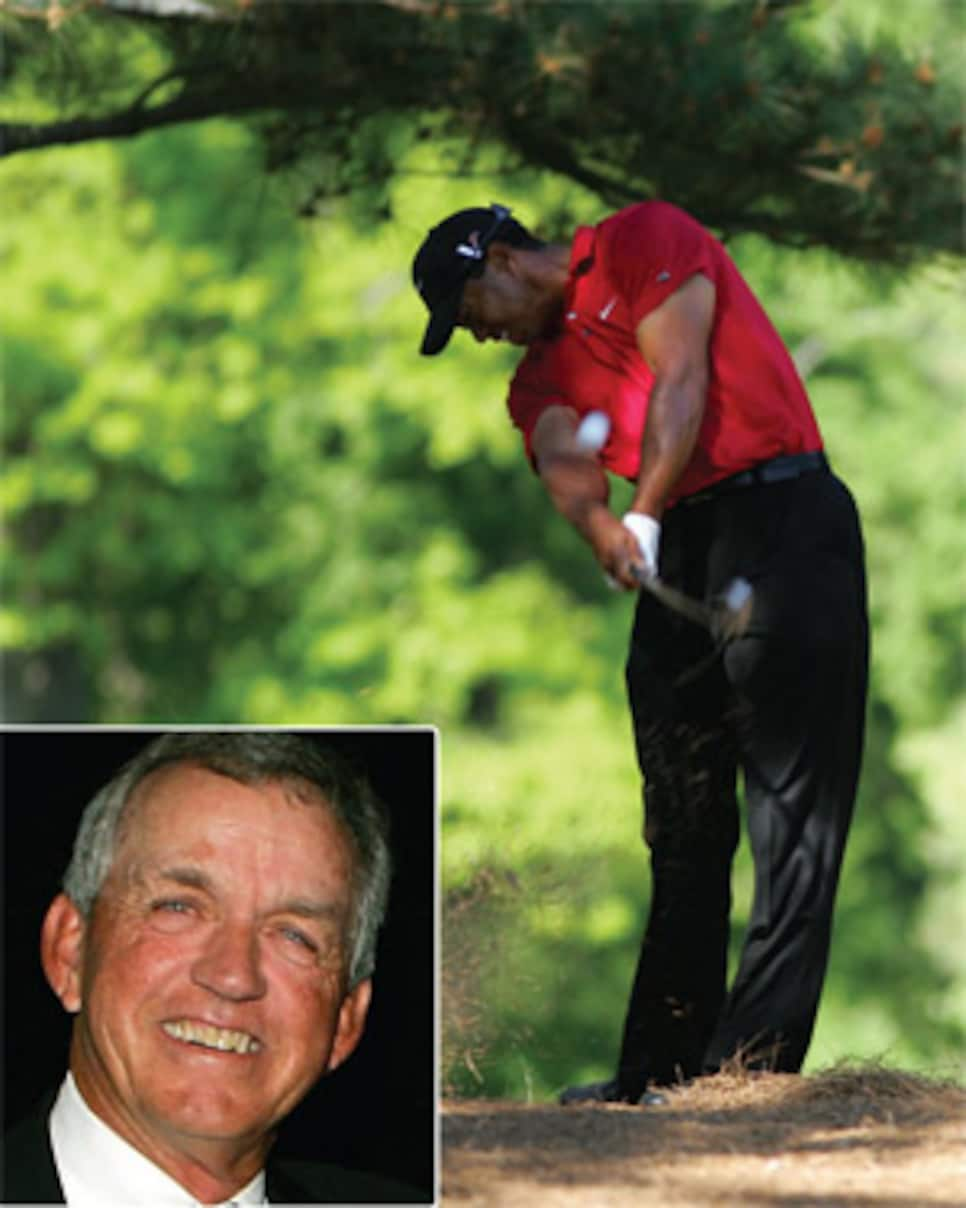 Could Woods, who once worked with Butch Harmon, hire younger brother Billy as his new swing coach?
Finding a new swing instructor is far down Tiger Woods' list of priorities, behind an impending divorce and an inflamed disk in his neck that is the latest of his physical breakdowns. Amid speculation that Sean Foley or Brian Mogg would follow Hank Haney comes the idea of a Harmon -- Billy, not Butch -- becoming the set of eyes that Woods will need to go forward.
Foley and Mogg both have their upsides. Foley is a Canadian who lives near Woods and has a stable of young players, led by Hunter Mahan and Sean O'Hair, who wouldn't mind sharing their coach. Mogg, also based in Orlando, works with Y.E. Yang, winner of last year's PGA Championship while paired with Tiger. Neither is a "method" teacher who would try to stamp Woods with his swing.
Billy Harmon's name came up during the Players, where Haney was in town but not present at Tiger's practice sessions, dangling without any strong verbal acknowledgements from Woods that his coach since 2005 had a shelf life. I called Harmon Thursday morning that week, when he was in Indian Wells, Calif., getting ready for work at Toscana CC. What Billy has -- besides the Harmon genes -- is a sense of relating to what Woods is going through.
"Interesting," Harmon responded in a text. "Like most, I guess I think I could help, but the golf would be the easiest part."
As a recovering alcoholic of more than 17 years, Harmon knows the demons of addiction. He would fill the role of life coach as much as swing coach. Besides playing nine holes at Sawgrass with Mahan and O'Hair, with Foley in tow, Woods also went out early one morning with Jay Haas and Harmon. If Woods wasn't auditioning or getting a feel for his next instructor, then it was only a matter of coincidence since he is close to Haas, Mahan and O'Hair.
Harmon said he had not been approached by the Woods camp and said if he was, the first one he would contact would be brother Butch, who has been down this road before. "My 15 minutes of fame on this issue has lasted 14 minutes too long," Billy said.
Going from the low-key, low-maintenance environment of working with Jay and Bill Haas -- whose swing he tweaked just before he won this year's Bob Hope Classic -- may be a transition Harmon wouldn't want to make at this point in his career. But then again, maybe he would. When I mentioned to Billy that working with Woods would be more complicated than working with any other pro, Harmon hinted the door was open.
"[It] will be interesting to see if he is capable of change," he said. "What do you think?"
In some ways I think Tiger is capable of change, but after observing his re-entry into public life and competitive golf, I'm not sure if Woods really is. First, he must find the Tiger Woods swing, not the Butch Harmon swing or the Hank Haney swing. That change, as Billy says, will be the easy part. As for behavioral patterns that have been ingrained since childhood, Harmon would know when to keep it light and how to keep it real. He wouldn't be a yes man.
The idea of Tiger Woods and Billy Harmon warming up on a range next to Phil Mickelson and Butch Harmon is so surreal that it might bring their father Claude Harmon back to life. "I'm sure he would be proud," another Harmon brother, Craig, texted Monday morning from Oak Hill CC in Rochester, N.Y. "Then he would wake up and realize he was dreaming."
Maybe not: Nobody has busted big brother Butch, more than his youngest brother. LOL was almost written with them in mind. "That would be funny, wouldn't it?" said Billy. "I'd take the job to wax Butch every now and then!"