News
Woods Getting Used To A New Life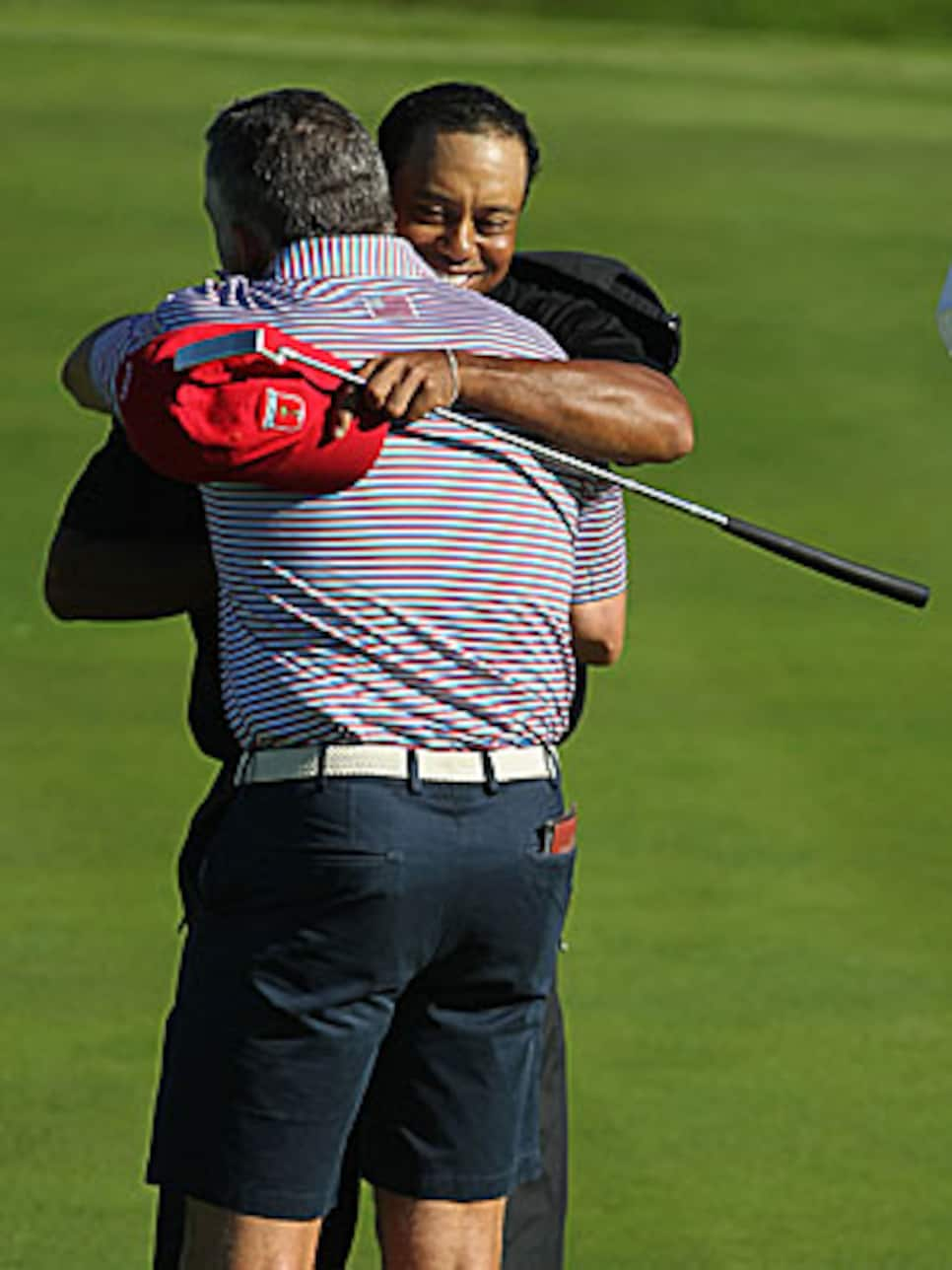 Woods' last appearance was a drubbing of Francesco Molinari in a singles match at the Ryder Cup.
says he never learned more in a year in which he never won less.
Woods said Monday he is more at peace with his personal life than when he returned to golf in April, and he remains hopeful that his season will not end without a victory.
"I learned a lot about myself, and I learned how things went wrong, why they went wrong, and had to take a pretty deep and introspective look at myself. And there wasn't a lot of things I like about it," Woods said in a video conference call for his Chevron World Challenge. "But I had to do it, and I did it, and grateful that I did.
"I think that I come from a much better place, much more grounded place now than I ever have before."
The Chevron World Challenge, to be played Dec. 3-6 at Sherwood Country Club, will be his final tournament of the year. Woods next plays Nov. 4 in Shanghai at the HSBC Champions, his last chance to win an official PGA Tour event. Then he's off to Melbourne to defend his title in the Australian Masters before closing out the year at Sherwood.
Woods is a four-time winner of his tournament, although he hasn't played the last two years. He was recovering from knee surgery in 2008, and he missed last year because it was one week after the car accident that exposed his extramarital affairs and shattered his image as sports' most impeccable star.
Woods took four months off from golf to go through rehab, returning at the Masters. He tied for fourth at Augusta National, and he tied for fourth at the U.S. Open. Those were his two best results of the year, however, as he failed to win a tournament and did not even reach the FedEx Cup finale at the Tour Championship.
He was divorced on Aug. 23 from Elin Nordegren. Woods said his two children are getting adjusted to their new living conditions.
"I think everyone's certainly more at peace, and so am I," Woods said.
His tournament has one of its best fields, with defending champion Jim Furyk and Woods joining a dozen other Ryder Cup players. The list includes three major champions -- all but Masters champ Phil Mickelson -- along with newcomers Rory McIlroy and Dustin Johnson.
The two sponsor exemptions were awarded to Camilo Villegas and Stewart Cink.
In his last performance, Woods was 9 under through 15 holes when he beat Francesco Molinari in singles, playing the final seven holes in 7-under-par. Europe still won the Ryder Cup, although Woods had his best week in the event, going 3-1.
"My game is coming around," Woods said. "so the way I played at the Ryder Cup ... I know I have two more events prior to the Chevron event. Hopefully, I can get two more Ws before I get to Chevron, and see what happens."
Along with his personal strife, Woods went through three teachers this year -- Hank Haney and Sean Foley
, with Woods as his own instructor for a three-month stretch in between.
He said he is still taking in the concepts of Foley, a Canadian-born swing coach based in Orlando, Fla., but that the changes are coming together quicker than previous times when he revamped his game.
"I don't have it all dialed in yet," Woods said. "But I figured if I could play the way I did in the singles match, which I hadn't done that all year, that's a positive sign."