News
Tiger Reflects On Tough Year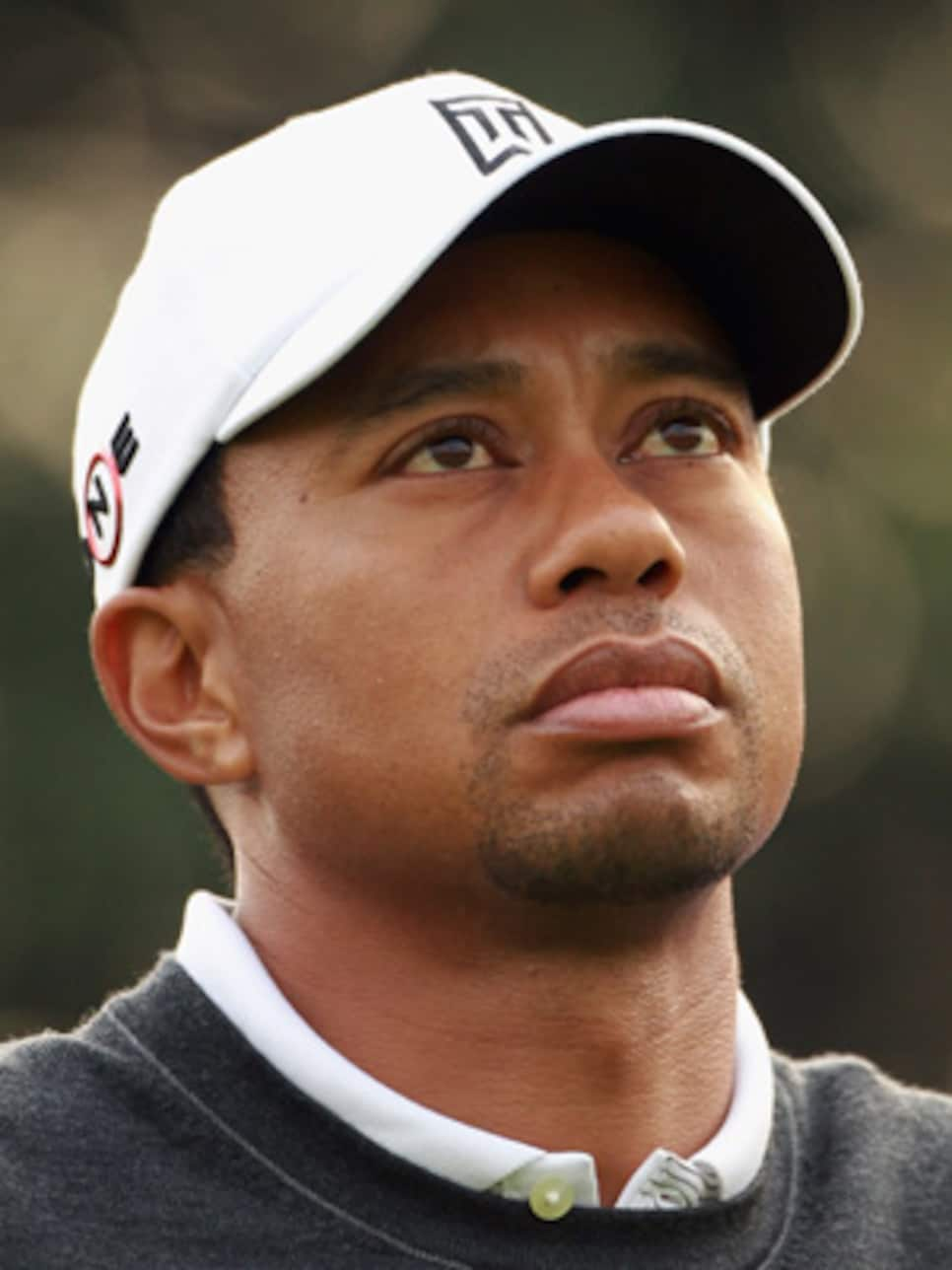 Woods says he's learned from his mistakes in the past.
MELBOURNE, Australia (AP) -- The dark sedan backed into a spot next to the clubhouse at the Australian Masters, trunk open, waiting to whisk Tiger Woods to the airport. Lingering behind the car was a friend who was still wrestling with divided loyalties -- to Woods and his former wife.
They approached each other, awkwardly at first, then shared a quick embrace and quiet words.
that cost him his marriage, his mystique, millions in endorsements and, lastly, his No. 1 ranking.
What remains are relationships to repair, along with his golf game.
Still to come is Thanksgiving.
"I think it's going to be great," Woods said in an interview with The Associated Press. "I'm going to be with my family. My mom is going to be there. We're going to have a great Thanksgiving. We've turned the corner, turned the page, and it's time to move forward."
Woods realizes the public might forever connect him and Thanksgiving with perhaps one of the most shocking downfalls in sports.
It started with the National Enquirer story of an affair with a nightclub hostess. Then came the still mysterious, middle-of-the-night accident Nov. 27 when he drove his SUV over a fire hydrant and crashed into a tree beyond his driveway. His wife tended to him in the street, the back windows of the Cadillac Escalade bashed out with a golf club.
On the 911 call was the chilling voice of his mother as she cried out, "What happened?"
One year later, that remains a relevant question.
No one really knew much about Woods except that he dominated golf like no one had before. Within weeks, everyone knew too much.
He was caught in a stunning web of infidelity, each indiscretion played out in public through voicemails, celebrity magazines, TV talk shows and even "sexting" on a porn star's website. He became a regular in the National Enquirer. He was on front pages everywhere, long after the major championship season was over.
Woods had spent 14 years carefully cultivating an impeccable image that brought him worldwide fame. Just like that, he went from being universally revered to roundly ridiculed.
"That's fine, totally fine," Woods said in Australia, leaning forward on a leather sofa, elbows resting on his knees. "I made my share of mistakes. People can look at that as what not to do, and if they choose to make fun of it, that's fine. I can't control that. All I know is that I can only control myself.
"And at that point in my life," he said, "I wasn't even able to do that."
At a gala dinner in the Crowns Tower, the same hotel where the nightclub hostess was spotted a year earlier, Woods shared the stage with Shane Warne, known as the Tiger Woods of Australian cricket, on and off the pitch.
Warne built his legend as a wicked leg spinner -- and a prolific womanizer.
"I think we've got a little bit in common," Warne said with a smile, pausing for effect. "I love golf, too."
Woods flashed an easy smile, breaking the brief tension in the room, and the audience quickly burst into laughter. It was the first time Woods has laughed publicly about such an embarrassing episode in his life, perhaps a sign that he had indeed turned the corner.
On the golf course? Not quite.
With two eagles on the last four holes of the Australian Masters, he at least managed fourth place, as good as he did all year. For the first time in his career, Woods didn't win a single trophy. Instead, he shot the highest 36-hole score of his career when he missed the cut at Quail Hollow, and the highest 72-hole score of his career when he nearly finished last at Firestone.
In so many ways, it was a year no one could have predicted.
"Frenetic would be a word that comes to mind," said Mark Steinberg, his agent at IMG.
Steinberg was in California when he received word that Woods had been in an accident. He was aware of the National Enquirer story that had been released the day before Thanksgiving, and he was about to learn of an Us Weekly magazine story involving a cocktail waitress, and a voicemail from Woods suggesting his wife was onto them.
For three months, that voicemail was the only time the public heard Woods speak.
As his world was imploding, he only spoke through statements released on his website -- first a "situation" that was embarrassing, then "transgressions" he regretted with "all my heart." No one saw him. No one even knew where he was.
Every expert in public relations and crisis management had a field day, blasting his management team for keeping him in hiding as rumors and innuendo filled the void. A year later, Steinberg isn't convinced it was mishandled.
"First of all, I don't think anyone has ever experienced this. There certainly was not a road map how to deal with this," he said. "We consulted with some people who deal with crisis management, and that was the consensus we got."
But there was more in play. What began with one mistress, maybe two, soon turned into many more. How many? Who knows? Even if some of the alleged mistresses were making it up, it's not as though the Woods' camp was in any position to deny it.
"You still had some of it true, some of it not true," Steinberg said. "Not everything had been revealed. So I'm not sure how he could come out before there was full resolution to everything. That's really the main reason."
Players were used to talking about Woods, about his great play and whether anyone could beat him.
This was personal. It was messy.
"Last year at this stage, most of the players were going, 'How did we miss this?' Nobody saw it coming," three-time major champion Padraig Harrington said. "Like the public, we were enthralled by the whole 'How did he get away it?'"
Geoff Ogilvy referred to Woods as a "great unknown." They saw him on the golf course, chased by dozens of photographers and thousands of fans. He was in the red shirt on Sunday, more times than not posing with a trophy. And then he was gone.
"What does he do when he goes home if he's not chipping and putting?" Ogilvy said. "In a perverted sense, at least we got a perspective of what he does when he's not playing golf. That he actually does something other than play golf.
"I feel sorry for him in a way that it's not like it was for him," he said. "The golf world has been interesting the last 12 months. But at least the golf world made sense this time last year. It used to be such a given who was No. 1 in the world."
The day after Thanksgiving started out like any other. Shoppers headed to the stores at dawn. Leftovers were on the table. Holiday decorations were being unpacked. College football was on television.
Then came a crawler on the TV screen that was shocking: Tiger Woods seriously injured in a car accident.
That was the initial report from the Florida Highway Patrol. And the news became more surreal with the developments that soon unfolded.
The National Enquirer story suddenly had legs. Woods was treated and released from the hospital, and suspicions began stirring when troopers tried for three days to meet with him at his home. Four days after the accident, Us Weekly linked him to a cocktail waitress in California who said she had 300 text messages to prove their 31-month relationship.
More allegations of affairs followed.
"I guess it was a few weeks or so before it really started to come out, and I just didn't know what to think," Stewart Cink said. "But I was, I think, in denial is one way I could describe my first reaction. I was shocked. I couldn't believe it."
Saturday Night Live made fun of him in skits, and Woods became easy fodder on everything from late shows to comedy acts in nightclubs, even a Disney stage performance. His image was plastered in airports around the world through an Accenture ad campaign, and, suddenly, no one could look at him the same way. All this in one week.
"It's the new way of the media world," Woods said. "It can happen very quickly. The world has gotten so much smaller. If this had happened to someone in the '60s or '70s, it wouldn't have been as big. It wouldn't have gone as global as fast. Our times have changed, and I totally get it."
There was still no sight of Woods, only statements on his website, the last one that he would take an indefinite leave from golf to try to save his marriage. Only later was it learned that he left before New Year's Day for a clinic in Mississippi.
Perhaps the most compelling photo of him this year was in a hooded sweatshirt and shorts, holding a cup of coffee outside the Pine Grove Behavioral Health and Addiction Services, home of the Gentle Path sexual addiction program.
What did he learn about himself?
"How far I had slipped away from where I was as a kid, from how I grew up," he said. "That was the sad part about it. It was a reality check and I learned a lot, unfortunately through a very painful process."
Rarely a week passed on the PGA Tour without some mention of Woods. He managed to command the spotlight, which became irritating to some of his peers.
First came an announcement Feb. 17, the opening round of the Match Play Championship, that Woods would break his silence two days later. The matches were ignored and Ernie Els criticized the timing as Woods being "selfish."
A month later, Jim Furyk won for the first time in nearly three years, but as he reached the 18th green, two television networks were broadcasting Woods' first on-camera interviews. Furyk walked into his press conference reading a transcript of it.
Els no longer harbors bitter feelings. They played together twice late in the year, at the TPC Boston and in Shanghai, and looked comfortable in each other's presence again.
"I feel for him, man," Els said. "I guess we were all kind of (ticked) off at him a little at the start of the year. The tour was brought into it a little bit because he was making statements while tournaments were being played. Look, I've known him since he was a teenager. I feel for him because of the public scrutiny he was under for a long time. I think he's getting through it now. He looks like he's in a better place. It looks like he's almost back to his normal self.
"He's trying to find his way, and I admire him for that. Because it's got to be the toughest thing in the world."
Woods said he was still mending relationships, but he won't say how or with whom.
More obvious was how players looked at him as a competitor. When he returned at the Masters, and played in the second-to-last group, his name on the leaderboard didn't seem so intimidating. Woods tied for fourth.
He never finished higher the rest of the year.
"If we're all brutally honest with ourselves, he's not had the year you'd think he would have had last year," said Lee Westwood, who replaced Woods atop the world ranking. "I don't want to say he's not the golfer he was, but at the same time, golf gives you one and takes away another. Form is very fickle in golf, and it can affect anybody.
"To all the players, it made him look a little more human. A bit more like us."
Not only did Woods fail to win for the first time in his 15 years on the PGA Tour, he wasn't even close. In nine of the 13 tournaments he finished, Woods was at least 10 shots behind going into the final round. He finished a career-low 68th on the money list. His biggest check was $330,000; a year earlier, he had averaged $618,127 per tournament.
Was he trying? Yes. Consumed with it? Not so much.
He parted with swing coach Hank Haney in May, tried to go it alone through a miserable summer, then hooked up with Sean Foley at the PGA Championship in August.
"My mind was not on that initially," said Woods, who always said he only enters a tournament to win. "I had a lot of things I had to deal with in order to get myself in the winner's circle. This summer was very difficult."
Contrary to tales that Woods travels with an entourage, he usually is on his own once a tournament gets under way. Any matter not related to golf, like business deals, must wait until he finishes. But when your wife is divorcing you, and two children are involved, some things simply can't wait. A phone call from a divorce lawyer. A proposal to approve.
Asked how often that was the case this summer, Woods said, "Every day. It was difficult."
The divorce became final on Aug. 23. In his first round as a single man, Woods shot 65 at The Barclays to share the lead. It was the only time all year his name was atop the leaderboard after any round.
"It's probably been a lot tougher on him than what people see, a lot harder than we all know," Cink said. "To have to own up to mistakes and basically be stripped down ... it's been hard for him."
Woods knew when he spoke to a worldwide audience on TV and to 40 of his closest friends and associates at Sawgrass that he was in for the toughest year of his life.
"I never would have thought I'd get divorced, but it became a reality," he said. "Never thought I'd change swing coaches, and that became a reality. I've certainly had a lot of change."
It might never be the same. Winning will be a big part in restoring some normalcy, but some changes will be permanent.
"I'm not going to have my family around," he said. "I'm not going to have the kids around at tournaments. So that's going to be different. You're still getting back into the routine of playing. Business as usual? It is, but it's not."
So here he is, one year later.
He lost three major endorsements in Accenture, AT&T and Gatorade that cost him more than $100 million. His golf bag, once the most coveted billboard of all, has carried only his name. Steinberg said they are starting to test the market, and more business deals are expected.
"Arguably the greatest golfer that's every played," Steinberg said. "Exposure. Rehabilitation. Changed man. Redemption."
Woods took his first steps toward that last week when he wrote a guest column for Newsweek ("And even beyond accepting the consequences and responsibility, there is the ongoing struggle to learn from my failings," it said). He was a guest on ESPN Radio with "Mike & Mike in the Morning." He began using Twitter.
He remains stuck on 14 majors and 82 victories worldwide. A year ago, most conversations of Woods breaking Jack Nicklaus' record 18 majors was about WHEN it would happen. Now it's IF it ever will.
"It was always going to be tough," Woods said, but then he went on to mention that Nicklaus achieved this over 20 years and "I've got a career ahead of me still."
Woods wasn't one to reflect on his great years, whether it was nine wins and three straight majors in 2000, or the stretch of 12 tournaments in 2007-08 when he won eight times, never finishing worse than fifth and ending the streak by winning the U.S. Open on a broken leg.
"You have to look at the past in order to learn from it and move on," he said. "I've done a lot of reflecting over the past year. And certainly, I've turned the corner and am looking more toward the future in a lot of ways. I'm in a better place than I ever was. That's the beauty of it. That's what is fun and exciting about the future.
"I'm in a much more peaceful place than I've been in a very long time."