News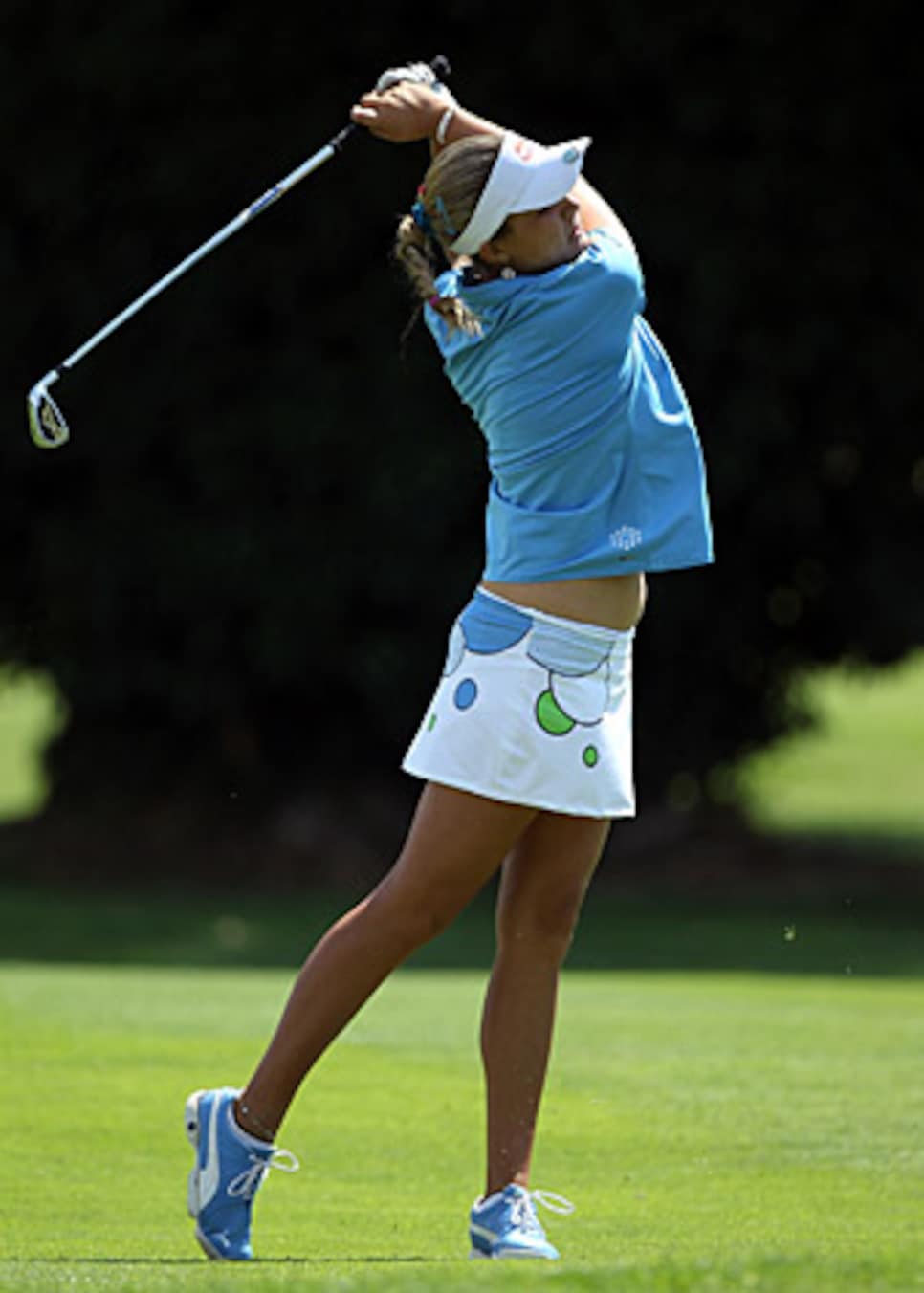 Norman said Thompson was further along than Tiger Woods was at a similar age.
JUPITER, Fla. -- Alexis Thompson isn't old enough to have a driver's license yet, let alone appreciate the legacy of Greg Norman. She was just looking for a practice game and some advice from the Hall of Famer on how to turn top 10s into victories on the LPGA Tour. Was the 15-year-old excited or nervous on the drive up from Coral Springs, Fl.? "She slept most of the way," said her father, caddie and chauffeur, Scott Thompson.
This meeting of icon and phenomenon occurred last Friday at Jupiter CC as Thompson prepared to go back out on tour for this week's CN Canadian Women's Open. Norman, who designed the layout, was wowed. "The big picture I haven't seen anybody as technically correct as that at such a young age," Norman said, citing a list of juniors he's played with including Adam Scott and Karrie Webb, not to mention Tiger Woods.
Nineteen years ago Norman was asked by IMG to play nine holes with Woods for the same type of mentoring session. They met just one exit south at Old Palm GC in Palm Beach Gardens. Woods was driving north from the Junior Orange Bowl in Miami and was on his way to Orlando for a game with Ian Baker-Finch. This was the eve of Tiger's 16th birthday, but at 140 pounds, he was consistently four or five yards past Norman's best tee ball. That wasn't the case with Thompson, but with Norman playing from the tips and Alexis from the 6,800-yard tees, they were basically hitting from the same yardage plates all day.
"Technically, she's far superior to [Tiger] at that age, no question about it," Norman said. "Her strength, her posture was phenomenal. Jim McLean has done a great job with her, molding the basics of what she can do. All you can say is, 'Wow.' ''
McLean arranged this meeting. The swing coach has befriended Norman, the 55-year-old Hall of Famer coming back from shoulder surgery; and now works with Thompson, the teenager who has made over $314,000 in two events, and is coming off a second-place finish in The Evian Masters. McLean wanted Norman not only to see Thompson drive the ball 280 yards and nuke 4-irons, but also for him to pass on his knowledge of the short game before heading off to three tournaments in four weeks.
Should Thompson win, the normal reward would be a two-year exemption. She has no intention of filing an application for Q School by the Aug. 31 deadline, or at this time for petitioning the LPGA to waive its 18-year-old age limit for membership. But if Thompson wins and Commissioner Michael Whan mandates that two-year exemption to her 18th birthday, there could be legal action.
Thompson's father and her management team promise that all they want is the ability to play a 15-to-17 tournament schedule that matches up with what she would play as an amateur. If the LPGA doesn't allow her to do that, Thompson will just take her show around the globe. She has already committed to the Dubai Ladies Masters in December and the Australian Masters and Open in March. With six LPGA exemptions, plus the U.S. and British Women's Open, she could reach that number by adding events in Japan and Europe, thus becoming a global player. One element that is a non-starter: You will not see her taking the Michelle Wie approach by marketing herself to men's events.
The cold shoulder she received by the Ladies Golf Union, which declined to accommodate her request to qualify for the Women's British Open because she turned pro, has extended to the LPGA. Stacy Lewis, a former college player of the year who turned pro at 23 with an accounting and finance degree from Arkansas was quoted as saying, "It's not a junior golf tour." Whether this is backlash from the way Wie did business or professional jealousy, Thompson is caught in the middle of it, but she seems unfazed by the controversy and the competition. At Oakmont in the Women's Open she was paired with Ai Miyazato and Jiyai Shin in the third round, beating the last two No. 1-ranked players by 10 and two strokes, respectively. In her last two events, she has made just slightly less than Wie, who has played 14 tournaments.
Thompson already has a credit card, but to cash in big she needs to convert more of the opportunities like the ones in her lesson with Norman. Early on, Norman asked Alexis and her father if she was a good putter. Both said she putted well at the Evian, where Thompson finished birdie-birdie to finish one stroke back of Shin. Norman told them that to be a great player, she had to putt well every week. After seeing her putts die at the hole, it was evident Thompson was afraid of the three-foot comebacker. He noted that her demeanor with a putter needed to marry up with how Thompson walked to the tee, or stood over an approach shot.
"I want her to love putting," McLean said. "I want [putting] to be a big part of what she wants to do. Like all kids, she loves to hit it, but to be a great pro you've got to putt well." When Cristie Kerr was Thompson's age, she was hanging around McLean's golf school at Doral, having putting and chipping contests with Tom Kite and Brad Faxon. After this year's LPGA Championship, she is a double major winner. "[Alexis] was working with one of the greatest players in the history of the game and kids are great imitators," McLean said. "Greg said he putted really good today."
Norman putted like a man who spent 4 ½ hours on the green behind his house on Jupiter Island earlier this week. Getting ready for next week's Omega European Masters, his first tournament in 12 months, Norman made six birdies and shot 69 from the tips. Sharing the same cart with an icon 40 years older than her, Thompson broke the awkwardness by asking how Norman got his nickname and then listened attentively to the player's expertise. She also shot 69, but it should have been lower. "Playing with a Hall of Famer, that's pretty big, and him giving me advice is really nice," she said before climbing back in the Corvette for the ride home to Coral Springs. "I felt honored."