News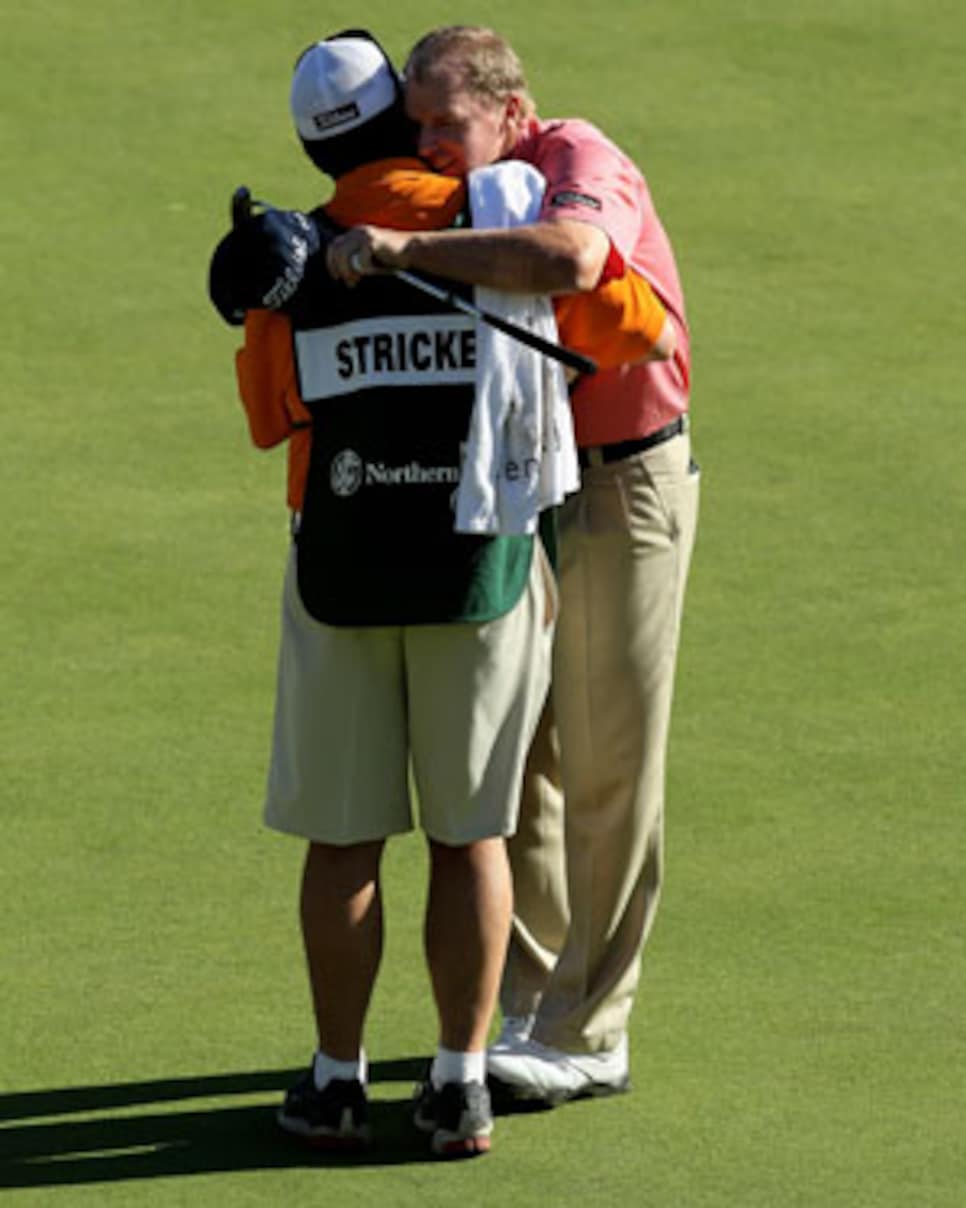 Steve Stricker's victory celebrations reflect a player who appreciates where he's been.
It's OK to cry, even better these days when it's a grown man. Drew Brees cried after winning the Super Bowl. Some people actually need Tiger Woods to cry before they forgive him. Personally, I'd rather see Steve Stricker cry.
First of all, another good cry would signify another Stricker win. He has eight now, closing in on double figures with his 43rd birthday coming up later this month, and with a record comparable to Woods' since winning Colonial last year. We like Stricker to win, especially with Tiger out, because it draws him closer to the No. 1 ranking, and if you think Stricker cries after victories, imagine what it would be like if he raised the FedEx Cup, or even bigger, won a major?
Secondly, it shows not only how hard it is to win, and what it means to win; it shows the true-to-the soul human side of competition that frankly Tiger never lets us see. Like when Brees held his son on the floor of Sun Life Stadium, there is a connection forged. For a much smaller audience, there was Stricker crying on NBC just before kickoff on CBS.
"Me knowing him, I know if he does get choked up a bit, that's just real," says Stricker's wife, Nicki, driving home Monday morning after picking up 3-year-old daughter Isabella at school -- Steve back in the snow already after arriving late Sunday night from Los Angeles. "He kids about it, but I think what he's showing comes through really good. You know how he feels. He has never been one to hide how he feels, good or bad."
Stricker only has what Nicki tells Isabella are "happy cries." He cried at their engagement, their wedding, and when Bobbi Maria came along in 1998 or Isabella in 2006. He did not cry much when he was No. 337 in the world, or when he when he blew the Bob Hope and the Northern Trust just a year ago. That's when he gets red-faced and even somewhat unapproachable. Lke Nicki said, he's never been one to hide his feelings.
But something cathartic happened last winter back in the hitting bay on those cold Wisconsin days when Stricker returned home after blowing those California tournaments. He talked with father-in-law Dennis Tiziani, the retired golf coach at the University of Wisconsin, about becoming more comfortable in those uncomfortable moments. And there was never one more uncomfortable than protecting a five-stroke lead at Riviera. Even after three victories last year, everybody was thinking the same thing on this one. Somewhere Stricker would drop a shot or two and it would get tight. How would he respond? "Those guys have talked a lot about that, a lot just between the two of them," Nicki said.
Other than a couple of pulled iron shots, her husband handled it like the new No. 2 player is supposed to handle it. While Phil Mickelson was worrying about grooves and looking tentative on greens he owned the previous two years, Stricker kept in control under pressure. He made a par save at 15 and hit two perfect shots at 18 to lock down his eighth career victory to move past Mickelson in the rankings.
Watching this at home in Madison was Nicki and Isabella, who is too young to know how hard it is to win on the PGA Tour. Nikki does, having caddied for Steve when they were out of college in the late '80s, and living the life of a tour wife for all those years.
"No, I was nervous," she admitted. "You just never know, what kind of start Steve will have. I was a little more nervous when he didn't birdie the first hole. He knows, too, that people will be come out shooting at pins. But to see him stand up there on 18 and hit those shots -- that's what means most to him. To stand in there and hit those shots."
If Woods was watching, and he probably was because Stricker was his partner at the Presidents Cup, there might have even been a mini version of one of those Tiger fist pumps. There's nobody who appreciates what Stricker has overcome than the man who has made winning look easy. It was actually Stricker who was carrying Woods around Harding Park for most of their victories. Tiger even admitted he was Strick's cheerleader.
Back before he knew any better, Stricker made it look relatively easy himself. He was second in his first tour event in 1994, won a Western Open in 1996, put himself in position to win the 1998 PGA Championship, and blew through the weakest WGC-Accenture Match Play field in history, beating Toru Taniguchi in the semis and Pierre Fulke in the 2001 finals at The Metropolitan Club in Australia.
Stricker admits now that he leaned on his putting stroke and didn't practice properly, worried more about getting back to the deer stand than his career.
That changed with a sobering return to Q School in 2004 and ultimately a radical change at the top of his backswing, going from across the line to three-quarter, turning those wild misses into fairways hit, and the heartbreak into triumph.
The crying started at Westchester CC in 2007, when he broke a six-year winless streak by winning a premier event, The Barclays. He had another good cry after winning the Deutsche Bank last year, making a series of clutch putts down the stretch.
But Isabella was too young to remember those and now she's old enough to pick up what's on TV. And there's daddy, losing it with NBC's Roger Maltbie in an interview that concluded with a man hug.
"Mommy, why is daddy crying?" Isabella said.
"It's a happy cry," said Nicki.
Her father arrived home after she went to bed, so that was the first thing she asked him before school early Monday morning.
Again, Nicki had to remind her, "It's a happy cry."
The kid better get used to it. America likes happy cries and daddy likes winning.