News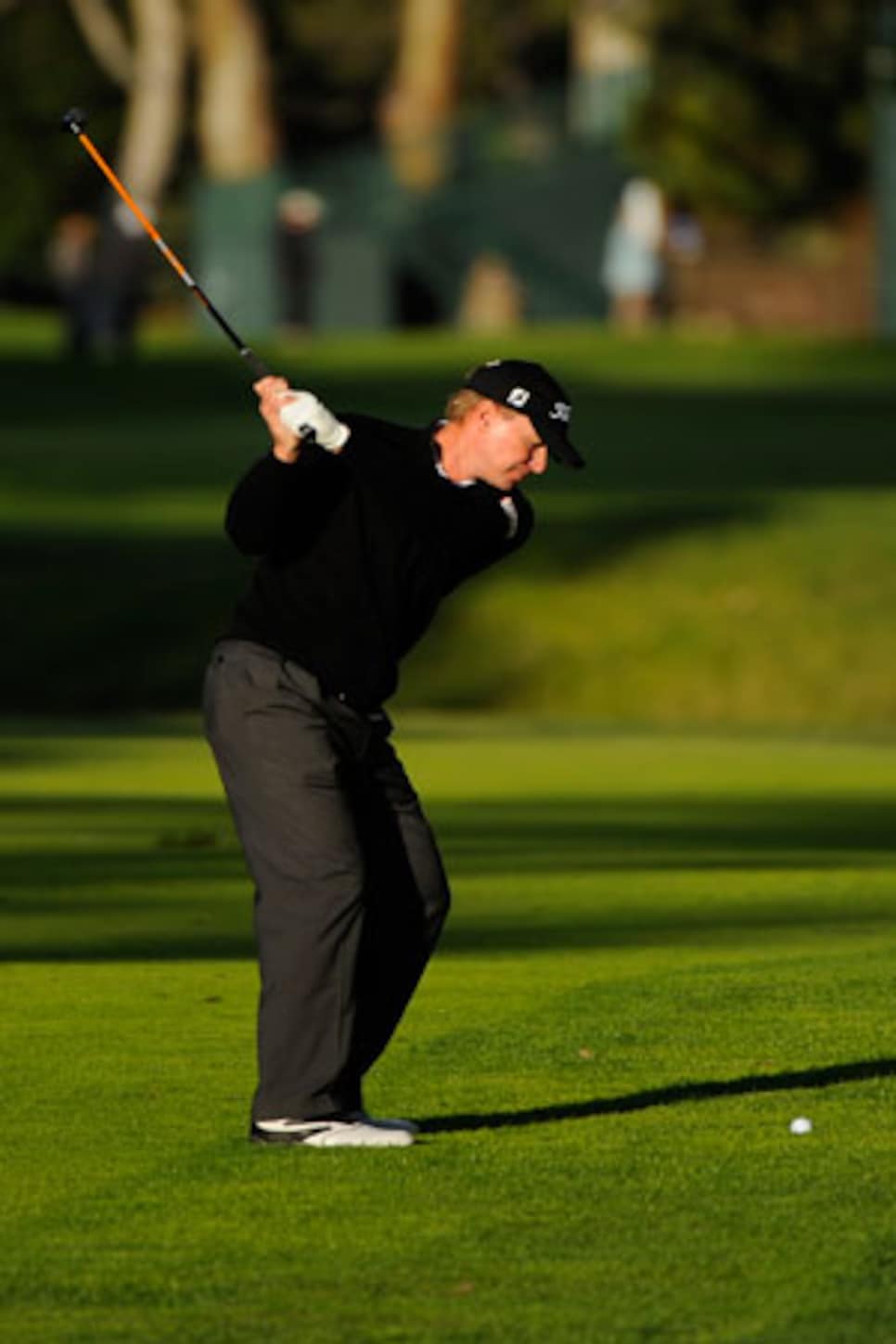 Making It Look Easy: With the sun finally out late Saturday afternoon, Stricker's commanding play built a six-stroke lead before darkness interrupted his third-round 66 with four holes left.
By Hollywood standards the Northern Trust Open had little to commend it other than the deer hunter winning. It's all about the box office in these parts, and the grassy amphitheater at the 18th green that ordinarily resembles a quilt of humanity on Sundays was pocked with green.
It wasn't for lack of effort. It cast a legend in a starring role, Jerry West, who was brought aboard as the executive director, part of an effort to restore luster to an aging tournament deemed to have been fraying at the edges.
It even produced a tearjerker, though only for the winner, Steve Stricker, whose stock has improved by weeps and bounds in recent years. In 2005 he was ranked 337th in the world. Now he's ranked No. 2, having overtaken Phil Mickelson, who suddenly is moving in the wrong direction in his quest to wrest the No. 1 ranking from an idle Tiger Woods.
Stricker found a comfort zone at Riviera CC, hard by Sunset Boulevard in Pacific Palisades, Calif., where he opened a six-stroke lead by the end of play Saturday. At the 13th hole that day, he encountered a trio of deer. "That brings back some good memories, seeing those deer, and being up in a deer stand," said Stricker, a Wisconsin native and avid hunter.
The deer were spared, but he had his opponents in the cross-hairs. He led by as many as seven Sunday before going to a prevent defense and hanging on to win by two over Luke Donald.
It was his eighth career victory and fourth in the last eight months, each of them inducing tears. "I tell myself every time I'm not going to cry," he said, explaining that his emotions prevail when he juxtaposes his rise with his fall. "I remember where I was and where I am now," he said, "and it doesn't get any better than this."
The tournament was unable to say the same. It was undone by what some here called the perfect storm, in this case one that dumped 3.27 inches of rain at Riviera Friday and Saturday. The weather had co-conspirators in an unattractive date, Super Bowl Sunday, and an unforced error, the $50 price of admission at the gate.
A PGA Tour official said the estimated attendance for the week was 30,000, which failed even to match a typical Sunday total for past tournaments here. In 2007 attendance for the week was 151,417. Lost luster, indeed.
To help restore it, the Los Angeles Junior Chamber of Commerce that had run the tournament since its inception in 1926 was replaced by PGA Tour Championship Management.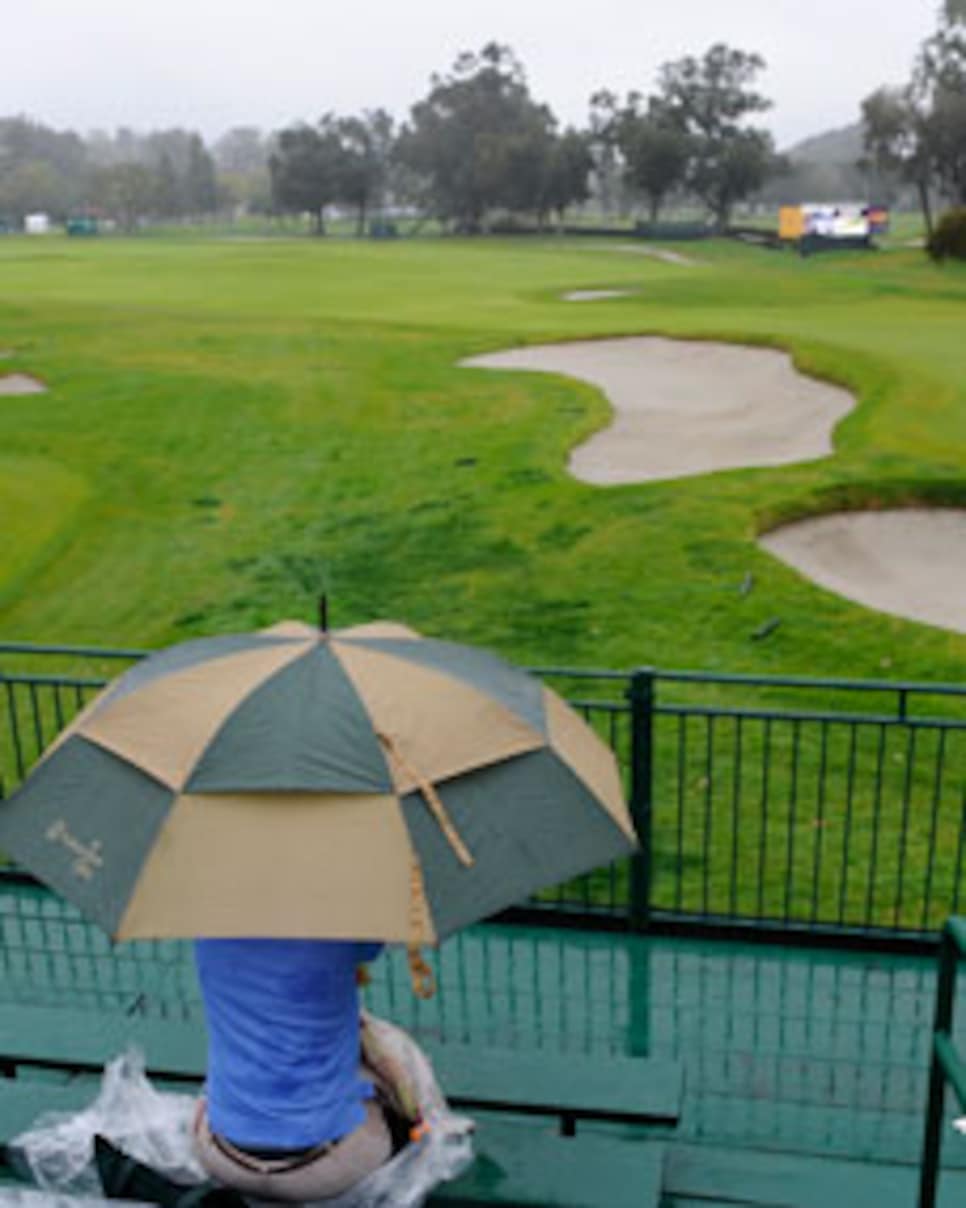 of rain reduced the need for extra seating.
"I'm from this area. I remember the days when this was a must-see event and you went out to see it whether you were a golf fan or not," tournament general manager Mike Bone said. "The comparison I make is that I live out near the California Speedway [in Ontario]. I'm not a NASCAR fan, but I've gone a few times just because it's a big sporting event in that area and I want to see what it's all about. That's what this tournament used to be."
West was recruited to give it a familiar face and elevate its profile, but despite the passion and purpose he brought to the endeavor ("it's admirable, and it's palpable," Bone said), even he was unable to deliver in the clutch. Then again, he didn't set the ticket price.
The $20 increase over the cost of a walk-up ticket a year ago was, said Bone, necessary to offset the cost of some of the improvements made. "I wouldn't say the tournament has slipped as a golf tournament, but the sports landscape has changed everywhere, certainly here in Los Angeles. Everybody has suites now -- Staples Center, UCLA, the Angels, Dodgers, everybody. The sports landscape changed underneath the feet of the L.A. Junior Chamber. In today's market you need to make some significant investments."
The event focused on being more fan-friendly, which might have been accomplished with the Grove, an interactive area featuring food, a putting green and a pro offering swing analysis. For the first time, the tournament had branded food on site, a California Pizza Kitchen. It also increased the number of bleachers it erected around the course from two to seven, Bone said.
But is a barbecue chicken pizza adequate recompense for the tournament raising its ticket price from $30 to $50?
"First of all," Bone said, "we'll readdress everything after this year. It's probably the most consistent complaint I've heard. But these enhancements cost money, a significant investment."
At that, it probably was less a deterrent than the weather. It rained all day Friday, through the night and into Saturday morning. Southern Californians generally don't don galoshes and venture out in the rain; they stay home.
One more obstacle to attendance: the winner was a foregone conclusion as the countdown to the Super Bowl kickoff commenced. Stricker basically edited out the drama in defiance of Hollywood protocol. His lead was as many as seven, though it also was as small as two, once at the fifth hole and again when Donald birdied the 17th. Stricker wrestled with the unfamiliarity of having to protect a big lead, but otherwise never indicated he was susceptible to losing his grip on it.
"It was a grind," he said. "You find yourself playing a little differently than you normally do when you have that sort of lead, and it was tough. If I don't win the tournament, [I was] going to be looked upon as the guy who didn't finish it off. Those thoughts run through your head, and the guys from behind have nothing to lose. I knew that, too."
He recovered his equilibrium with birdies at holes where pars are the goal, eight and nine, and another birdie on the par-5 11th. A bogey on 12 was the last of his costly mistakes.
Woods, meanwhile, remains inactive, possibly putting his No. 1 World Ranking in play. Stricker dismissed the notion that he can pry it from him, even suggesting that were he to do so it would be a hollow No. 1.
"We all know who the best player in the world is," Stricker said. "I went down that road when he came out on tour. I tried to compare my game to his back in '96 or '97. There was no comparison for my game to his back then. I just try to do what I'm good at, and that's sometimes not the flashiest thing in the world. I'll just continue to do what I do, and that's practice hard and work at it and try to improve."
Improvement is his forte. He had fallen so far in 2005 that his recovery took two years, while each year he improved enough to warrant his winning the PGA Tour comeback player of the year award back-to-back.
A comeback, that's what the Northern Trust Open is attempting to orchestrate. Toward that end, with or without an audience, it could do no better than to crown the best player in the world, active division.