News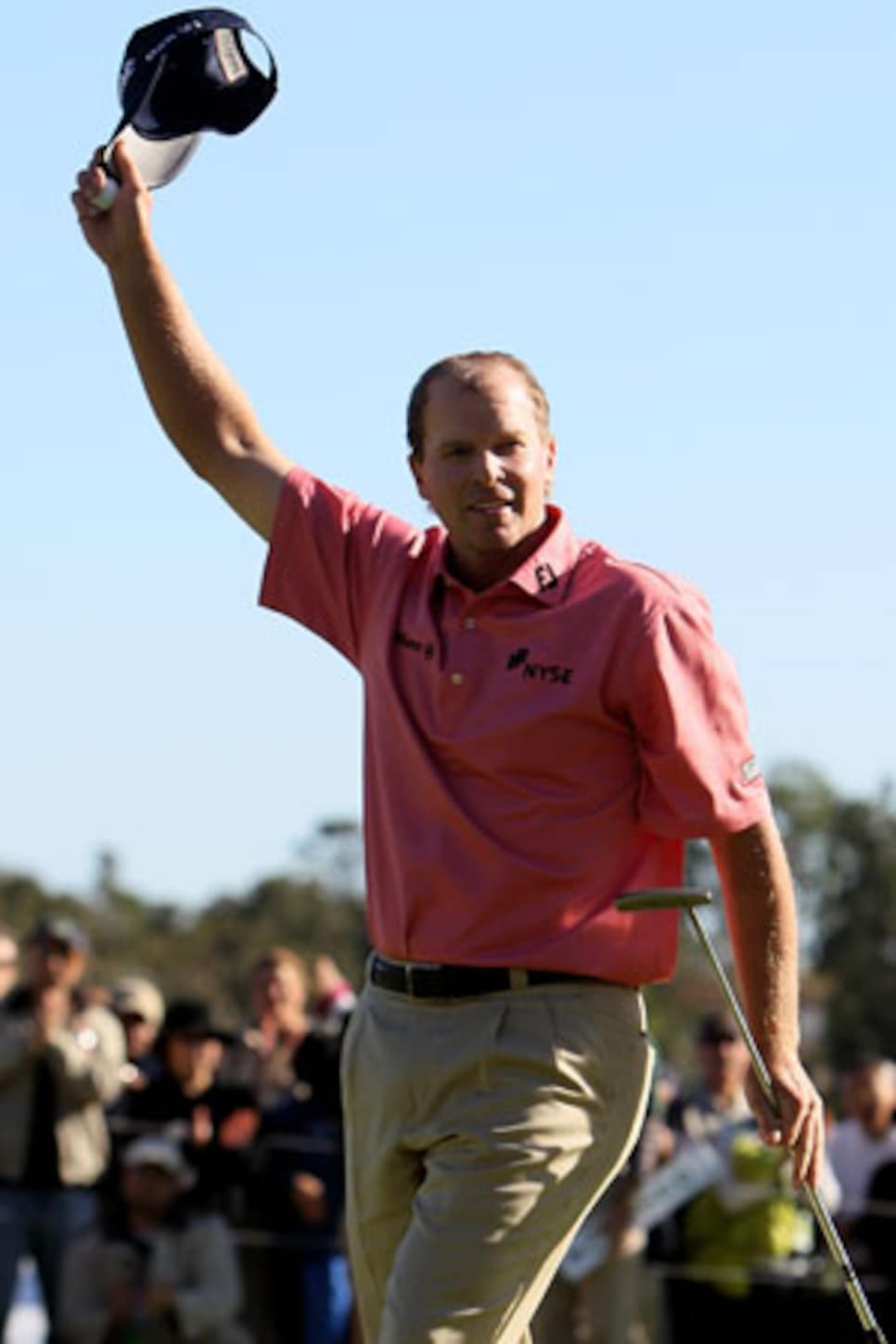 Stricker is a five-time winner of the Wisconsin State Open.
Alignment is fundamental to success, the great philosophers tell us from their lesson tees, which ought to bode well for Wisconsin's favorite son this week. Even at milking time, the state's ubiquitous dairy cows don't align as precisely as the stars have for Steve Stricker.
At 43, he is at the peak of his profession, five victories in 15 months lifting him to No. 4 in the World Ranking. Among those ahead of him is the usually redoubtable Tiger Woods, these days a threat diminished, his mojo still recuperating from injuries sustained in that early morning collision last November.
Then there is this: The PGA Championship at Whistling Straits outside Sheboygan, Wis., is a home game of sorts (Stricker lives in Madison, about 2 1/2 hours away), Wisconsin's tight-knit golf community ensuring a reception warm enough to melt a block of cheddar.
"Everyone in Wisconsin loves Steve," Wisconsin State Golf Association executive director Tom Schmidt said, "because he's such a nice person. We'll all be pulling for him."
This is likely Stricker's final opportunity to play a big-time professional tournament in Wisconsin, though it is premature to consider inviting melancholy to join the proceedings. "I hadn't even really thought about that until you said it," Stricker said by phone last week.
But the PGA Tour no longer passes through Wisconsin and probably won't again, except, perhaps, with the Champions Tour in tow. And by the time the U.S. Open gets to Erin Hills, 35 miles northwest of downtown Milwaukee, in 2017, Stricker will be 50, a number that doesn't necessarily preclude him from qualifying and even contending, but one that argues against it.
So it comes down to this one week, his last best chance on the home front. A five-time winner of the Wisconsin State Open (once as an amateur), Stricker never won the PGA Tour's Milwaukee tournament and he did not qualify for the PGA Championship in 2004, the last time it was played at Whistling Straits.
"Obviously that would be a dream situation, if I could have an opportunity to win there and it being a major tournament," Stricker said. "Having all that come together in that one week would be pretty special. It's a long shot, but I'm excited. My game's in good shape. But I'd have to have a lot of things go my way."
It is a long shot only in the sense that with the strongest field in major championship golf no one qualifies as a prohibitive favorite -- in the absence of Woods at the height of his game, of course. A partisan crowd, meanwhile, is welcome only to the extent that heightened expectations don't become a liability.
"It kind of works both ways when you're playing at home," he said. "I felt both playing in the Milwaukee tournament. When you get on a roll you get the fans behind you and it can propel you onward. And vice versa can happen to you if you're not playing well. You feel like you're letting a lot of people down. There are a lot of distractions playing at home, tickets to deal with, extra demands on your time. You've got to try to manage it, try to make it as normal as possible. But it's hard. I think it puts a little more pressure on you."
Stricker last played the Milwaukee event in 2006, the year that he began his climb back from obscurity. He is a different player now; he has mixed it successfully with the best players in the world, even rising to No. 2 in the World Ranking at one point this year.
"He's very comfortable being uncomfortable," his coach and father-in-law Dennis Tiziani said. "That's the biggest thing. He's very tuned in to the crowd, cognizant of who's there, what's going on out there. He's not trying to induce a coma. He knows everything, from every bird chirping to whales swimming in the ocean. He gathers it all up. He has a great ability to recognize the distraction, recognize pressure, suck it up, put it inside of him, keep it there and control it. That was a little tip he received from Arnold Palmer a long, long time ago."
A victory is the proverbial feel-good story, this one waiting to play out on the shores of Lake Michigan, in a state that likes its golf and loves its golfers.
"Steve clearly has a big fan base in Wisconsin," Tiziani said. "They'd be extremely happy if he won. I know Mr. (Herb) Kohler [Whistling Straits' owner] would be happy to have one of his locals winning here. I don't think it would surprise anybody if he wins. But there'd be a lot of gratification if he were to win his first major championship and did so in Wisconsin."