News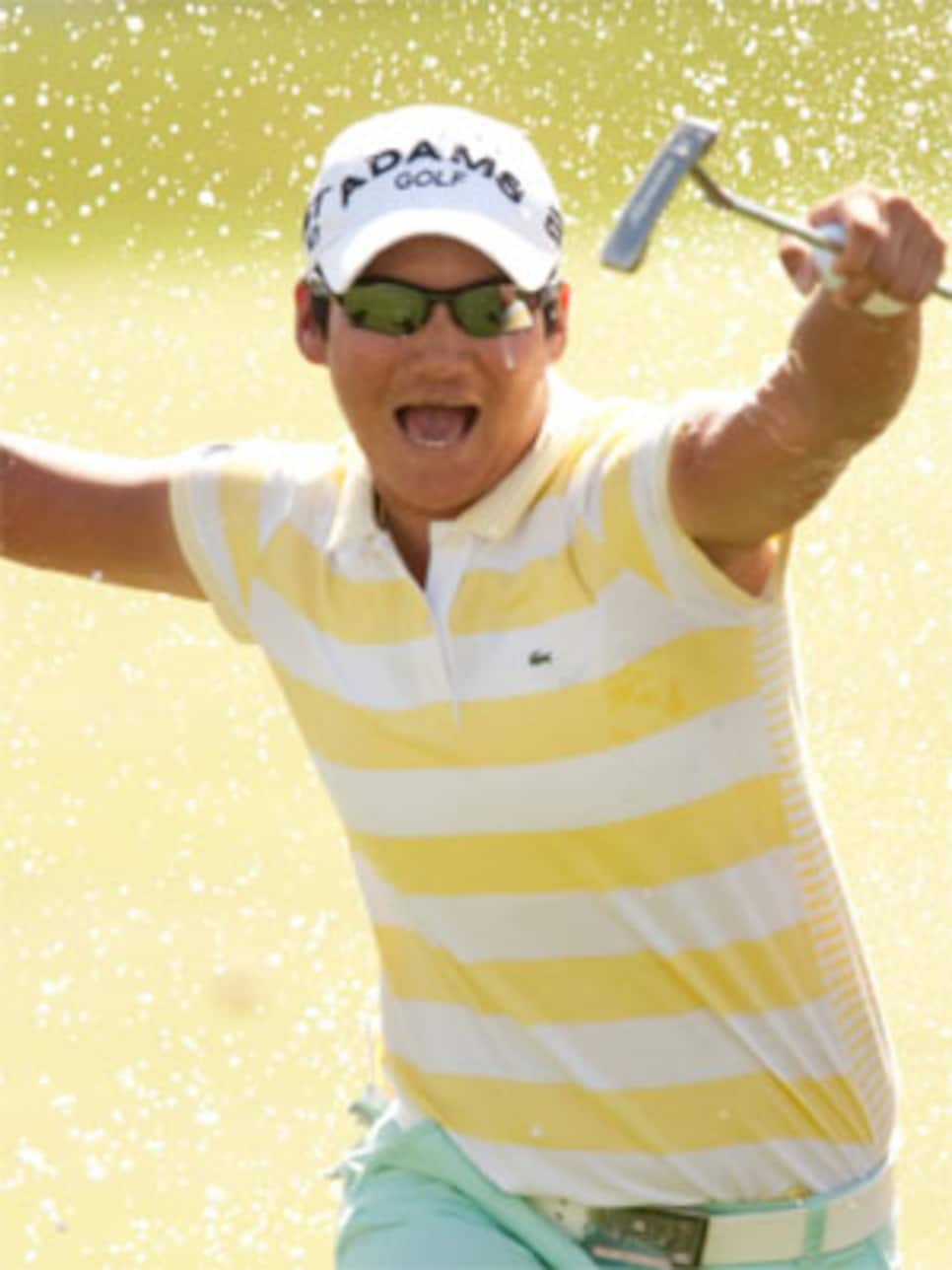 Enjoy the walk, her head doc told her Sunday morning, which explains the margin of victory. Yani Tseng won the Kraft Nabisco Championship by a smile. So it goes, of course, when you're talented and 21 and bold enough to buy a house with an imposing trophy room once filled with the game's finest regalia.
She got a bargain, too. The house came with a house call. The woman from whom she bought it a year ago stopped by one morning with a housewarming gift: the storehouse of wisdom she acquired in a Hall of Fame career than ended in 2008.
"I want to thank Annika Sorenstam," Tseng said moments after acquiring another piece of hardware with which to decorate the trophy room made vacant when Sorenstam sold her the house at Lake Nona in Orlando.
Sorenstam's words helped unleash the talent bound up by heightened expectations in the aftermath of Tseng's victory in the 2008 McDonald's LPGA Championship. A month ago Tseng won the Women's Australian Open, a prelude to a victory that portends success of a magnitude capable of filling her home's barren shelves.
"That's always been my dream and my goal, to be the No. 1 player," said Tseng, who is now one step away from reaching those lofty expectations. The Kraft Nabisco win moved her from sixth to second on the Rolex Ranking, just .53 points behind leader Lorena Ochoa.
Conquering the world seems less daunting when you consider that this native of Taiwan received advice from a Swede that helped her win in Australia and beat a Norwegian in America.
No wonder she's always smiling. This is how it is supposed to be when you're young and accomplished and your head is free of the scar tissue that disappointment leaves in its wake. See Norway's Suzann Pettersen.
She was smiling, too, through gritted teeth, forced once again to grin and bear it, her sorrow neatly lining up numerically -- she finished second for the third time in four years. Pettersen lost by a stroke when her eagle chip on the par-5 18th on the Dinah Shore Tournament Course at Mission Hills CC in Rancho Mirage, Calif., slipped by the hole.
"I knew it was going to be close," Pettersen said. "It's starting to feel like it owes me one very soon."
The Kraft Nabisco continues to taunt and haunt her. In 2007 Pettersen had a four-stroke lead with four holes to play and lost to Morgan Pressel. This time she wasattempting to overcome a four-stroke deficit, but her putter failed to comply. She missed birdie putts of about 12 feet on the 13th, 14th and 15th holes.
There are no consolation prizes in sports, but this comes close: Sorenstam finished second at the Kraft Nabisco three times, too, in addition to winning three of them. Pettersen hinted at another: "If I can't win," she said, "I'm happy [Tseng] won."
Tseng and Pettersen are friends who often attempt to pick each other's pocket in spirited matches when they're home in Orlando, either at Bay Hill, where Pettersen plays, or Lake Nona. They took their friendly rivalry on the road last week, playing some weekend golf together, even engaging in a side bet—longest drive on the 11th hole on Saturday. Who won?
"We both bombed it down the 11th, and we looked at each other and we're like, 'What do you think?' " said Pettersen.
"I'm not going to tell you," she said when asked what the stakes were. "But it's worth it, I'll tell you that."
They were paired again Sunday, with third-round leader Karen Stupples joining them. Whatever the stakes on Saturday, they were exponentially higher Sunday, with a major championship on the line.
Tseng was so nervous she phoned her sport psychologist, Dr. Deborah Graham. "I told her I had a good sleep, but I feel very nervous," she said. "I was thinking ahead, playing ahead, thinking, 'How can I talk to the media? How can I jump in the water? What's the purse? What should I do if I miss a putt?' So many things like that come through the mind."
Graham's advice: Commit to the shot, retain your tempo and head up, shoulders back and enjoy the walk. "I just kept telling myself...keep smiling all 18 holes, however I play," she said. "I just kept telling myself that I'm a champ. I want to think like a champ from the start, the first tee until the end."
Tseng played like a champion from the outset, covering the first three holes in three under par to wrest the lead from Stupples, who stumbled to a 78 and a T-5. The pivotal hole was an eagle at the par-5 second, when Tseng chipped in from the fringe. She went out in four-under-par 32 to stake herself to a four-stroke lead.
"You can't ask for a better start," Pettersen said. "But walking up eight, my caddie [Dave Brooker], very experienced, says, 'Don't even look at it. The back nine anything can happen. You know it, and I know it.' "
Pettersen, the fourth-ranked player in the world, cut the lead to three with a birdie at 11, then gained another shot when Tseng bogeyed 12. But Pettersen's inability to cash in on birdie opportunities on the next three holes was her undoing.
"If one of those drops, there's a little different pressure on Yani playing those last four or five holes," she said. "I gave myself a lot of good chances."
It came down to the 18th, and Pettersen's eagle chip from the right rough. "I was scared to look," Tseng said. "And when I looked back I saw the ball just past the hole. I was really scared that she made that [chip]. There were so many things coming through my mind for five seconds."
Tseng followed with a routine two-putt par to conclude a 68, one stroke better than Pettersen, who took from the round the sense that her game is maturing and that eventually a victory will follow.
"Every time I'm coming down the stretch I feel more comfortable," she said. "I feel a lot more comfortable playing those last five holes now. That's what this game is all about. You learn as you go. Sometimes you win, sometimes you lose. Obviously, the major stands out a little bit more, and it's disappointing when you're this close and you really had a chance. But I'll get over it."
For Tseng, it was her third victory in three years on the LPGA and the former number is expected to outpace the latter. "She's a very good player," Pettersen said, "and she's very young, and this is her second major. She's just going to be a very big competitor for the next two decades, I guess."
This is her intention, anyway, and why she coveted a meeting with Sorenstam. In 2009 Tseng saw no progression from the year before, earning nearly a half-million dollars less while playing the same number of tournaments.
Tseng bought Sorenstam's house but was too intimidated to solicit her advice. "Every time I saw her I run out of words," she said. "I don't know if it's because she's my big idol. I hope I can be like her, what she's done for the LPGA and for golf. It's amazing. But every time I see her I'm just shaking, and I don't know what I should say."
A friend eventually phoned Sorenstam on Tseng's behalf, she said, and set up a meeting. Sorenstam's blueprint for Tseng included setting goals, then taking the necessary steps to achieve them.
"I feel like I was struggling a little last year, putting lots of expectations," Tseng said. "So after she talked to me I just kind of focused on my stats. Whatever your problem -- driving, second shots, putting -- just go work on it, and you don't have to worry about it. And when you get inside the ropes, you just want to have fun and play golf and not to think about too much."
Her corner was already crowded with talent before Sorenstam joined in: Dave Stockton helps with her ­putting and short game; Gary Gilchrist with her full swing; Graham with her mental approach. The pieces fit together perfectly beneath a warm desert sun, evidence of which was four rounds under par.
Tseng was in the midst of explaining them in a post-tournament news conference when an earthquake measuring 7.2 on the Richter Scale, its epicenter in Baja California, Mexico, about 100 miles south of Rancho Mirage, struck. There was no apparent damage in and around Mission Hills.
It momentarily rattled Tseng, but it wasn't her only concern Sunday afternoon. The winner of the Kraft Nabisco is expected to jump into the pond that surrounds the 18th green, a stale tradition for which no one apparently wants to take responsibility for ending.
"I jumped all the way to the middle, and then I told my caddie, 'I don't know how to swim. Can you help me to go on the top?' I was trying to get out. It was a little scary."
Maybe she can't swim, but neither is she likely to sink any time soon. Perhaps she didn't buy Sorenstam's house solely for the trophy room, but she's likely to be grateful that she has it.
"It's huge," she said. "Now I've got one more [trophy] to put in it. It's still very empty now, but we're on the way."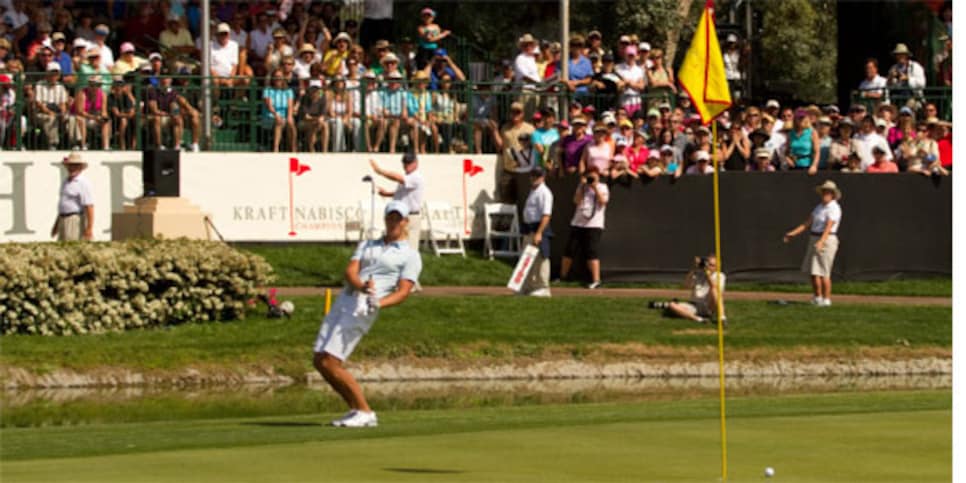 Moment Of Truth: When Pettersen's chip for eagle failed to fall on the 72nd hole, Tseng two-putted for par, a one-shot victory and her second LPGA major. Pettersen has three seconds at the Nabisco.