News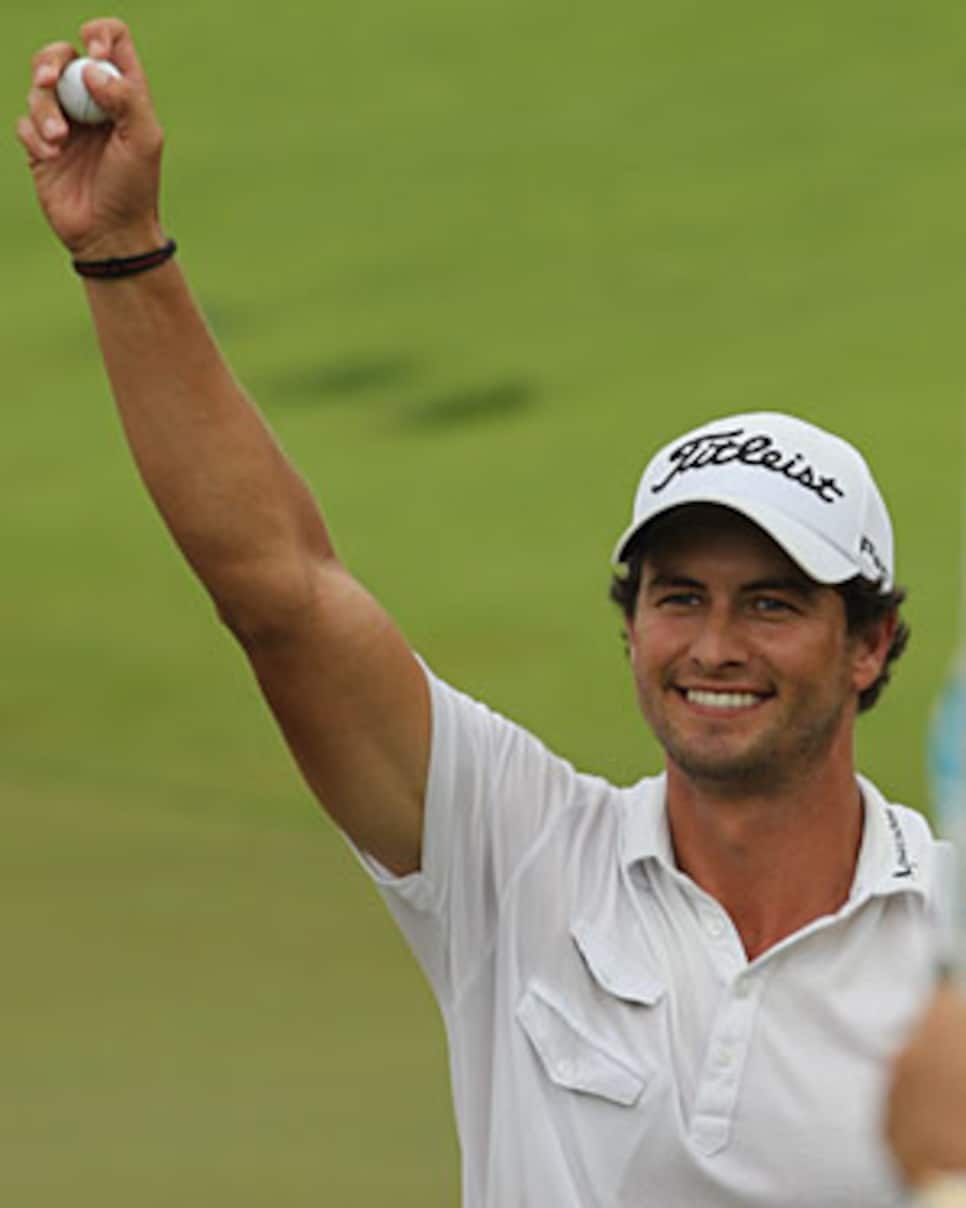 Adam Scott continued his recent resurgence with a win in Singapore.
The PGA Tour season came to a fitting conclusion on Sunday, the U.S. absorbing yet another stain to its receding reputation in international golf circles. As an old perennial American doormat once said, more to assuage its disappointment than to signal better days ahead, wait 'til next year.
This is the state of American golf today. Associated Press golf writer Doug Ferguson noted last week that the Children's Miracle Network Classic, the final event on the PGA Tour schedule, featured the third-weakest field in golf, behind the Barclays Singapore Open and the JBWere Masters in Australia.
Then there was the fact that another continent was heard from, this time Australia upstaging America. A pair of resurgent Aussies, Adam Scott and Stuart Appleby, won in Singapore and Australia against fields that included Phil Mickelson
Scott, once No. 3 in the World Ranking, won for the second time in 2010 and third time in the last 12 months. After falling to 69th in the World Ranking, he is now 20th. Appleby, who hadn't won since 2006 and had lost his PGA Tour exemption, won for the second time in the last three-plus months.
Earlier this year, South Africa and Europe had upstaged the U.S. Last week was Australia's turn. Who's next, Asia?
Far be it for us to note, meanwhile, that the aforementioned doormat perpetually looking ahead, the Brooklyn Dodgers, were otherwise known as "Dem Bums."
For America, at least there's this...
, who surrendered his stranglehold on No. 1 in the World Ranking to England's Lee Westwood earlier this month.
Woods finished solo fourth in the JBWere Masters, his best finish of the year, to narrow the gap separating him and Westwood.
Entering the week, Westwood had an 8.84 points average to Woods' 8.21. After the JBWere Masters, their numbers stood at 8.7 to 8.25.
Morbid curiosity tends to make the final tournament of the PGA Tour season interesting, a tournament that finds players essentially playing, if not for their lives, for their livelihoods. It's not that anyone longs to witness the figurative train wreck -- someone losing their job on the back nine on Sunday -- but at the same time it's difficult to look away.
The final round of the Children's Miracle Network Classic on Sunday produced the usual drama and disappointment.
, who came into the event at 122nd on the money list. The top 125 receive full exemptions for the following year. His victory gave him a two-year exemption.
Then there was Roland Thatcher, who was 179th on the money list entering play and needed to finish first or second to save his job -- the longest of long shots. Thatcher had missed the cut 15 times in 2010 and hadn't finished better than T50 since April.
Thatcher lost the tournament on Sunday with three back-nine bogeys, but holed a five-foot par-saving putt on the final hole to finish solo second, to jump to 122nd on the money list.
Then there was the unfortunate case of Johnson Wagner, who was 156th on the money list entering the tournament. Wagner played well enough on Sunday, even vaulting into contention, to save his job, until his bid was derailed by a double-bogey on the 14th hole. He finished 126th on the money list.
Incidentally, had Thatcher missed his five-footer for par, he'd have fallen into a four-way tie for second and would not have earned enough to enter the top 125, which would have allowed Wagner to sneak in on the number.
One would have to wonder why a company, in this case Kodak, would ante up so much money for so little return, principally because of lack of interest. The Kodak Challenge? Really, who cared, at least until Rickie Fowler chose to fly from Shanghai, China to Orlando, Fla., entirely for the opportunity to win the Kodak Challenge and its $1 million winner-take-all payoff?
The player with the best score from 18 holes of the 30 designated holes from 30 different tournaments is the winner. Fowler wound up in a sudden-death playoff with Aaron Baddeley and Troy Merritt at the conclusion of the Children's Miracle Network Classic on Sunday.
Only Kodak can say whether it recovered its investment in publicity, but Sunday surely helped. Who isn't interested in a single hole, played for $1 million, winner-take-all?
Merritt, incidentally, won with a birdie on the first extra hole. We're not sure what to call a bonus -- the $1 million in unofficial money he earned from Kodak or the fact that this PGA Tour rookie earned $786,977 in official money to finish 125th on the money list and retain his tour exemption.
CLASSIEST MOVE OF THE WEEK (YEAR?)
on Sunday, said she was donating her entire winner's check, $220,000, to charities. She pledged half to the Lorena Ochoa Foundation and half to a U.S. charity that she will name later.
"We weren't really rich," Kim said, explaining how her parents sacrificed to help send her to the U.S. "But there is one person who helped my parents, and if he [hadn't] helped ... me coming to the U.S., I wouldn't be here. Everyone needs help."
PGA Tour rookie Matt Every is returning to Q School, largely the result of the three-month suspension he was handed by the PGA Tour for "conduct unbecoming a professional."
Every was arrested during the John Deere Classic for misdemeanor possession of marijuana. His suspension gave him only one more event, the Children's Miracle Network Classic, to earn enough money to finish in the top 125 on the money list. Every tied for 40th and finished 160th on the money list.
WHY ISN'T SHE IN THE HALL OF FAME?
England's Laura Davies won yet another tournament, the Women's Indian Open on the Ladies European Tour, her fifth victory of the year on the LET and 77th career win internationally. She has won 20 times on the LPGA, including four major championships.
It isn't enough to earn her a place in the World Golf Hall of Fame, which on the women's front accedes to the LPGA's qualifying requirements. Davis has 25 points and needs 27 to qualify, requiring her to win two more LPGA events or another major championship.
Davies, 47, has Hall of Fame credentials, however they're computed.
Suzann Pettersen finished second in the Lorena Ochoa Invitational, the sixth time she has been a runner-up in 2010, a year without a victory. To boot, she also has finished T-3 once and T-4 twice.
"Another second‑place finish. It sucks," she said.
Jesper Parnevik, making only his fifth start and first since February, made the cut for the first (and last) time in 2010. Parnevik, who was considering retirement then because of a broken vertebra in his back, tied for 72nd at the Children's Miracle Network Classic...In Lorena Ochoa's first start since announcing her retirement in May, she tied for 25th in the Lorena Ochoa Invitational.
From Rickie Fowler: "Crazy to see people using me and eBay to try and make money...I'll tell you right now it's a waste of your money to buy anything off there that say I have signed it...just come to a tourney or send something to a tourney and I will gladly sign and love to personalize...just hate seeing things on eBay...not cool"
"You'll never see a happier guy who just vomited away a tournament." -- Roland Thatcher, who kicked away a victory in the Children's Miracle Network Classic, but holed a five-foot par putt to finish solo second and retain his PGA Tour card for 2011.
Ryo Ishikawa, 19, won the Taiheiyo Masters, his third victory of the year on the Japan Golf Tour and ninth there overall, all impressive, considering his age. But is he taking too conservative a route, staying close to home, to the detriment of his development?
Not likely. If global stardom indeed is his destination, he will eventually have to prove himself on a larger stage than that offered by the Japan Golf Tour. In the meantime, he is learning how to win, which is likely to pay dividends once opportunities beyond his home borders begin to present themselves, as they surely will.