News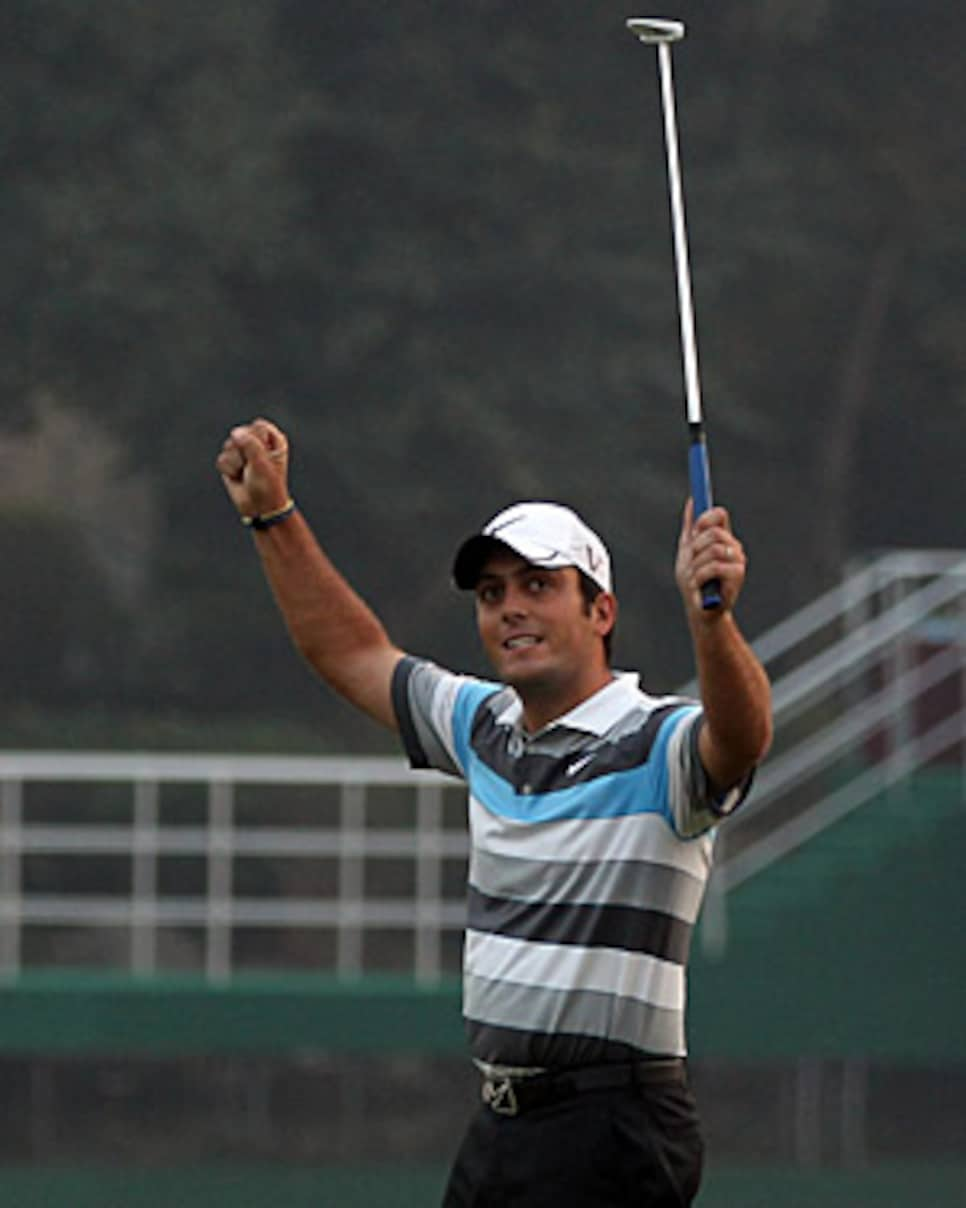 Molinari's ability to hold off Lee Westwood on Sunday was a testament to the depth on the European Tour.
' dominance obscured what his fallibility has exposed, that the game has a new world order and it isn't singing "Yankee Doodle Dandy".
in Shanghai, China, on Sunday, when the only American to crack the top 20 was Woods, who tied for sixth. Beyond that, Bill Haas, Nick Watney and Hunter Mahan each tied for 21st.
The winner was Italy's Francesco Molinari, who opened a one-stroke lead on England's Lee Westwood in the first round, then matched him score for score in winning wire-to-wire. Westwood's performance, meanwhile, strengthens his hold on No. 1 in the World Ranking.
Westwood's displacement of Woods in the world ranking and the Americans' anemic performance in China underscore the ground the U.S. has been surrendering in the global arena. There was the European Ryder Cup victory, of course, but more to the point was the fact that three of the four major championships were won by non-Americans (Northern Ireland's Graeme McDowell, South Africa's Louis Oosthuizen and Germany's Martin Kaymer).
Foreign players have won the last three Masters, five of the last seven U.S. Opens, three of last four British Opens and the last three PGA Championships. They've also won the PGA Tour's showcase event, the Players Championship, the last three years and four of the last five.
The U.S., at least, can take solace in the fact that among the game's elite, it remains the most formidable country; eight Americans are ranked in the top 20, double its closest competitor, England, which has four. But broaden its competition to Europe and it's outnumbered, 11 to eight.
None of this is necessarily bad, of course, but it is curious. Imagine had someone told you that only a single American finished in the top 20 on Sunday. You'd have guessed it was an LPGA event. (In fact, three Americans finished among the top 20 in the LPGA's Mizuno Classic, won by Korea's Jiyai Shin).
A new world order indeed.
FIRST ON THE BASIS OF SECONDS
and susceptible to those given to winning more often (see Kaymer). His ascendancy was built on finishing second, rather than first.
Nearly a year has passed since Westwood last won on the European Tour, at the Dubai World Championship. His last win, and only victory in 2010, was at the St. Jude Classic in June.
His second at the WGC-HSBC Champions was his fourth runner-up finish of the year.
Kaymer, who has a home in Scottsdale, Ariz., and an American girlfriend, has decided against joining the PGA Tour, for which he was eligible by virtue of his victory in the PGA Championship.
"Martin will follow Lee Westwood and not take out U.S. Tour membership next year," Kaymer's agent, Johann Elliott, told Reuters. "He just feels that joining the U.S. tour would be too much work and give him no freedom in his schedule. You have to play your 15 events and with everything else that he wants to play that would mean playing 30 tournaments.
"The problem is the U.S. tour is just too rigid in terms of making you play 15, but with long-term suspensions if you don't."
In the U.S., an elite player will still play three majors, the Players Championship and three World Golf Championship events, and can accept seven sponsor exemptions, without joining the tour. The only disadvantage would be not having an opportunity at winning the FedEx Cup jackpot.
Last week, from Shanghai, China, Rickie Fowler explained what he perceived was going to be his limited activity on Twitter by posting this: "No wifi at the hotel so 3G is very expensive."
Of course, he continued to post, if not obsessively, at least frequently, running up his bill in the process.
Maybe that explains why he chose to fly from Shanghai to Orlando, Fla., to compete this week in the PGA Tour's final event, the Children's Miracle Network Classic. Fowler is tied for second, a stroke behind leader Troy Merritt, in the Kodak Challenge, which awards $1 million to the winner.
COUPLES: GIVING UP THE GRIND
Fred Couples set personal single-season records for victories (four) and money ($2,344,894) in this, his rookie year on the Champions Tour, convincing him to opt out of playing the PGA Tour.
"Now I know that I'm done with the regular tour," he said last week. "Absolutely done."
It's no surprise, really. Heavy lifting was never his forte, and for those who still have game, as Couples clearly does (he finished sixth in the Masters), the Champions Tour offers easy money compared with the grind necessary to compete on the PGA Tour.
Suffice it to say, it's the Champions Tour's gain.
The controversy over technological advances in golf equipment began in earnest in January, 1998, when incoming USGA president F. Morgan (Buzz) Taylor expressed his concern that equipment was threatening "the obsolescence of many of golf's historic venues."
A few months later, Taylor, typically blunt, told Golf World, "Our franchise is to preserve and protect the game's ancient and honorable traditions. I intend to do that, and there's not one lawyer in the world who is going to get in our way of doing that."
Thus began an often contentious relationship, one incidentally that continues today, between equipment manufacturers on the side of technology and the USGA defending tradition.
Under Taylor's watch, the USGA developed a test protocol to measure for spring-like effect in drivers, in effect slowing the high-speed train of innovation.
Taylor last week died of lymphoma at his home in Jupiter Island, Fla. He was 79.
Bernhard Langer won the Charles Schwab Cup for the first time and was the Champions Tour's leading money winner for the third straight year ($2,648,939). He won five tournaments, including the U.S. Senior Open ... John Cook won the Charles Schwab Cup Championship on Sunday, his first victory of the year and fifth of his Champions Tour career ... Molinari's victory allowed him to leap past brother Edoardo in the World Ranking. Francesco jumped from 30th to 14th, which in effect knocked Edoardo from 16th to 17th. Between them, they've won three times this year (Edoardo winning twice).
Exchange between John Daly and a follower regarding a hacker that took over his Twitter account:
The follower: "...seems to be a pretty good hacker. Is the Hacker an old girlfriend? They sure seem driven to agitate you"
Daly: "...or an ex-wife haha!"
PGA Tour: Children's Miracle Network Classic at Magnolia and Florida Palm golf courses in Lake Buena Vista, Fla. 2009 champion Stephen Ames. PGA of Australasia: JBWere Masters at the Victoria Golf Club in Cheltenham, Victoria, Australia. Defending champion Tiger Woods. LPGA: Lorena Ochoa Invitational at Guadalajara (Mexico) Country Club. Defending champion Michelle Wie.
The Children's Miracle Network Classic features the proverbial tournament within a tournament. It's the final event of the PGA Tour season, which means a last-ditch scramble for players on the bubble, attempting to finish in the top 125 on the money list to earn PGA Tour playing privileges in 2011.
Tiger Woods returns to the JBWere Masters as the defending champion of the last tournament he won, a few weeks before his fateful Thanksgiving night car crash.
Lorena Ochoa is temporarily emerging from retirement, having accepted a sponsor exemption to play in her own tournament, the Lorena Ochoa Invitational.
, and though there have been a glut of them over the years, this one might be the best.
The writer was Golf Digest Contributing Editor Tom Callahan. To better understand Tiger, it's helpful to know Earl, and over the last decade of Earl's life, Callahan had gotten to know him well -- better than any journalist ever had. The book's title, His Father's Son, is not meant as a paean.
The book was illuminating on many levels, but on the golf front, I was intrigued with Earl's fascination with jazz artist Miles Davis and how he equated his mastery to golf. Davis, as Earl notes, did not acknowledge his audience and often played with his back to the crowd, "block[ing] everybody out and did it as if he were alone.
"So after the fact ... I have come to believe that, if a golfer is good enough, he can make music. And that music is jazz. If he's really, really good, he might even become like Miles Davis, entitled to turn his back on everything and everybody if he wants to ... and just play."
Earl here is describing Tiger, mesmerizing the audience with his talent, but disinclined otherwise to connect with it, playing, figuratively, with his back to it.