News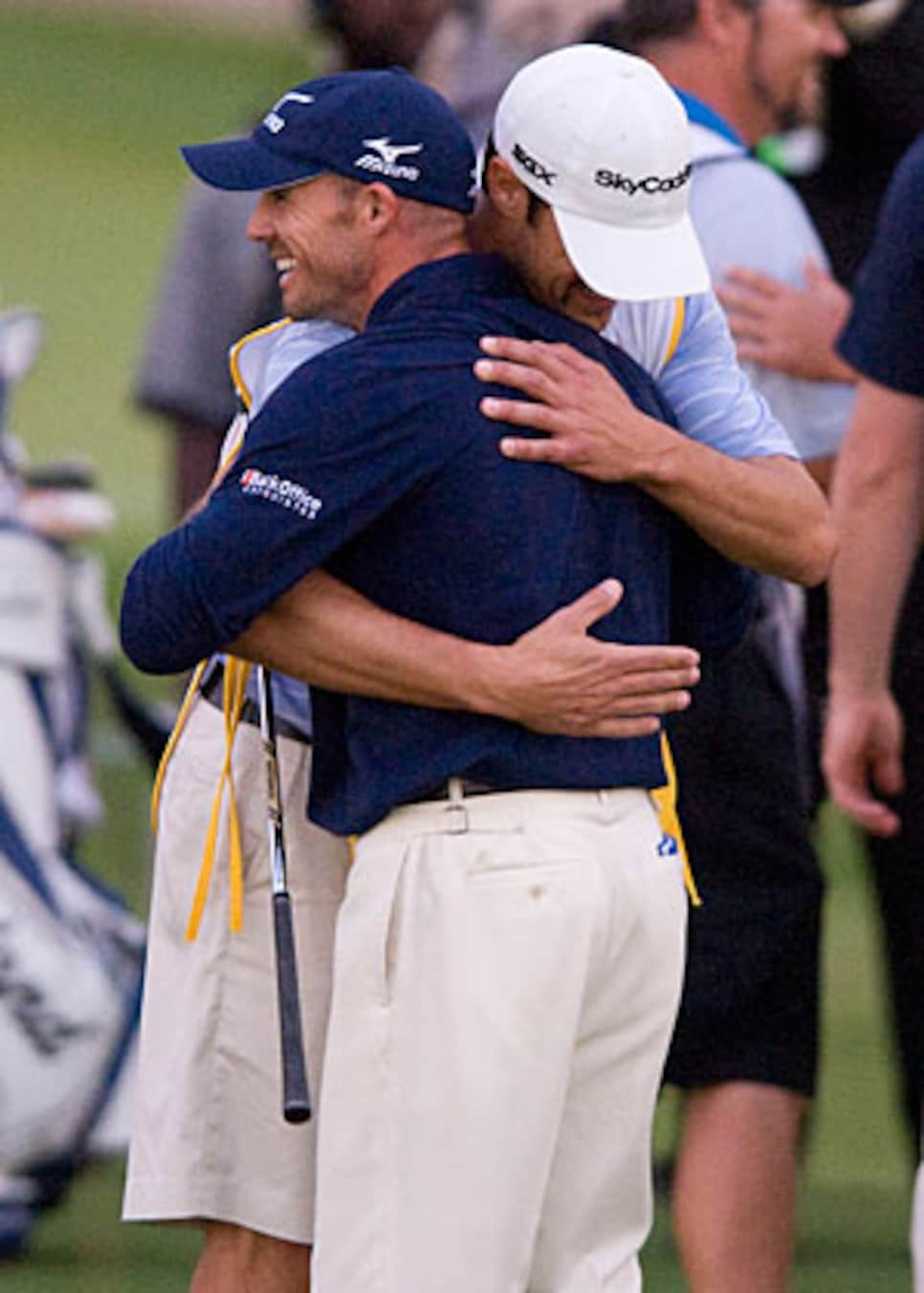 Byrd became the first player to win a PGA Tour event with a hole-in-one.
It's called the Fall Series, not the Fall Classic. The latter belongs to baseball, though classic is more likely to describe the end of the last two PGA Tour events than the end of baseball season. Maybe a trade is in order, players to be named later.
on Sunday was a free-for-all, as many as six players tied for the lead at one point on the back nine. The three survivors -- Jonathan Byrd
, Martin Laird and Cameron Percy -- carried the playoff to the brink of darkness and a postponement when Byrd delivered the shot heard round the golf world.
On the 204-yard, par-3 17th hole, the fourth of a playoff, he hit a 6-iron, the ball disappearing into the night and the hole, believed to be the first walk-off ace in the history of the PGA Tour.
A week earlier, Rocco Mediate and associates put on a dazzling display of sharpshooting in the final round of the Frys.com Open, Mediate even holing a shot from the fairway for eagle at the par-4 17th, the fourth straight day he holed a shot for eagle, including a hole-in-one.
Those who thought the golf season ended with the Ryder Cup ought to pay closer attention. The elite players might not have been in attendance, but even had they been, their own contributions likely could not have improved upon what unfolded largely in obscurity, but worthy of so much more.
LOOKING IN THE WRONG PLACE?
Identifying the best young player in golf got somewhat more complicated on Sunday, when Italy's Matteo Manassero
at 17, became the youngest winner in the history of the European Tour. Manassero won the Castello Masters by four shots.
Northern Italy's Rory McIlroy and America's Rickie Fowler, both 21, have garnered the greater attention, as they should, given their successes on more prominent stages, including the Ryder Cup. Then there's Japan's Ryo Ishikawa, 19, who has eight Japan Golf Tour victories.
It's time to broaden the focus to include Manassero, who has been attracting attention internationally since winning the British Amateur and tying for 13th in the British Open at 16. In April, he became the youngest to make the cut in the history of the Masters (while still an amateur) and has now finished in the top three in two of his last five European Tour starts.
However it plays out, it bodes well for the future of golf.
Incidentally, by virtue of his victory, Manasseri has been invited to play in the WGC-HSBC Champions in Shanghai next week. However, he does not have a visa to go to China and obtaining one on short notice can be problematic.
Tiger Woods is not entered in the CIMB Asia Pacific Classic Malaysia this week, which means that he will surrender his position atop the World Ranking
to Lee Westwood. Woods has held the No. 1 ranking for 281 consecutive weeks.
Anyone want to be against him reclaiming No. 1 in the WGC-HSBC Champions in Shanghai the following week?
INKSTER: AGING GRACEFULLY
is 50, an age that would suggest her Hall of Fame career ought to have ended, her ability to compete having eroded. Not so, as she demonstrated in the Sime Darby LPGA Malaysia last week, Inkster finished second and only a final-hole bogey kept her from a playoff with the winner Jimin Kang. She was bidding to become the oldest winner in LPGA history.
Inkster, who has 31 career victories (and counting?), has finished in the top 10 in two of her last three events.
COMEBACK OF THE SPANIARDS
Jose Maria Olazabal and Sergio Garcia both returned to golf at the Castello Masters, with mixed results.
Olazabal, playing for only the second time this year, made the cut, but was disqualified following a final-round 77. Olazabal has been stricken with rheumatism and tendinitis.
Garcia, who took a couple of months off in an attempt to regain his enthusiasm for a game that had not been treating him well of late, missed the cut with rounds of 71 and 73.
TECHNOLOGY FOR FASTER PLAY?
Joe Ogilvie, via Twitter, made the case last week that the PGA Tour ought to consider allowing range finders in the interest of speeding up play:
"Would it be that bad to allow PGA Tour players laser range finders or Skycaddies [sic]? Most sprinklers are wrong or not marked anyway."
"Skycaddie [sic] saves 15-20 min. off a round of tour golf. No brainer. Golf hates technology, I get it, but also a realist. Downside is zero"
"And BTW I bet Skycaddie [sic] or Bushnell would pay 1-3MM for exclusive, I love capitalism and $$$ even though not making much lately."
Cristie Kerr tied for eighth in Malaysia and has regained the No. 1 spot in the Rolex Rankings, wresting it from Jiyai Shin. Kerr previously held the No. 1 spot for a week ... Kenny Perry shot a 78 in his Champions Tour debut, at the Administaff Small Business Classic, and finished 35th, 18 strokes behind the winner, Fred Couples ... It was something of a home game for Couples; he played college golf at Houston.
From Paul Azinger: "Person I'd like to meet? Person decided reflectors necessary on road I'm on. Wife driving, hit everyone. Driver side tires surly going flat!"
PGA Tour: CIMB Asia Pacific Classic Malaysia at the MINES Resort & Golf Club, Selangor, Malaysia. New event. Champions Tour: AT&T Championship at Oak Hills Country Club in San Antonio. Defending champion Phil Blackmar. Nationwide Tour: Nationwide Tour Championship at Ralston Creek Course at the Daniel Island Club, in Charleston, S.C. LPGA: LPGA Hana Bank Championship Presented by SK telecom at Sky 72 Golf Club Ocean Course in Incheon, South Korea. Defending champion Na Yeon Choi.
The CIMB Asia Pacific Classic Malaysia is a new event sanctioned by both the PGA Tour and the Asian Tour. However, PGA Tour players' earnings from the tournament's $6 million purse won't count as official.
Anthony Kim continued to burnish his after-hours reputation, when Las Vegas Review-Journal gossip columnist Norm Clarke reported on the ruckus he'd made at the Bellagio. Then a Vegas disc jockey wrote on Twitter about the vast numbers of bottles of alcohol Kim had purchased, including a $25,000 bottle of Dom Perignon.
It didn't help his working-hours reputation when he withdrew from the Justin Timberlake Shriners Hospitals for Children Open, citing pain in the thumb that had been surgically repaired earlier in the year, an injury "perhaps suffered opening champagne bottles," Peter Stone wrote in the Sydney Morning Herald.
Kim has denied his extracurricular activities contributed to his withdrawal. An athlete deserves the benefit of the doubt when citing injury (unless there's evidence that he has lied in the past), and it's hard to begrudge a 25-year-old single multimillionaire his fun.
But late nights and early tee times is not the recipe for success. Kim has the potential to be a star. Whether he has the dedication to be one is still open to question