News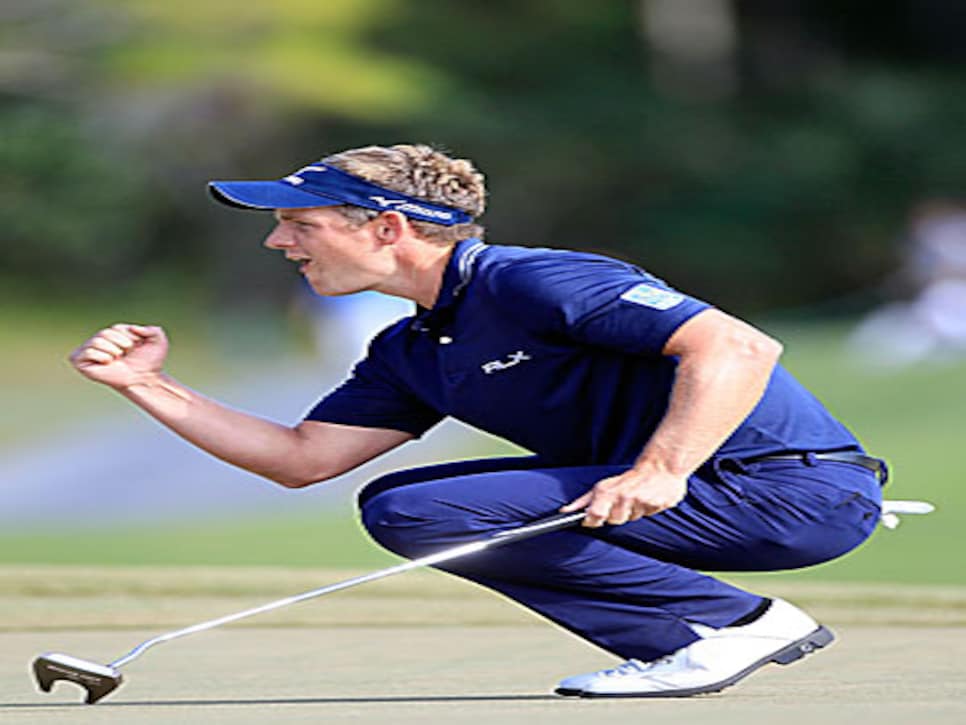 Luke Donald won for the fourth time worldwide in 2011.
If the recipe for winning calls for Tabasco, as the noted iron chef Johnny Miller suggested earlier this year, Luke Donald applied it liberally on Sunday.
He turned up the heat at the most propitious time, on the back nine of his quest to punctuate his greatest season with a money title and came away with a victory and probably PGA Tour player-of-the-year honors as well.
, the tour's season finale, on the strength of six straight birdies to open the back nine.
"Fortunately, I timed it pretty well to go on that run when everything was on the line," Donald said. "This was a tremendous year for me. I think I answered a lot of critics' questions, to come in here knowing I have to win and coming up with the goods when I needed to."
The principal question for the No. 1 player in the World Ranking had been this: Why don't you win more? Johnny Miller asked it several times this year, beginning in February.
"He hasn't been real good in his career at winning tournaments," Miller said. "This is his 200th PGA Tour start with two wins...There is a recipe for winning and some guys never quite find it. They leave out the Tabasco or something."
His victory was only his first at stroke play in more than five years on the PGA Tour. But he won twice this year (the WGC-Accenture Match Play Championship was the other) in the U.S. and twice on the European Tour, and is a good bet to become the first to lead both tours in earnings in the same year.
More impressively, he won on demand, a rare accomplishment in a game that saddles even the best players with considerably more losses than victories. Donald was playing this tournament only in pursuit of the money title and needed no worse than a runner-up finish, and probably a victory, to overtake Simpson.
That he did so emphatically underscores the fact that his results have finally aligned with his skills.
, this one by five shots in her native Taiwan, at the Sunrise LPGA Taiwan Championship 2011. It was her seventh victory on the LPGA and 10th overall this year.
"I wish this year would never end," Tseng said. No kidding. That said, the year will end -- the LPGA has two more tournaments -- but her reign is likely to continue unabated for years to come. She's only 22.
The first thing to remember in the wake of Rory McIlroy's decision to end his association with agent Chubby Chandler is that there is no team in I.
Remember Team Tiger? It was a fallacy. When caddie Mike (Fluff) Cowan seemed to be garnering too much attention and enjoying it, he was gone. Agent Hughes Norton? Sports psychologist Jay Brunza? Instructor Butch Harmon? Gone, gone and gone.
We don't know the genesis of McIlroy's decision, but it's not a stretch to conclude that ego was a participant in it. Chandler's oversized personality in concert with the success of his clients elevated him to celebrity (recall talk of the "Chubby slam" when his clients, including McIlroy at the U.S. Open, won the first three legs of the Grand Slam). Maybe McIlroy chose to disassociate himself from Team Chandler.
The media loves a feud, meanwhile, which explains why this received so much attention last week. But does it matter who his agent is? It doesn't take a salesman to sell Rory McIlroy. He sells himself. Ego is simply part of the package.
Sergio Garcia, ever the enigma, won the Castello Masters by 11 strokes, playing the last three rounds in 63, 64 and 63. It was his first victory in two years and came on the one-year anniversary of the two-month hiatus he took last year in an effort to resuscitate his flagging desire and interest.
It was a remarkable display of precision golf that won't necessarily solve the riddle of Sergio. It serves only as a reminder of what might have been over the last decade had he fulfilled the role of foil for Tiger.
The PGA Tour season concluded with the Children's Miracle Network Hospitals Classic, which produced its usual assortment of successes and failures, a few of which are noted here:
-- David Duval missed the cut and failed to finish in the top 150 on the money list. His options for 2012: Try to earn back his PGA Tour exemption through Q school, requiring that he start at the second stage of qualifying, or rely on sponsor exemptions for playing opportunities. He has chosen the later route. Once No. 1 in the World Ranking, Duval made the cut in only nine of 24 starts and turns 40 next month. At some point he is bound to tire in what has become a perpetual chase to find a semblance of his former self. Is he there now?
-- Tom Pernice, 52, tied for third to jump to 121st on the money list, earning PGA Tour playing privileges in 2012, in addition to his Champions Tour status. Pernice earned $694,981 in only 12 starts.
-- Billy Mayfair, 45, tied for sixth to jump to 109th on the money list with $780,578.
-- Korea's Sunghoon Kang, 24, tied for third to jump to 120th on the money list with $702,382 in his rookie season.
-- Colt Knost was the nation's top amateur in 2007, winning the U.S. Amateur and U.S. Amateur Public Links, while leading the U.S. team to a victory in the Walker Cup. Knost, who turned pro in '07, forfeiting invitations to the Masters, U.S. Open and British Open, has been foundering since, notwithstanding two Nationwide Tour victories. He missed the cut last week and has missed the cut 33 times in 57 career starts.
Donald's pregnant wife Diane: "I don't think this much jumping up and down is good for the baby!!!"
Zach Johnson: "Ok. I think Luke Donald is the best putter I've ever seen. Sorry Fax. Love ya, but Luke is a #machine"
Nick Faldo: "Ok tweeps ...Luke's win, what's it mean ?...is a Major next ?..I think Masters, best putter wins!"
John Daly's European vacation ended on Friday, when he missed the cut in the Castello Masters. Daly missed the cut in four of five European Tour starts in the last five weeks and finished 39th the lone time he made the cut. On the PGA Tour, he made the cut only six times in 18 starts...Simpson is now 10th in the World Ranking. Garcia moved up to 31st.
European Tour: Andalucía Masters at Club de Golf Valderrama, Sotogrande, Spain. Defending champion Graeme McDowell. Nationwide Tour: Nationwide Tour Championship at Daniel Island Club, Ralston Creek Course, Charleston, S.C.
-- Martin Kaymer, Justin Rose and McDowell are entered at Valerrama, McDowell in quest of his first tour victory since winning there the previous year.
Moments after Luke Donald made his sixth straight birdie to secure a two-stroke lead on the back nine on Sunday, Paul Azinger posted this on Twitter:
"How can Tebow play this bad? No confidence? There's an old saying 'pressure can bust a pipe' Is that it? Your thoughts."
No wonder golf can't find traction in the fall. Even golfers are watching football.