News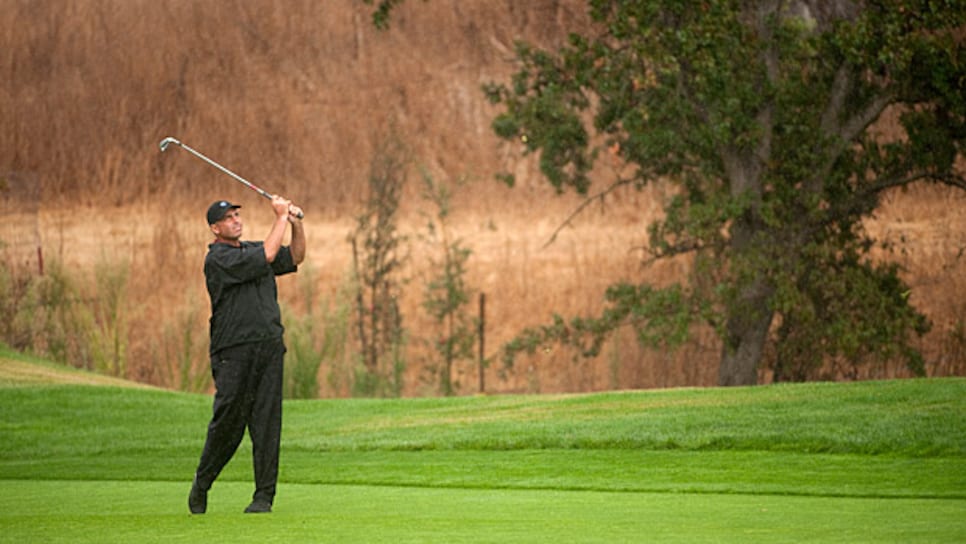 The win marked only the second top 10 for Rocco Mediate since losing in a playoff in the 2008 U.S. Open.
This one was a reminder to keep your eye on the ball, even in the wake of a compelling Ryder Cup that punctuated the golf season with an exclamation point.
Occasionally a gem turns up when you least expect it, as it did on Sunday on the outskirts of Silicon Valley in Northern California, with the populace there otherwise preoccupied with Game Two of the National League Championship Series and the 49ers-Raiders game.
It came in a stop on the largely obscure Fall Series, the closing chapter of the PGA Tour schedule that in reality ended with the Tour Championship in September. The Frys.com Open
had no bearing on world golf issues and nothing in particular to recommend it, especially on a crowded sports calendar.
Yet when it concluded on Sunday, Golf Channel's Brandel Chamblee called it "maybe one of the best golf tournaments I've ever witnessed." That might be a stretch, but its entertainment value was undeniable.
, always irrepressible, this time for the way the ball began swallowing his golf ball. The impetus for his first victory since 2002 came when he holed a wedge shot from 116 yards for eagle on the short par-4 17th hole.
It was his fourth hole-out of the tournament, one of them an ace on the par-3 third hole on Thursday. On the fourth hole on Friday, he holed his second from 160 yards for eagle. On Saturday, he holed his 111-yard third on the par-5 15th hole.
"I had Alex (Prugh) mark his ball," Mediate said of his 17th hole magic on Sunday. "It's in your head a little bit from making them. When it went in, the same reaction. 'You've got to be kidding me.' I don't know what to say."
Prugh, meanwhile, had driven the green at 17, nearly holing the shot, his ball stopping two feet above the hole. He made eagle there to remain in contention. Bo Van Pelt holed a 40-foot birdie putt at 18, forcing Mediate to have to make a four-foot par putt to avoid a playoff.
For Mediate, who turns 48 in December, it was a remarkable display of marksmanship assisted by luck, both necessary for a man who had had only a single top 10 since nearly winning the U.S. Open in 2008, and appeared to be stumbling toward the Champions Tour.
When you least expect it, indeed.
of Spain had missed the cut in 10 of 14 starts, including five of her previous six, yet she won the CVS/pharmacy LPGA Challenge on Sunday.
Probably equally unexpected was the fact that only a single Asian, Shanshan Feng of China, was among the 13 players tying for 10th or better.
Incidentally, Recari was raised in Pamplona, renowned for the running of the bulls, and no, she's never participated. Too dangerous, she said.
'WE CALL HIM GOLF GIGANTE'
The World Ranking has been a popular subject of late, particularly in Europe, where two players suddenly will be vying for the No. 1 ranking.
"Lee Westwood: I never dreamed a lad from Worksop could be World No1," a headline in the Express said.
"Martin Kaymer is on the verge of becoming golf's world No1," a headline in the Guardian said.
Westwood will supplant Tiger Woods as No. 1 at the end of the month, but it's Kaymer, on the strength of victories in three consecutive starts, one of them a major (the PGA Championship), creating the greatest buzz, even at home, where golf typically isn't on anyone's radar.
"At the beginning of this year no one had heard of him," Henning Feindt, sports writer for Bild, Germany's largest newspaper, told the Guardian. "But after he won the PGA Championship and then, even more, the Ryder Cup, we began to take an interest in him. Normally we don't write anything about golf in our paper. It's all soccer and Formula One. But with Kaymer it's like a star has risen, a new sports hero for Germany. We call him Golf Gigante -- golf giant."
Of course the quest for No. 1 is strictly conversational fodder. The World Ranking only matters down around No. 50, the cutoff point for earning invitations to play in golf's major championships, save for the PGA, which takes the top 100 in the world.
Still, it's interesting on two fronts, one of them that two Europeans are vying, the other that Woods will be surrendering the top ranking that he has now held for 280 consecutive weeks.
took exception with the Golf Channel for using his photo to plug the Fall Series.
"I didn't like that the Golf Channel said on their fall series tv ads 'I like my chances' & use my face! I would never say that, bc I'm not a cocky person! So Stupid!" he wrote on Twitter.
Concede him this point, though for an altogether different reason. He could not have liked his chances. It has been an oddly frustrating year for Daly, who experienced yet another unproductive week while making the cut.
Playing mostly on sponsor exemptions, Daly has made the cut 13 times, the most since 2005, when he made 16 cuts. Yet he has earned only $150,245, 193rd on the money list, and Sunday was his season in microcosm. He started tied for 30th and wound up tied for 70th on the basis of a final-round 82 that concluded with a double-bogey and quadruple bogey.
"With weather being real bad today & pins placed in tough spots, all just went sideways! The only difference between your abilities and others is the ability to put yourself in their shoes -- that's all I have to say," he wrote on Twitter after his round.
was returning to the PGA Tour Qualifying Tournament in an effort to retain his tour exemption. He failed and had to rely largely on sponsor exemptions in 2010.
On Sunday, Duval tied for sixth in the Frys.com Open to run his earnings to $906,994, 99th on the money list, enough to finish in the top 125 to earn a full exemption for 2011.
Yet it remains an uphill climb for the former top-ranked player in the world. This was only his second top 10 of the season and only his third in the last eight years.
Padraig Harrington won the Asian Tour's Iskandar Johor Open, his first victory since winning the PGA Championship in 2008. The victory returned him to the top 20 in the World Ranking (19th) … Rookie Rickie Fowler made a run at his first PGA Tour victory on Sunday, but his putter denied him on the closing holes and he finished fourth. Still, he moved up to 24th on the money list with $2,572,790 … Marty Jergson, a design engineer for Ping, will get to test the clubs he helped design in a PGA Tour event this week. Jergson qualified to play in the Justin Timberlake Shriners Hospital for Children Open in Las Vegas … Cristie Kerr needed to finish third or better at the CVS/pharmacy LPGA Challenge to regain No. 1 in the Rolex Ranking. She tied for fifth and remains No. 3.
From Golf Channel's Kelly Tilghman: "Other good uses for golf carts? To escort Lindsay Lohan back to Betty Ford after attempted break out to get coke (as in cola) Geez"
PGA Tour: Justin Timberlake Shriners Hospital for Children Open at TPC Summerlin in Las Vegas. Defending champion Martin Laird. European Tour: Castello Masters at Club de Campo del Mediterráneo, Castellón, Valencia, Spain. Defending champion Michael Jonzon. LPGA: Sime Darby LPGA Malaysia at Kuala Lumpur Golf and Country Club in Kuala Lumpur, Malaysia. New event.
Spain's Jose Maria Olazabal returns to competitive golf at the Castello Masters, his first tournament since July and only his second tournament in a year. Olazabal has been battling rheumatism.
The LPGA opens a three-week, three-tournament stretch in Asia. The tour goes to Korea and Japan following its stop in Malaysia.