News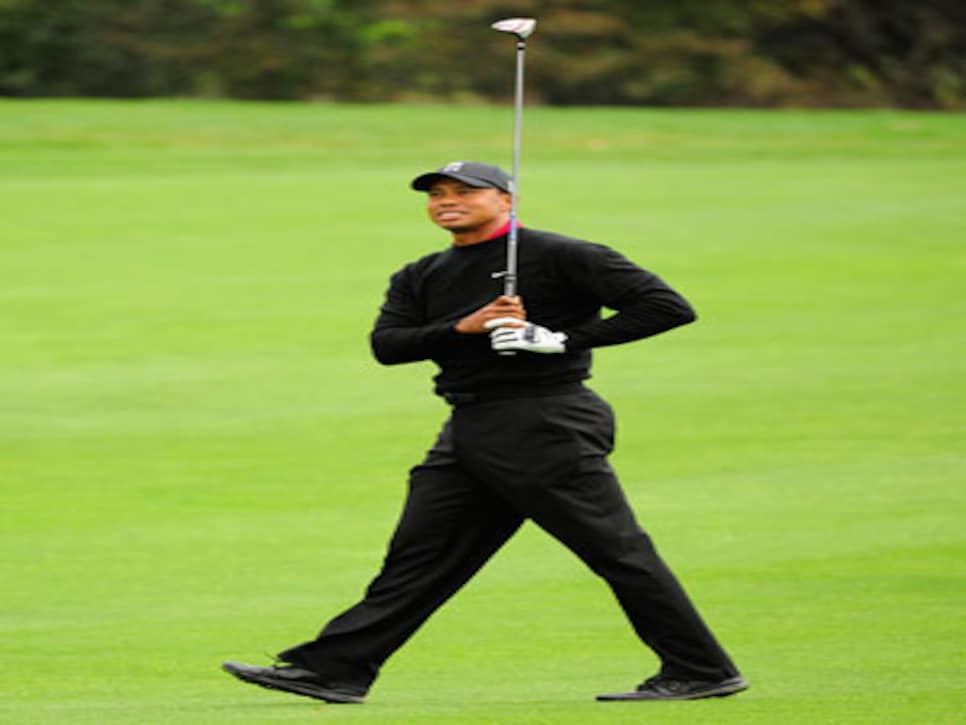 Woods showed signs of improvement at CordeValle, but won't play again for a month.
Let's be frank, no bun intended. The hot dog hurled at Tiger Woods that missed its mark on the seventh green on Sunday was symbolic of his work last week.
Woods, too, missed his target, which he unequivocally laid out on the eve of the Frys.com Open: "Getting a W."
The W went to Bryce Molder, his first PGA Tour victory. Woods, meanwhile, began play on Sunday with a birdie that had one veteran golf writer salivating at what that might portend. Tiger, he wrote on Twitter, was now "just eight back."
, but they still left him among the also-rans, territory with which he has grown uncomfortably familiar in recent times. He tied for 30th, 10 shots behind.
So what have we learned from his first competitive golf since the PGA Championship? Nothing? He said he put in "the reps" at home, yet his performance here indicates he needs something else. That would be reps in tournament conditions.
Yet he now goes back into hiding, confirming on Sunday that he won't play again until the Australian Open on Nov. 10.
"It's a shame we're not seeing him play his way out of it," Golf Channel's Frank Nobilo said on Sunday's telecast. "There were signs this week."
We're not privy to his schedule away from tournament golf; he might have family and corporate commitments. Still, it would have behooved him to play at least another tournament in the run-up to the Presidents Cup, as well as to restore his own faith in his game.
Was the golf world, perhaps, longing to recover the past at the expense of embracing the future?
While most of golf's attention was focused on Woods and his quest to regain his form, Rickie Fowler, 22, was winning the Korean Open and Yani Tseng, 22, was winning the LPGA HanaBank Championship. Moreover, Bud Cauley, 21, was threatening to win the Frys.com Open.
Cauley, who left Alabama after his junior year to pursue professional golf, finished third and has now earned $671,150 in seven PGA Tour starts this year. His quest is to earn enough money to finish in the top 125 on the money, thus enabling him to forgo PGA Tour qualifying. With two tournaments left, he would rank 114th.
He can add to his total this week. By virtue of his top 10 at the Frys.com Open, Cauley earned a start in the McGladrey Classic.
Fowler has not experienced a sophomore slump, precisely, but his second full season on the PGA Tour fell short of his rookie year. He had three fewer top 10s (four vs. seven), earned more than $800,000 less and had a higher scoring average (70.48 vs. 70.35).
His victory in the Korean Open, then, salvaged his season in a sense, and might serve to set a tone going forward.
Only seven players in the Korean Open field bettered par, Fowler's score of 16-under par was dominant against a field that included Rory McIlroy, who finished second, six shots back, and Y.E. Yang.
LUKE DONALD AND BRYCE MOLDER
They were the two most acclaimed players coming out of college in 2001, Donald from Northwestern, Molder, a four-time All-America from Georgia Tech. Each made his professional debut in the Reno-Tahoe Open in August of 2001. Donald missed the cut. Molder threatened to win the tournament before finishing third.
Since then, Donald has methodically improved and has established himself as the best player in the world in 2011. Molder, meanwhile, bounced between the PGA and Nationwide tours until finally arriving on the PGA Tour to stay in 2009.
Molder's victory was overdue. So was his establishing himself as a bona fide PGA Tour player.
Tseng has established herself as the most dominant player in golf, at 22. She has won nine tournaments this year, six on the LPGA, including two major championships. She has 11 career LPGA victories.
This compares more than favorably with the LPGA's most dominant players of previous generations:
Lorena Ochoa's first two LPGA victories came when she was 22. She didn't win her first major championship until she was 25. She didn't win her 11th LPGA tournament until she was 25.
Annika Sorenstam did not win until she was 24. She did not win her 11th tournament until days before her 27th birthday.
Karrie Webb was 24 when she won for the 11th time.
One would have to go back to Nancy Lopez to find comparable production at such a young age. Lopez also was 22 when she won her 11th tournament. But she had won only one major championship at that point and won only three majors in her career.
Tseng, incidentally, has won on four continents (North America, Asia, Europe and Australia) and in six countries (Taiwan, Australia, U.S., Thailand, Scotland and South Korea) this year.
Ernie Els tied for fourth at the Frys, his first top 10 on the PGA Tour this year...Luke Donald double-bogeyed the 16th hole in the final round of the Madrid Masters to record a rare finish outside the top 10. He tied for 11th...Christina Kim won the Sicilian Ladies Italian Open on the Ladies European Tour, her first victory since winning the LPGA's Mitchell Company Tournament of Champions in 2005...When rain forced the cancellation of the final round of the Insperity Championship on Sunday, second-round leader Brad Faxon was declared the winner, his first Champions Tour victory in his sixth career start and first victory since winning the PGA Tour's Buick Championship in 2005.
John Daly: "From 1 ARKY boy to another--Congrats Bryce on the win but that playoff lasted almost as long as my 4 marriages did!!!"
Y.E. Yang on Kevin Na's victory in the Justin Timberlake Shriners Hospitals for Children Open: "Sha na na na~ Na na na na~ hey hey yeah, Kevin Naaaaaaa!"
PGA TOUR: McGladrey Classic at the Seaside Course, Sea Island, Georgia. Defending champion Heath Slocum. LPGA: Sime Darby LPGA Malaysia at Kuala Lumpur Golf and Country Club, Kuala Lumpur, Malaysia. Defending champion Jimin Kang.
Webb Simpson has entered the McGladrey Classic in search of the PGA Tour money title and the five-year exemption that goes with it. Simpson, who has earned $5,768,243, trails leader Luke Donald by $68,971.
Tseng will pursue LPGA victory number seven this year in the Sime Darby LPGA Malaysia.
Where was caddie Joe LaCava when an inebriated fan hurled the frankfurter at Woods on Sunday? His former caddie Steve Williams was so loyal that he would have taken a hot dog for Tiger.