News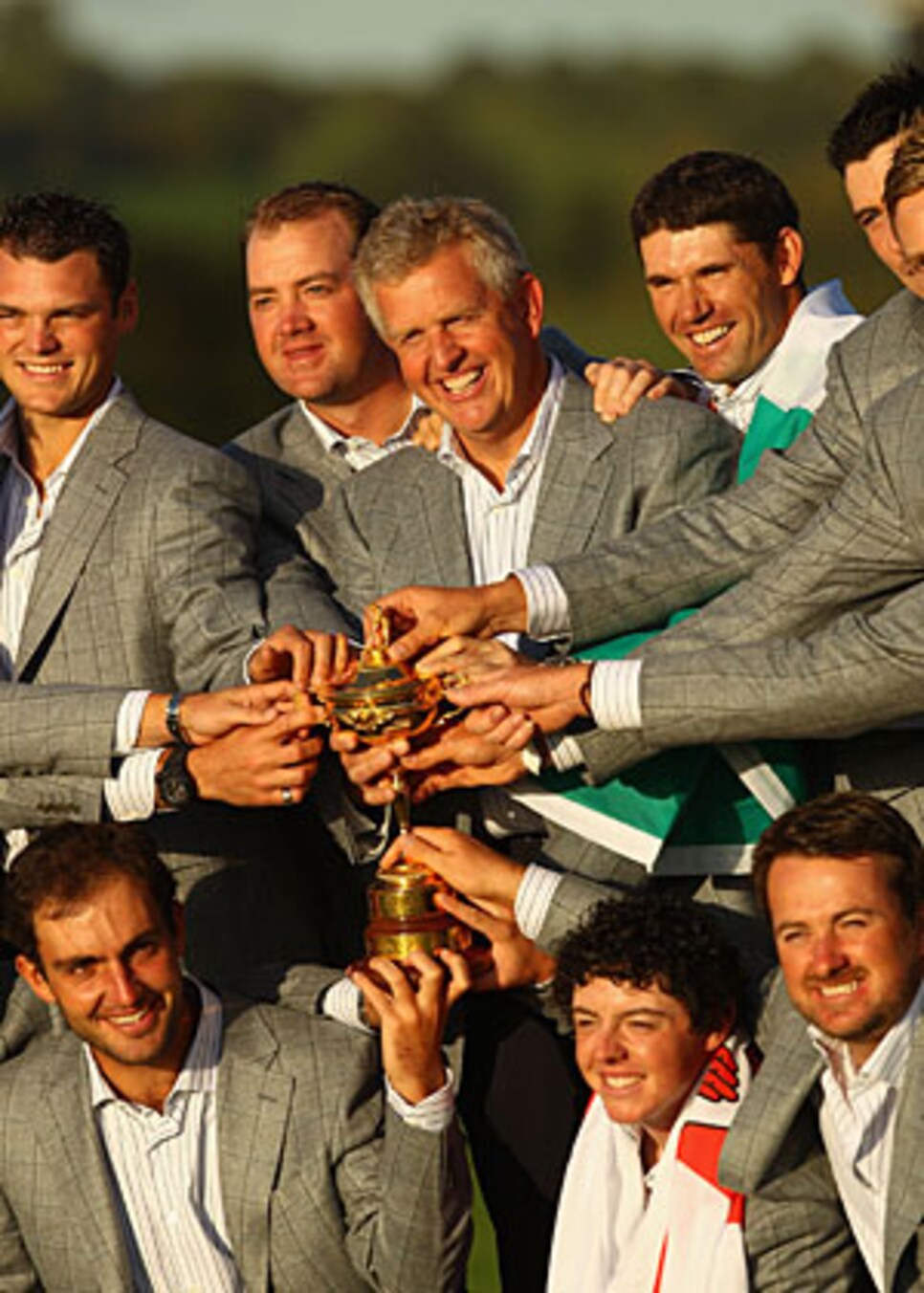 After two years of excessive hype, Colin Montgomerie's team took back the Ryder Cup trophy at Celtic Manor.
Colin Montgomerie is at times acerbic, which in concert with his rabbit ears often made him hard to like. He was a genuine villain, even in a gentleman's game governed by a rule book that begins with a chapter on etiquette.
But give him his due. He's earned it, this time without lifting a club. For the better part of two years, Montgomerie put every ounce of his not inconsiderable girth into his Ryder Cup captaincy. His passion was as admirable as it was considerable. It's always difficult to quantify a captain's impact, leaving only the outcome to argue on one's behalf. This one argued vociferously: Europe 14 1/2, the U.S. 13 1/2.
Montgomerie's playing career has been more than he probably ever expected it would be, but less than he had hoped, devoid as it was of a victory in a major championship, despite close calls. And maybe those who weren't destined to win a major look to the Ryder Cup for salvation. That seems to have been the case with Montgomerie, notwithstanding the fact that his career record required no apologies.
Eight times, he won the Order of Merit on the European Tour, its leading money winner. His 31 victories there is a record for a Brit. In eight Ryder Cups, he assembled a record of 20-9-7.
With or without a Claret Jug or other major regalia on his mantle, Montgomerie is destined to join the World Golf Hall of Fame one day soon.
The Europeans' dramatic victory at Celtic Manor on Monday will help assure it. This one was less about his players' skill than it was about their captain's passion. And as they say in golf, well played.
, there is a Q&A that was conducted some time after his victory in the Waste Management Phoenix Open in February. One question pertained to his weaknesses. His response:
"It's definitely been my short game: chipping and putting. I'm a streaky putter. I've really been working hard on that part of my game for last year or so. Now I actually feel pretty comfortable on the golf course. What's been difficult is taking some of the changes I've made in practice to tournament golf. I think not having a bogey over the last 36 holes at Phoenix is a sign that my short game is coming around."
Chipping has always been his nemesis. Surely the last shot he wanted under Ryder Cup pressure, with his team's outcome on the line, was a chip.
U.S.: Tough to second-guess any of Corey Pavin's captain's picks, with three of his four producing winning records. Tiger Woods was 3-1, Zach Johnson 2-1 and Stewart Cink 1-0-3. Only Rickie Fowler was on the wrong side of .500 (0-1-2), though he did contribute two half points that were important at the time. But there was that rookie mistake, hitting the wrong ball, that conceivably could have cost him and partner Jim Furyk another half point.
Europe: Luke Donald continues to establish himself as one of Europe's most formidable Ryder Cup players, going 3-1 at Celtic Manor to run his Ryder Cup record to 8-2-1. Edoardo Molinari, meanwhile, went 0-1-2 and Padraig Harrington was a disappointing 2-2, his two victories largely attributable to partner Ross Fisher.
POULTER AND THE RYDER CUP
Sometimes it seems as though the Ryder Cup is more important to the Europeans, than for some more important even than major championships. Ian Poulter's zeal for the Ryder Cup makes the case.
"It got me excited about the game of golf when I was 17," he said in reply to a question from NBC's Jimmy Roberts. "I went to the Ryder Cup at the Belfry [in 1993 in Sutton Coldfield, England] and I was transfixed from that moment on. Every single putt we hole is like a tournament victory. In three days you manage to win 30 tournaments. It's just simply incredible. I love the team atmosphere. I love the guys. I love the fact it's match play. I just love competing."
Anything goes when it's a Ryder Cup, hype is required and access to players is deliberately limited. Here are the top five over-played stories of the Ryder Cup:
The Tiger-Rory Feud. Rory McIlroy said that given Tiger Woods' form in recent months, he would love to play him in the Ryder Cup. McIlory is 21. Kids say the darndest things. McIlroy and Woods, incidentally, never met in the Ryder Cup anyway.
Major Dan Rooney. The European media enjoyed this one, a fighter pilot recruited to speak to the U.S. players. One such column came from Patrick Collins of the Mail, who wrote: "While respecting the courage and fortitude of our own servicemen and women, I shudder when I see them paraded around our sporting arenas. It implies an equivalence of sacrifice, a link between the spilling of blood and the concession of goals or wickets. America, my much-loved America, recognises no such dilemma." Who possibly believes it implies an equivalence of sacrifice? This is inane (if not insane), especially coming from a European media that with regard to the Ryder Cup seems to subscribe to the old Vince Lombardi line: "It's not a matter of life and death, it's more important than that."
Corey Pavin. Pavin was excoriated for being bland. "He has looked so devoid of energy that it is doubtful, in his present mood, that he could inspire lemmings to jump off a cliff," Paul Mahoney wrote of Pavin in the Independent. "By teatime today, history will hail one captain and ridicule the other." It's the Ryder Cup and it's golf. Players don't need artificial motivation and even Knute Rockne's best speech isn't going to help the hole open up.
Cornflower cardigans. As far as uniforms are concerned, it's all relative, isn't it? The U.S. should just be thankful that John Daly will never be a Ryder Cup captain with control over uniforms.
Tweeting. Pavin asked his players to refrain, while Montgomerie cautioned his against divulging anything said from the team room. Yawn.
ALLEN, HAAS FINISH TWO, ONE
Michael Allen's second-place finish in the Viking Classic is a better story than Bill Haas' victory. Start with the fact that Allen, 51, and Haas' father, Jay, play the Champions Tour together.
Allen is a career journeyman who joined the PGA Tour in 1990, never won and finished second only twice in 357 prior starts. Allen is attempting to retain his PGA Tour exemption, while simultaneously playing the Champions Tour.
Toward that end, he moved to 117th on the money list. The top 125 qualify for the following year. He has four more Fall Series events to secure his card and is entered in the McGladrey Classic.
Haas' victory in the Viking Classic moved him to 26th on the money list with four events left. Top 30 earn Masters and U.S. Open invitations. Haas, who has qualified for the Open twice, played in his first Masters earlier this year...This was only Haas' second top 10 since winning the Bob Hope Classic in January. He tied for sixth in the WGC-CA Championship in March...In the second round of the Viking Classic, John Daly played the par 5s in seven-over par, even with a birdie on one of them. He made two double-bogeys and a quadruple-bogey on the other three par 5s en route to shooting a 77 and missing the cut...Gary Hallberg's victory in the Champions Tour's Ensure Classic at Rock Barn was his first on the PGA or Champions Tour in more than 18 years, since the Buick Southern Open in 1992. He had won a Nationwide Tour event since, the Northeast Pennsylvania Classic in 2002...After winning back to back on the Champions Tour, Russ Cochran nearly finished last in the Ensure Classic. He tied for 72nd.
From Ian Poulter: "on our way onto stage this is the best feeling in the world, I love the Ryder cup, for u Seve & Monty"
"If he [Phil Mickelson] couldn't chip he'd be selling cars in San Diego." -- NBC's Johnny Miller
PGA Tour: The McGladrey Classic on the Seaside Course at Sea Island, Ga. New event. European Tour: Alfred Dunhill Links Championship on the Old Course at St. Andrews, Carnoustie and Kingsbarns, Scotland. Defending champion Simon Dyson. LPGA: Navistar LPGA Classic at Robert Trent Jones Golf Trail, Capitol Hill, The Senator, in Prattville, Ala. Champions Tour: Constellation Energy Senior Players Championship at TPC Potomac at Avenel Farm, Potomac, Md. Defending champion Jay Haas.
-- The PGA Tour unveils a new tournament, the McGladrey Classic at Sea Island, Ga. Local residents Davis Love III, Zach Johnson and Lucas Glover are all entered.
-- Professional tournament golf (The Senior Players Championship) returns to what formerly was known as the TPC Avenel, but since its re-design two years ago is now called TPC Potomac at Avenel Farm. The PGA Tour's Washington, D.C.-area event (Kemper Open, Booz Allen Classic, et al.) used to be held there, though PGA Tour players generally weren't fond of the course.
Former European Ryder Cup captain Tony Jacklin told Sandy MacAskill of the Telegraph last week (without knowing that this Ryder Cup would go to four days) that he expects the Ryder Cup to become a four-day affair in the future.
Jacklin did not elaborate, but he has our vote for this reason alone: One fewer day of Ryder Cup hype.
The Ryder Cup is the most over-hyped affair in golf (if not sports) relative to its importance, even conceding its entertainment value, which is enormous. It is riveting, and often is the most exciting golf event of the year, as it was again on Monday. But ultimately it's far more entertaining than it is important (notwithstanding a Ryder Cup captain who deems a Ryder Cup victory his redemption for having failed to win a major championship).
The PGA of America will soon name the 2012 Ryder Cup captains (Corey Pavin was named U.S. captain on Dec. 11, 2008, Colin Montgomerie European captain the following month) and the incessant hype will begin anew.
Give the PGA of America credit. It wields its public relations machine expertly over the course of two years, generating more publicity than a two-year presidential campaign. Or so it seems.
As for its importance, we cite the question Tiger Woods once asked in providing perspective to the event: "What was Jack's record in the Ryder Cup?"
He already knew the answer: Who knows and who cares?