News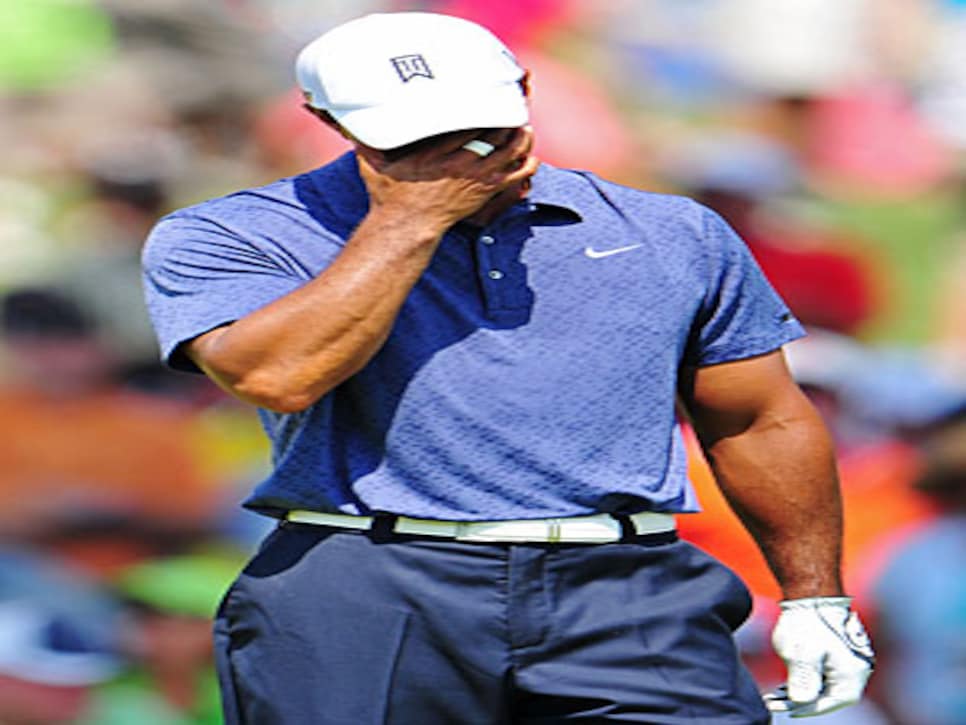 Woods' last public appearance came when he struggled at the PGA Championship.
Even off Broadway, the stage is not a diminished one when Tiger Woods is cast in the lead, as he is in the Frys.com Open this week. The second of four Fall Series events is played in the outpost of San Martin, Calif., 71 miles south of San Francisco and now at the epicenter of the golf universe.
Three hundred media credential requests were submitted, three times as many as a year ago. The reason is Woods, who entered simply to shed some rust with the Presidents Cup on the horizon.
Whatever his motives, for the rest of us this is less an opportunity to assess his game in advance of the Presidents Cup than it is a referendum on his general welfare. How is his swing? His knee? His state of mind?
in Hobe Sound, Fla., last week portends nothing and only raises a familiar question for those who similarly conquer their home courses: Will it travel?
Woods has played only six competitive rounds since the Masters and has broken 70 in only one of them, the first round of the WGC-Bridgestone Invitational. He hasn't played competitively since missing the cut at the PGA Championship nearly two months ago. He hasn't won in nearly two years, since the Australian Masters in 2009.
He is not necessarily arrived at a crossroads, but who isn't wondering whether San Martin is within an exit or two of it?
Kevin Na, 28, turned pro at 17 and has methodically pursued his first victory since, methodically the operative word.
(though incurring no penalty).
"You're just waiting for a marshal to call a balk on him," Golf Channel's Terry Gannon said on Sunday.
"He still looks like he plays scared a lot," Golf Channel's Brandel Chamblee said.
"I have nightmares finishing second," an emotional Na said. "I used to tell my mother, as hard as I work, when am I going to get my first win?"
Maybe the nightmares will subside now and by extension will speed his pace of play. Here's hoping so. He has too much talent ($11 million in earnings already) to demonstrate so much time-consuming uncertainty before each shot.
Five of the top six players in the World Ranking played in the Alfred Dunhill Links Championship. The winner, Northern Ireland's Michael Hoey, was ranked 271st.
To say it was an upset is an understatement, particularly in light of the fact that another Northern Irishman, Rory McIlroy (No. 3 in the world), was seven-under par through 11 holes of the final round and had wrested the lead from Hoey. Advantage McIlroy?
It should have been. Instead, McIlroy parred his final seven holes, while Hoey birdied three of his last four.
Earlier in the week, McIlroy pinned Hoey's previous lack of success on his mind. "Michael is a supremely talented player, always has been," McIlroy said. "For him it is more a mental thing."
Yet an old nemesis, McIlroy's own inability to close, defined this outcome, suggesting again that he has his own work to do on the mental side.
BIG EASY: 'A CROWD PLEASING STYLE'
That's how Wine Spectator described Ernie Els Big Easy 2009. The magazine gave it a ranking of 88 on its 100-point scale, while Ernie Els Proprietor's Syrah 2009 earned a 91 ranking.
If only his golf were so favorably reviewed. Els won the European Tour's South African Open last December (though it is part of the 2011 schedule). Since then, Els has not had a top 10 on either the European Tour or the PGA Tour. He tied for 53rd in the Dunhill Links.
Luke Donald played 449 consecutive holes without three-putting, a streak that ended on the seventh hole at Kingsbarns in the first round of the Dunhill Links.
Ian Poulter: "I have worn a few dodgy outfits in my time but @WestwoodLee orange corduroy trousers & top are minging [ugly or disgusting]. Bright orange what was you thinking"
Westwood: "Won't be wearing orange pyjamas again!"
"Trying to stay out of the Jigger Inn is the key to playing well this week. I've managed that pretty well so far." Graeme McDowell on the popular watering hole adjacent to Road Hole at St. Andrews, site of the Alfred Dunhill Links Championship
Dustin Johnson missed the cut in the Alfred Dunhill Links Championship. John Daly tied for 39th...Tim Herron, playing on a top 50 career money list exemption, has used it successfully. Herron, who tied for fifth in Las Vegas, will finish in the top 125 on the money list for the first time since 2008 and will have a full exemption in 2012...Hideki Matsuyama, 19, won the Asian Amateur Championship for the second straight year, again earning an invitation to play in the Masters...Kenny Perry's success late in his PGA Tour career (five wins at 47 and 48) augured well for his Champions Tour career, yet it took him his 11th tournament start before winning for the first time, in the SAS Championship on Sunday.
PGA Tour: Frys.com Open at CordeValle Golf Club, San Martin, Calif. Defending champion Rocco Mediate. LPGA: HanaBank Championship at Sky 72 Golf Club, Ocean Course, Incheon, South Korea. Defending champion Na Yeon Choi.
The Frys.com field features three players ranked in the top 50 in the world, none of whom is Tiger Woods. Woods is entered, of course, but he fell to No. 51 in the World Ranking, supplanted by Louis Oosthuizen, who tied for fifth at the Dunhill Links. Oosthuizen (No. 49), Paul Casey (No. 20) and Ernie Els (No. 45) represent the top 50 in the field.
The LPGA begins its four-nation Asian swing in South Korea. From there it goes to Malaysia, Taiwan and Japan.
The Frys.com Open hit the jackpot with Tiger Woods, but his appearance in the field this year still underscores what PGA Tour Commissioner Tim Finchem was attempting to achieve with his video appeal to players two years ago "to add a tournament or two to their historical schedules to assist tournaments that historically have weak fields."
Finchem's appeal might have fallen on deaf ears, but he had the right idea.