News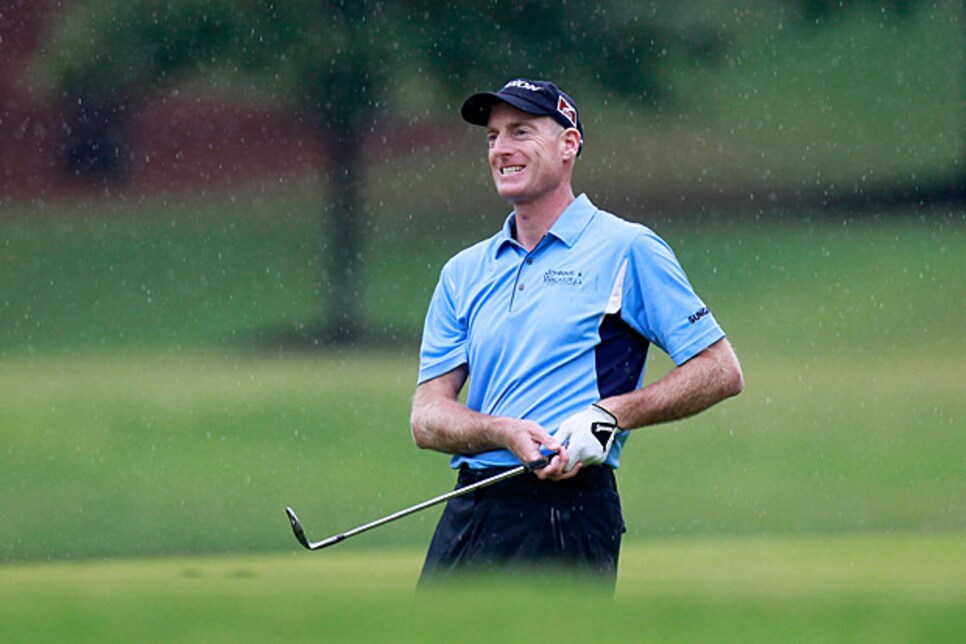 With 16 wins, including a U.S. Open and the Tour Championship, Furyk has established himself as one of the premier players of his generation.
It isn't much of a drive from his home in Ponte Vedra Beach, Fla., to the World Golf Hall of Fame in St. Augustine, 20 miles down Florida A1A. But it was never a straight line for Jim Furyk
, who took his cue from the meandering path of his serpentine swing.
He has never been the most talented player, just the most tenacious, one who has doggedly and painstakingly assembled one of the better careers of his generation, 15 years in the making and counting.
Furyk has been sneaking up on the Hall of Fame for a while now and he threw his sopping wet hat with Srixon stitched across the front into the ring on Sunday when he won the Tour Championship and the FedEx Cup at East Lake Golf Club in Atlanta.
NBC's Johnny Miller virtually conceded enshrinement for him on Sunday's telecast, but unless the Hall runs out of worthy candidates and lowers the standard, he's probably still three or four victories, or another major championship, shy.
Yet there's nothing to suggest that at 40 he doesn't have at least that left in his tank, which would allow him to reach St. Augustine on something other than fumes. His victory Sunday, the 16th of his career, was his third of the year, a career best, and another sign that he has finally solved the riddle of winning.
When chasing victory, Furyk historically was more likely to finish second, to wit 16 victories and 22 seconds on his record. It makes sense at first glance; it's easier to finish second than to win. But the greatest players knew how to win when the opportunity presented itself. In the 97 times that Tiger Woods has finished first or second, he's won 71 of them. Phil Mickelson has 38 victories, 22 seconds, Vijay Singh 34 and 25.
It might be too late in his career for Furyk to erase his deficit entirely, but not to diminish it. In 2010, he won three times, while not finishing second or third once.
At this rate, St. Augustine is just around the corner.
The Golf Channel's Steve Sands must have drawn the short straw, earning him the dizzying task of sorting out for the audience on both the Golf Channel and NBC how the FedEx Cup race was shaking out. Through no fault of his own, he made the case against the format as it exists today as he explained the role that points leader Matt Kuchar might have on the final result.
"We have ... a three-way tie for 23rd, for 235 points, because that is where Matt Kuchar will begin this final round," Sands said. "So if you add 2500, which is what Matt came into the week with, and 235, that would equal 2735. That really opens the door for a lot of people here this week.
"Let's just pretend for now, Jim Furyk, who began the week at 11th with 480 points, holds onto his 54-hole lead and wins the 2500 points for a total of 2980. A couple of scenarios could come into play where Jim could win the Tour Championship, but not win the FedEx Cup, most notably Charley Hoffman, who came into the week third, Paul Casey, who came into the week fifth. If Charley Hoffman finishes third alone, that's worth a thousand points, so add 2000 and a thousand that's 3000, that's well beyond Kuchar and also beyond Jim Furyk..."
Whatever became of low score wins?
I've argued that the FedEx Cup race is secondary to winning the playoff tournaments, notwithstanding a $10 million payday to the FedEx Cup champion. The company line argues otherwise.
"It's the kind of pressure that even a veteran like Jim Furyk has never felt," NBC anchor Dan Hicks said after Furyk bunkered his tee shot at 18, while holding a one-stroke lead on Sunday. "He's won a major championship. He's never played for $10 million like today."
Miserable conditions and a tough course were more responsible for whittling his three-stroke lead to one, and whatever pressure he was experiencing was surely the result of the tournament at stake.
The FedEx Cup's flaws have been widely debated and documented, but in the end its most notable shortcoming is that it's strictly about the money. And money, in professional golf, no longer talks with the authority it once did.
Geoff Ogilvy and Charley Hoffman, one perennially among the higher ranked players in the world, the other a journeyman attempting to move up a grade, made the argument themselves last week.
Ogilvy: "If you play good enough golf, you make so much money in this game it doesn't matter anyway, so that [$10 million] would be just a really good bonus."
Hoffman: "I have pretty much everything I want. I have a healthy wife and a baby on the way and a nice home. I really don't know what I'd do with it."
Even Furyk noted in the euphoric moments after winning on Sunday that that was the first three-win season of his career and that the FedEx Cup was "icing on the cake."
The winner was Kevin Na, who slammed his driver into the turf on the 18th tee on Sunday. NBC's Mark Rolfing asked his playing partner, Paul Casey, about Na's behavior and whether it detracted from his own ability to focus.
"Yeah, he was visibly upset, wasn't he?" Casey said. "I'll be honest, yeah the behavior on 18 wasn't good. I don't really care. I think it's bad for the game."
RYDER CUP FORM (FOR WHAT IT'S WORTH)
Golf is probably too fickle to conclude anything from a player's form from one week to the next, to suggest, for instance, that Phil Mickelson
's performance in the Tour Championship, a T-22, doesn't bode well for his Ryder Cup
contribution. This caveat notwithstanding, U.S. captain Corey Pavin can't be thrilled today.
Precisely half his team finished 17th or worse in a 30-man field at the Players Championship -- Bubba Watson T-17, Dustin Johnson and Mickelson T-22, Matt Kuchar and Steve Stricker T-25, and Jeff Overton 29th.
At least he had the winner, Furyk. Zach Johnson (T-9) and Hunter Mahan (T-15) were his other two top performers.
Only two European Ryder Cup players played last week, one in the Tour Championship, one in the European Tour's Vivendi Cup 2010 in Paris. Luke Donald finished second in the U.S. event. Padraig Harrington shot a final-round 64 and finished T-8 in Europe.
Question: Will Corey Pavin's wife Lisa prove to be a distraction to U.S. interests?
Comment: One U.K. writer suggested she would be and that European captain Colin Montgomerie ought to exploit it. Lauren Crooks, writing in the Sunday Mail: "Ryder Cup captain Colin Montgomerie has found a secret weapon in his bid to beat the Americans -- the Yanks' top golfing WAG. The US team are in a tailspin over the role of skipper Corey Pavin's gorgeous wife Lisa. And Monty is hoping that he can turn the rumpus to his advantage as he aims to lead the Europe team to victory in the prestigious contest, which starts at Celtic Manor in Wales on Friday."
Question: What will be the state of Tiger Woods' game?
Comment: His Ryder Cup record (10-13-2) suggests we might not know even after the competition is over, but his is a lost year in need of some redemption and a successful Ryder Cup could provide it.
Question: Will Padraig Harrington justify Colin Montgomerie's faith in using a captain's pick on him?
Comment: He still hasn't won since the PGA Championship in 2008, but his final-round 64 and T-8 finish on Sunday brighten his prospects. And like Tiger, he has something to prove.
Question: How will the U.S. Ryder Cup rookie class respond to the pressure?
Comment: There is no timidity in the likes of Dustin Johnson and Bubba Watson, but if this group of bombers can't find a fairway, pressure will mount.
TIGER AND HIS WHITE BELTS
Tiger Woods often turned up on best-dressed lists, but he's heard enough commentary on the white belts he's taken to wearing that he felt compelled to comment on his blog at tigerwoods.com.
"I've gotten some grief for wearing white belts on the golf course. It's just a sign of the times," he wrote. "The first time I wore one was on Saturday at the U.S. Open, and I played pretty well."
A sign of what times? The '70s? A U.K. website, 1970sfancydres.co.uk, said this about white belts: "The white belts and the white shoes...worn with a polyester leisure suit was...a look made famous by John Travolta in 'Saturday Night Fever'. That look was the epitome of what the '70s disco era was all about."
If Tiger turns up in Wales this week in a polyester leisure suit...
Phil Mickelson's near season-long quest to supplant Tiger Woods as No. 1 in the World Ranking hit another dead end. He is as close as he's ever been, however. Woods' average points are 9.04 to Mickelson's 8.71...Australian Brendan Jones won the Asia-Pacific Panasonic Open, while Ryo Ishikawa tied for 13th, despite a hole-in-one on Saturday.
From Jason Gore: "Great lesson today with Randy Smith. Ready for a great week!"
Followup from Gore: "Another mc by a shot. I hate this game! :)"
The Ryder Cup at Celtic Manor, Newport, Wales.
"You can play golf on no sleep if you haven't been drinking. Drinking is what makes it hard when you get no sleep." -- Geoff Ogilvy
Johnny Miller's detractors include both players and fans (and probably Ryder Cup captains), yet his proclivity toward speaking his mind, sans internal editing, enhances the enjoyment of a Ryder Cup telecast.
There is no jingoism, to start. He's an equal opportunity irritant, who on Sunday's telecast of the Tour Championship provided a glimpse of the kind of commentary to which we've become accustomed.
The subject was Charley Hoffman and his having elevated his performance in recent weeks.
"I think he should have gone on the Ryder Cup team the way he's putting and the way he's playing the last five weeks," Miller said. It was a criticism, unwitting or otherwise, of U.S. captain Corey Pavin's judgment.
Miller isn't always right, but that isn't the point. The microphone tends to have a deleterious effect on pointed opinion, but placed in front of Miller it's less a muffler than a megaphone. And that is the point.