News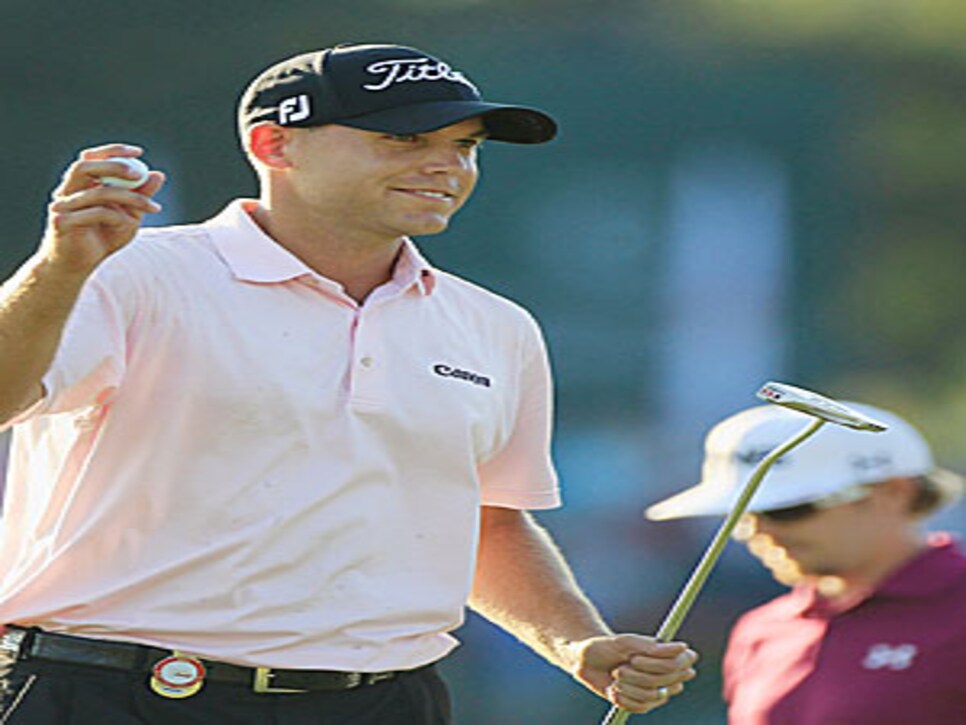 Bill Haas defeated Hunter Mahan in an especially high-stakes playoff in Atlanta.
On a football Sunday in September, golf uncharacteristically made a splash, the amphibious Bill Haas saving par from land and sea and helping FedEx deliver on its mandate, to make autumn golf relevant.
The Solheim Cup also contributed to doing so, setting the tone for the day with a dramatic conclusion and a European victory that proved unequivocally the entertainment value of women's golf.
Haas provided the day's encore in the Tour Championship with a difficult par save from behind the green on the first playoff hole and an improbable par save from the water on the second playoff hole. He went on to win the tournament and the FedEx Cup
and made off with $11.4 million. All in a day's work.
It wasn't the Patriots-Bills, but it was unapologetically the best golf has to offer.
THE SHOT HEARD 'ROUND THE TWITTER WORLD
Rory McIlroy: "If Bill Haas wins, that will definitely be shot of the year!!"
Ian Poulter: "Wow merry Christmas Billy one of the best up and downs of all-time. Then wins the big one."
Paul Azinger: "Maybe one of the best up and downs in the games history!"
Rickie Fowler: "Pretty sick shot by Bill right there!!"
Haas' second shot from a fairway bunker on the 17th hole, the second of a playoff, trickled off the green, down a bank and became partially submerged in East Lake. With the Tour Championship and the FedEx Cup and an $11.4 million payoff hanging in the balance, Haas splashed his ball to three feet of the hole to save par and extend a playoff he won over Hunter Mahan on the next hole.
At the conclusion of his brief interview with Mahan in the wake of the playoff, NBC's Roger Maltbie offered his condolences.
"Condolences?" Mahan said. "I didn't die, did I?"
In 798 career starts on the PGA Tour, Jay Haas earned $14,440,317. In one tournament, his son Bill earned $11,400,000, nearly 80 percent of his father's career haul.
When two players who hadn't won in 2011 wind up in a playoff for both the Tour Championship and the FedEx Cup, what is the point of the points, other than to reward FedEx for its benevolence with frequent year-long mentions of FedEx Cup points?
Given that no one understands the point system, including the players ("Did I win that, too?" Haas mouthed to his wife pointing at the FedEx Cup trophy on Sunday, according to blogger Stephanie Wei), wouldn't it simplify matters if the money list was used to determine who would advance to the playoffs, then whittle the numbers down based on how they finish in each playoff event?
Nearly four years ago, Jason Day committed the unpardonable sin of voicing his aspirations. "I'm sure I can take him down," Day said then of Tiger Woods. "My goal is to be the number one golfer in the world and I want to chase Tiger."
Day was summarily chastised for so boldly setting forth his goals. Today, Day is seventh on the World Ranking. He is only 23 and his performances in tournaments with the strongest fields (seconds in both the Masters and U.S. Open and a T-6 in the Tour Championship) already suggest that No. 1 is within reach and even hint at inevitability.
"[Mahan's] only won three times. With his talent and swing you have to work hard to only win three times."
*-- on Saturday's telecast *
"If there's a weakness for Tiger, he's looking for that pot of gold. Well, he's had that pot, but he can't resist trying new swings. If he had stuck with his Adam Scott swing, he never would have had a lull."
-- from the Atlanta Journal-Constitution
"I don't think that putter's going to see the light of day at the end of the day...That putter better get used to being in the dark."
*-- on Sunday's telecast, regarding Phil Mickelson's belly putter *
-- U.S. captain Rosie Jones invited second-guessing when she used a captain's pick on a rookie, Ryann O'Toole, who surrendered a two-up lead with two holes to play and halved her singles match with Caroline Hedwall.
That said, it's unfair to blame any part of the U.S. loss on O'Toole. She might have been unable to close out Hedwall, but the fact is that she was undefeated in her four matches, winning two and halving two. Her three points were bettered on the American side only by Morgan Pressel, who won all four of her matches.
Better to second guess Jones for playing Cristie Kerr in all four matches leading to Sunday's singles, when a sore wrist forced her to concede her match to Karen Stupples.
-- When the LPGA has PGA Tour players paying attention, it must be compelling.
Ian Poulter was the biggest cheerleader, posting frequently on Twitter.
"wow this is huge for the European ladies if they can pull this off. Buzzing ive actually got some adrenalin running thru my veins right now," he wrote.
Then there was this from Poulter: "yyyyyyyyyyyyeeeeeeeeeeeeeeeessssssssssssssssss Congrats girls what a massive win, that was some display. Respect"
-- A star is born. Sweden's Hedwall, 22, seems destined to become a dominant player in women's golf. She won three Ladies European Tour events in 2011, as well as one Australian Ladies Professional Golf Tour event, and was 2-1-1 in her Solheim Cup debut.
She is not yet ready to join the LPGA, however. She has a twin sister Jacqueline who will be joining the LET next year and she intends to remain in Europe to play the LET with her.
When John Daly's book, "My Life In And Out Of The Rough," was released in 2006, PGA Tour Commissioner Tim Finchem expressed concern that some of what Daly revealed of himself constituted conduct unbecoming of a professional.
"My life is unbecoming of a professional," Daly responded.
Hard to argue otherwise. Daly provided more evidence at the Austrian Open when he quit in mid round after he was informed that he had incurred a two-stroke penalty for having taken a drop in the wrong place. "I'm done," he told a rules official, after which he walked to the clubhouse. Earlier in the round, he had hit a ball in the water, then deposited his club in the water as well.
What does he have to do to wear out his welcome in professional golf? Why do sponsors enable him by continuing to extend him invitations to tournaments? It isn't as though they want him for his talent, which has done what tournament directors seemingly refuse to do: Abandon him.
Daly will play in this week's European Tour event, the Alfred Dunhill Links Championship, on a sponsor's exemption.
England's Tom Lewis, 20, began his professional career by tying for 10th in the Austrian Open. Lewis, who as an amateur led the British Open after the first round, has received a sponsor's exemption into the Alfred Dunhill Links Championship this week.
Lee Westwood on Luke Donald: "Loving luke's choice of UPS brown shirt for the final round! Who's 10 million is it?"
Azinger, on the FedEx Cup payoff: "It would be cool if an armored truck was by the green with $10 million laying around it and a bunch of guys guarding it with machine guns"
European Solheim Cup player Sophie Gustafson (on Saturday): "To my lovely Irish people: It's time to turn up the noise tomorrow. You are our 13th man and we need you!! Use liquid courage if u need 2!!!"
Luke Donald played another 72 holes without a three-putt, running his streak to 433 consecutive holes, or just over 24 rounds.
Lexi Thompson withdrew from the second stage of LPGA Qualifying this week. She is expected to petition the LPGA for membership in the wake of her victory in the Navistar LPGA Classic eight days ago and is expected to receive it...Matt Kuchar, assuming he won't play in any Fall Series events, concluded his season with $4,190,587 in earnings, a record for earnings in a season without winning a tournament...Tiger Woods is now ranked 50th in the world. He began the year ranked second.
PGA TOUR: Justin Timberlake Shriners Hospitals for Children Open at TPC Summerlin, Las Vegas. Defending champion Jonathan Byrd. European Tour: Alfred Dunhill Links Championship at Old Course at St. Andrews, Carnoustie and Kingsbarn, Scotland. Defending champion Martin Kaymer.
-- The Alfred Dunhill Links Championship has a strong, deep field that includes Donald, Westwood, McIlory, Martin Kaymer, Dustin Johnson, Ernie Els, Darren Clarke and Charl Schwartzel.
-- Jonathan Byrd defends in Las Vegas, where he won with a playoff hole-in-one in the near dark last year.
Juli Inkster would seem a lock to be the next U.S. Solheim Cup captain, deservedly so, but wouldn't it be fun if at some point Dottie Pepper were the U.S. captain? She has the credentials.
Pepper won 17 times on the LPGA, including two majors, and had a 13-5-2 Solheim Cup record, including a stretch where she went 10-1. Moreover, she gave the Solheim Cup the injection of passion that transformed it into the spirited competition it has become.
Then again, she likely has no chance to ever captain a Solheim Cup team. The reason? Her passion. Working for the Golf Channel at the 2007 Solheim Cup, she thought the network had gone to a commercial when she called the Americans "choking freaking dogs." Her comment went out on the air.
A controversial built-in subplot seems like reason enough to give her the captaincy.