News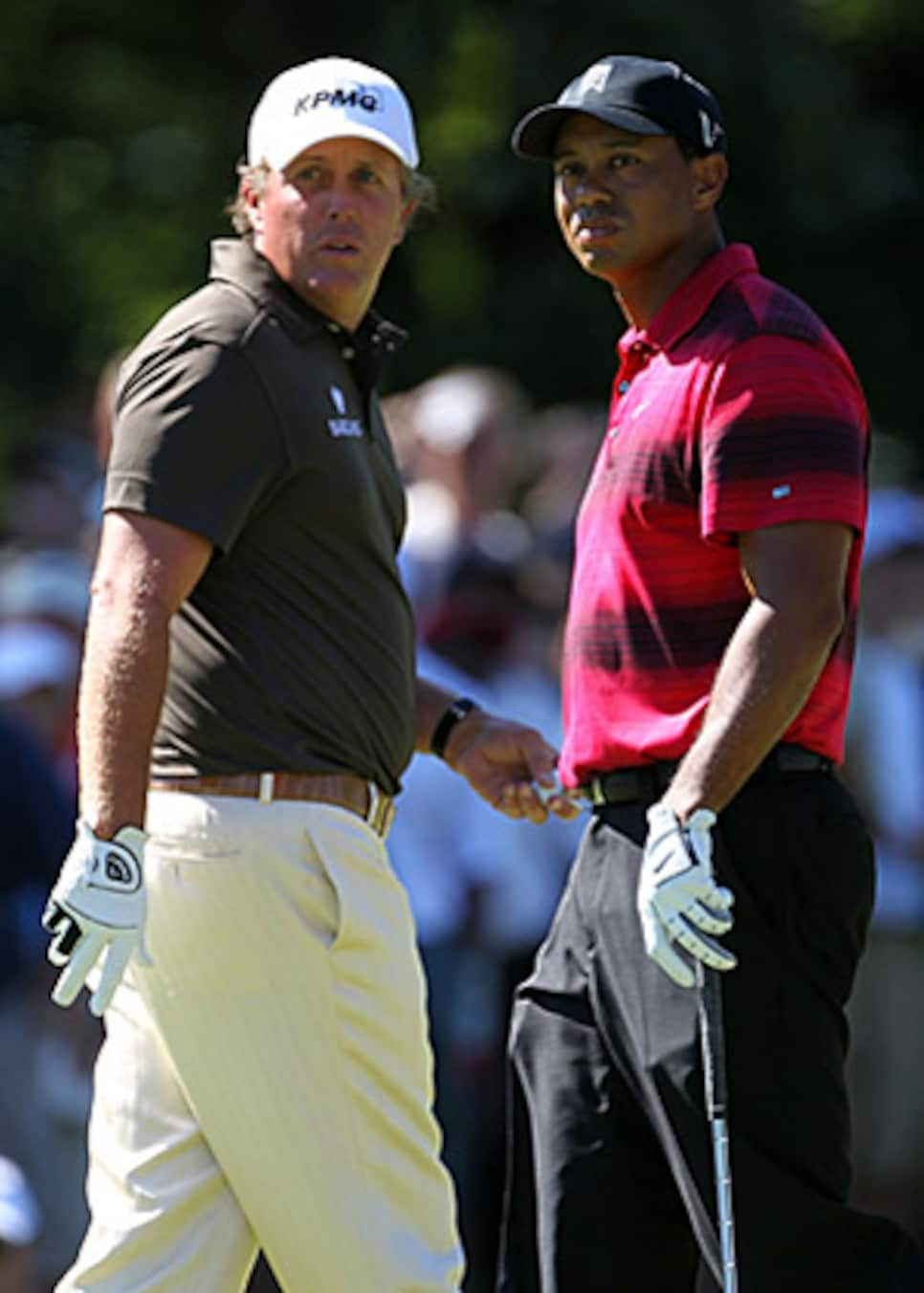 Woods and Mickelson played together at Cog Hill, but will spend Tour Championship week in different ways.
Were you listening carefully last week, you heard ... virtually nothing, a blissful prelude to the cacophony of chaos that awaits this week.
Let's start with the end that isn't. The Tour Championship at East Lake Golf Club in Atlanta this week concludes the PGA Tour season
, except for the five official tournaments that follow, all of them paying official money and crowning an official champion.
Confused? There's more, notably the whole FedEx Cup issue (for lack of a more diplomatic word). Phil Mickelson
neatly encapsulates the problem the FedEx Cup has in its quest for relevance equal to its hype. Winning the FedEx Cup championship probably ranks fourth in importance in what Mickelson hopes to accomplish this week. Ahead of it are winning the Tour Championship for a second straight year, supplanting Tiger Woods
as No. 1 in the World Ranking, and winning PGA Tour player of the year honors.
Last year helped order the priorities. Mickelson won the Tour Championship, beating Woods by three strokes. Woods won the FedEx Cup championship, a consolation prize by his standards and probably not much of one. Think Tiger wouldn't rather have beaten Mickelson?
There, too, is the fact that Mickelson again can win the Tour Championship and not the FedEx Cup championship. Only a victory by those in the top five in FedEx Cup points can win the FedEx Cup championship with a victory in the Tour Championship. Mickelson is 10th in points.
The FedEx Cup, meanwhile, is the proverbial tournament within a tournament, which by definition makes it secondary, notwithstanding the $10 million awarded to its winner.
As to how that tournament within a tournament will be shaking out on Sunday, a computer is necessary, and the data it will return will be relayed by NBC's broadcast crew ad nauseam, which could leave more than a few longing for the week that gave us...
That would be last week, the blissful prelude alluded to earlier. The PGA Tour had a rare bye week on its schedule, while the Golf Channel devised a novel way to bring attention to the only tournament golf played in the U.S., the Nationwide Tour's Albertsons Boise Open. On Saturday, it was seen, but not heard.
"Announcer-Lite," the Golf Channel called it, its third-round telecast conducted sans commentary. It featured interviews during the course of play and a few other gimmicks featuring voices, but otherwise it was golf and graphics.
"If it works, it could be to golf announcers what reality TV was to actors," Golf Channel's Stephanie Sparks said.
So, how well did it go over? Jerry Foltz of the Golf Channel kept us apprised via Twitter:
"The compliments keep flying in. Steve DiMeglio [USA Today golf writer] just texted to say I've never sounded better."
"Between twitter and gc.com, comments are about 60% love it and 40 hate it. Very few without a strong opinion. Thanks all the comments"
"Experiment concluded. My first thought is that we will see some version of that again in the future. I thought it was fun to watch."
It was intriguing. Its flaw was that ordinarily one can watch televised golf without paying rapt attention, allowing, say, for a nap or reading a magazine. The background noise that is the commentary informs one audibly when it's necessary to pay greater attention.
The lesson, then, might be this: A telecast needs commentary, but not incessantly.
We'll give Gary Peterson of the San Jose Mercury News the final word. In his Sunday Playground column, Peterson wrote: "We at the Playground applaud such innovative departures from the norm. Now if we could only convince ESPN's 'Around the Horn' to follow suit."
There are 12 players without a victory in 2010 in the Tour Championship, while 11 players with a victory have been excluded. Isn't winning the overriding goal in golf?
There are two players with only two top 10s in 2010 in the field (Geoff Ogilvy and Zach Johnson), while there are five players with six top 10s who aren't in the field (Vaughn Taylor, D.J. Trahan, Brendon de Jonge, Bryce Molder and Ricky Barnes).
The PGA Tour has attempted to put together a season-long chase that produces a champion at the end. It's a noble undertaking, but the flaw is that each week in golf is a season unto itself, producing a champion at the end. Winning a tournament is still preferable to winning the FedEx Cup. It looks better on a career resume.
The PGA Tour player of the year is still undecided. Mickelson, Steve Stricker and Ernie Els head a host of players still in contention. Mickelson could win the Tour Championship and be named player of the year without winning the FedEx Cup championship.
SORENSTAM LOSES TO DAVIES
No, not Annika losing to Laura. Charlotta Sorenstam, Annika's sister, finished second in the LPGA Teaching and Club Pro National Championship, losing by two strokes to Karen Davies, who won it for a second time.
Both Sorenstam and Davies are former LPGA players. Sorenstam is also a past champion on the LPGA, having won the Standard Register Ping in 2000. Now she's the director of golf operations at the Annika Academy in Reunion, Fla., outside Orlando. Davies is the director of instruction at Pinnacle Peak Country Club in Scottsdale, Ariz.
David Lynn nearly gave England its ninth winner (either on the European Tour or the PGA Tour) this year, but bogeyed the first playoff hole to lose the Austrian Golf Open to Jose Manuel Lara of Spain...Teen star Jessica Korda, daughter of former tennis star Petr Korda, tied for sixth in an LPGA sectional qualifier and will advance to the final stage of LPGA qualifying. Korda, 17, is participating in the qualifier as an amateur, though she is expected to turn professional sometime this fall. Korda turns 18 on Feb. 27, 2011...Hunter Haas won the Albertsons Boise Open to move to No. 4 on the Nationwide Tour money list, assuring him a PGA Tour card in 2011.
From Bo Van Pelt: "My wife just told me that she is relieved that I didn't make the Ryder Cup because she lied about her sizes on her clothes"
PGA Tour: Tour Championship at East Lake Golf Club in Atlanta. Defending champion Phil Mickelson.
Story line: Mickelson is defending at the Tour Championship, but won't have his foil, Tiger Woods, who failed to qualify.
U.S. captain Corey Pavin already has left his stamp on this Ryder Cup: Cornflower.
It's the color of the cardigan that is part of the U.S. team uniform, probably the first time in the history of American sports that cornflower has been a team color.
Let's hear it for the red, white and cornflower.