News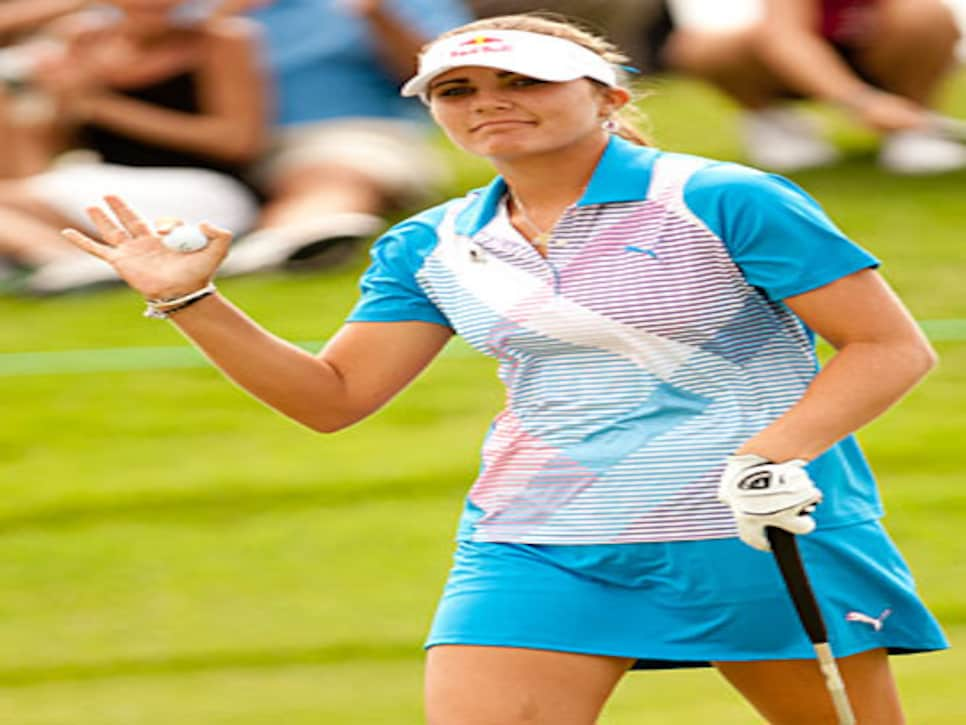 Thompson, 16, shattered the LPGA's record for youngest winner.
It was not necessarily a victory of biblical proportions, notwithstanding its wistful prophecy that a child shall lead them.
Still, Lexi Thompson's five-stroke victory in the Navistar LPGA Classic on Sunday reverberated across time and television and portends better days for a tour direly in need of good news.
At the outset of the week, the LPGA announced that the Imperial Springs LPGA, the Chinese event scheduled to follow the Solheim Cup and open the tour's Asian swing, had been canceled. On a tour that already was idle more weeks than it was active, it was yet another body blow.
Then along came Thompson, a child of 16 with a golf game that is all grown up, shattering an LPGA record that had stood since 1952. She became the youngest winner in LPGA history, eclipsing Marlene Hagge, who was 18 years, 14 days when she won the Sarasota Open.
It did not go unnoticed, as most LPGA tournaments do, by network television, either. When NBC's telecast of the PGA Tour's BMW Championship paused for an NBC Sports Report, anchor Liam McHugh, on an NFL Sunday, no less, led with Thompson's victory in the Navistar LPGA Classic and followed it with a report on the Packers' victory over Carolina. A girl golfer trumping Aaron Rodgers. On the sports Richter Scale, this wasn't the big one, but windows were clearly rattled.
Radio similarly was incapable of ignoring it. Moments after Thompson won, Golf Digest's Stina Sternberg reported on Twitter, "WCBS NY radio had it as news item no. 3 at the top of the hour. They NEVER talk golf."
On a day when the LPGA was destined to play in obscurity, a home-schooled high school junior carried it into the sports mainstream and toward a future that isn't so bleak after all.
When Hagge (then Marlene Bauer) established the LPGA record as its youngest winner in the Sarasota Open, Lexi Thompson's father Scott, 49, had not yet been born. The Sarasota Herald-Tribune's lead to the story of her victory provides a time-capsule glimpse on several fronts:
"Before a jubilant gallery of 3,000 spectators, a pretty little 18-year-old girl shot an eight-under par [sic] 71 on Sunday to set a new course record, defeat some of the best women golfers in the United States and walk from the greens of the Sarasota Bay Country Club Sunday afternoon with a check for $350 first prize money. The youngster was none other than Sarasota's own Marlene Bauer."
Yes, the FedEx Cup playoffs continued last week, England's Justin Rose prevailing in the BMW Championship with a chip-in birdie and and a textbook par on 18.
In a year that has seen a South African win the Masters and a Northern Irishman win the U.S. Open, wouldn't it be fitting for an Englishman to win the FedEx Cup? Rose is third in points heading to the Tour Championship this week.
When Rose sailed another drive well right of the fairway, this one resulting in an unplayable lie on the 15th hole, NBC's Johnny Miller did not invoke the inflammable word "choke." Has he mellowed? Emphatically no.
"He's basically gagging on those shots to the right," Miller said.
In case you missed it in the cacophony of criticism, a voice of reason emerged in the debate over Rees Jones' renovation of the Dubsdread Course at Cog Hill, site of the BMW Championship.
Phil Mickelson, Steve Stricker and Geoff Ogilvy made headlines with negative opinions of Jones' work at Cog Hill. Whatever the merits of their arguments, it was bad form to take them public. It wasn't an assault on the sponsor, per se, but does BMW want its event tainted by players badmouthing the course? And what of the public golfers who call Cog Hill home?
The voice of reason belonged to Mark Wilson, who lives in the area and considers Cog Hill something of a home course.
"I've always been the type of player that, each tournament we go to, there's a golf course, and we're supposed to play on it," he said, "and I have to figure out how to play it no matter if it suits my game or not.
"If guys are having a hard time with the bunkering, they're meant to be a hazard and they're supposed to be difficult to get up-and-down. Us pros have gotten really good out of bunkers and we get really spoiled on tour, perfect surfaces to hit out of the bunkers...it shouldn't be an easy up-and-down."
Then there was this exchange from NBC's Dan Hicks and Miller:
"It's the Dubsdread course," Hicks said. "Underwent quite a renovation...it has drawn some pretty heavy criticism by some of the top stars in the game this week."
"It's hard to believe anybody would complain [with] the money these guys are playing for," Miller said a few moments later.
When the NBC crew began discussing the rain gloves that some players were wearing, notably Keegan Bradley, Gary Koch revealed that in his day, "mortician gloves worked well."
"But not that many people knew about that," Miller said. "It was a little bit of an advantage."
The WD is not part of Steve Stricker's repertoire. He withdrew from the Texas Open in October of 1994, then played 359 consecutive tournaments without withdrawing again, until Saturday.
Stricker withdrew after two rounds of the BMW Championship, citing neck pain.
This is the unfortunate legacy of T.C. Chen: Any time a player double hits a chip shot or flirts with doing so, his name surfaces.
When Rose nearly double-hit a chip at Cog Hill on Saturday, Miller called it "almost...one of those T.C. Chen specials."
Chen is recalled for having double-hit a chip from thick greenside rough at Oakland Hills in the final round of the 1985 U.S. Open at a time he was in contention.
U.S. SOLHEIM CUP TEAM: THE GOOD AND BAD
The 12 members of the U.S. Solheim Cup left for Ireland Sunday night, taking a mixed bag of results with them.
Four U.S. team members finished in the top 10 at the Navistar: Angela Stanford (third), Brittany Lang (T-4), Stacy Lewis (T-6) and Morgan Pressel (T-8). Three more finished in the top 20: Paula Creamer (T-12), Juli Inkster (T-14) and Brittany Lincicome (T-18).
LPGA rookie Ryan O'Toole, meanwhile, is not engendering confidence. O'Toole has missed the cut in each of her three starts since Rosie Jones made her a captain's pick. Her scoring average in those six rounds is 76.33.
Vicky Hurst, Jones' other captain's pick, tied for 51st, while Michelle Wie tied for 68th. Meanwhile, Cristie Kerr and Christina Kim also missed the cut.
HE LED THE FIELD IN DRIVING DISTANCE
For those wondering how a Long Drive champion might fare playing tournament golf, Jamie Sadlowski provided at least a glimpse. Sadlowski, a two-time World Long Drive champion, made the cut in the Nationwide Tour's Albertsons Boise Open.
Sadlowski finished T-75, last among those who made the cut. He played 72 holes in three-over par 287.
His strength? Driving, naturally. He led the field in driving distance, 349.8 yards. He played the three par 5s in nine-under par for the week. The rest of the time he foundered.
"This was the most nerve-wracking thing I've ever done...I could have keeled over on any hole out there." -- Scott Thompson, father of and caddie for Lexi Thompson
Brandel Chamblee: "16 year old Lexi leads LPGA event, by 6, Creamer by 11, Lincicome by 11, Petterson by 12, Tseng by 16. Stronger than frozen rope. Best in US?"
Camilo Villegas finished T-6 at the BMW, his third top 10 in his last four starts, after recording one top 10 in his first 21 starts. It wasn't enough for him to move onto the Tour Championship, however. He finished 33rd in points, while the top 30 advanced...Luke Donald finished fourth, his 12th top 10 in 17 starts...Webb Simpson finished fifth, his 10th top 10 in 23 starts...Is Stacy Lewis methodically inserting herself in the discussion of best U.S. player? She needs to win more, but she seems to have solved the riddle of consistency. Lewis, who won the Kraft Nabisco Championship, tied for sixth at the Navistar, her fourth straight top 10 and 10th of the season.
PGA Tour: Tour Championship at East Lake Golf Club, Atlanta. Defending champion Jim Furyk. LPGA: Solheim Cup at Killeen Castle, County Meath, Ireland. Defending champion U.S. European Tour: Austrian Golf Open at Diamond Country Club, Atzenbrugg, Austria. Defending champion Jose Manuel Lara.
The Tour Championship will occupy center stage, but it will have competition from Europe: The Solheim Cup and the professional debut of England's Tom Lewis in the Austrian Open. Lewis shared the first-round lead of the British Open and was the low amateur, tying for 30th.
When Lexi Thompson turned pro in May of 2010, those responsible for her website (alexis-thompson.com) were admonished in this space for having "done her a disservice by anointing her a star before she's hit a single shot as a professional." Her website proclaimed "a new star is born."
Peter Dixon took note of the website proclamation and wrote in the Times (U.K.), "Win first, win big, win often. Then let everybody else shout your name from the rooftops."
Well, she won, she won big and is likely to win often. Meanwhile, let it be said on her behalf that a new star, indeed, has been born.